Here's an interesting story.
Recently, I was having a couple of beers with a bunch of my friends (all entrepreneurs) and they were complaining about the problems of Facebook marketing without really trying it before.
"Facebook Ads not easy la, need to spend a lot of money and don't have results one. Better stick to other old school methods!"
And that really pissed me off…
You might have heard rumours and negative "table talk" like that in your own circle of friends. In fact, you may have even felt this way before if you've tried and failed at Facebook marketing.
But here's the truth.
No Marketing Effort Works Without A System.
The real reason why most people suck at Facebook marketing is because a GREAT majority run their ads by "feeling" & "assumptions". Which let's face it, never works for business (ask any solid entrepreneur and he'll tell you that assumptions are dangerous).
Nope.
Successful business owners all agree that having a tested and proven lead generation system is the only way to get consistent results (without working 17 hours a day).
Here are some popular myths about Facebook marketing as complained by SMEs…
Myth#1:
"Facebook Ads Don't Work For My Industry"
Here's a business fact: Whether you're in products or services, you're going to need leads & sales.
How you get them is entirely up to you, but I recommend the tested & proven method (if you don't want to waste time and money looking for prospects). Majority of entrepreneurs don't think Facebook suits their business because they don't know how to get their ads in front of the right market.
But honestly, as long as you have a proven method to target your audience like a professional sniper, I guarantee it will work. B2B, B2C, it doesn't matter. In fact, here's PROOF that you can get prospects from the cold market & even turn them into raving customers in less than 7 days. (Just by implementing the right methods)
Tested & Proven Over 35 Industries: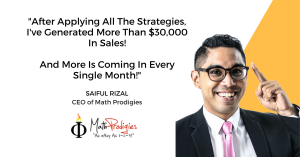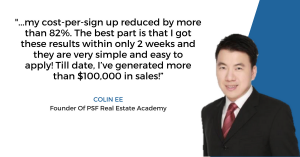 And these business owners had hardly any marketing experience mind you, but all they needed to do was apply what we taught them and start seeing leads flow in like a tsunami!
What they were really lacking was a way to create a CONSISTENT flow of prospects and had to keep spending hours and hours trying to look for customers, which obviously became tiring, frustrating and at times, depressing.
The good news was that they managed to plug the leak in their business before things got worse with a simple solution A tested and proven lead generation system on Facebook.
Anyway I can go on, but you might be interested in the next myth.
Simply because this evil lie has been preventing businesses from jumping on the Facebook goldmine for YEARS (forcing poor entrepreneurs to spend thousands on lousy advertising that barely brings in new customers).
Myth#2:
"Running Facebook Ads Are Too Expensive"
I actually agree that if you're just throwing money at Facebook without a system or strategy and expecting results, in fact, that would be as good as gambling.
And gambling IS expensive.
But what if you knew exactly how the Facebook Advertisement system worked? Don't you think you'd be able to avoid all the costly mistakes if you just had a roadmap or guide?
The truth is, when I first heard entrepreneurs talking about how advertising on Facebook was expensive, my jaw dropped (almost to the ground).My first question was "Where have these people been getting their information?"
You might want to take a look at the statistics before you jump to any conclusions…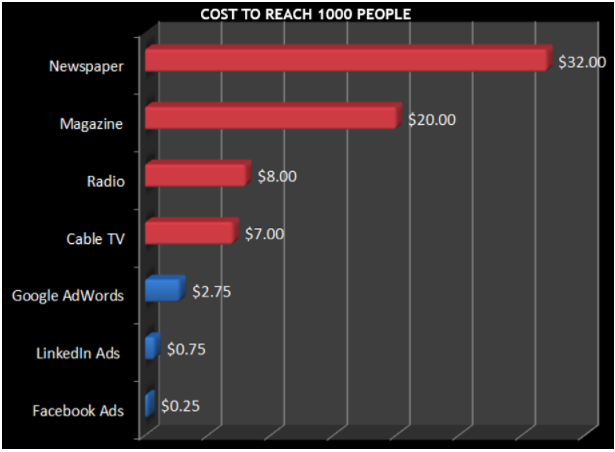 (Statistics by Moz, 2014 – https://moz.com/blog/1-dollar-per-day-on-facebook-ads)
Here's the thing.
You can clearly see that in fact Facebook Ads are actually the CHEAPEST among the common forms of advertisements. Plus, you might not want to ignore the fact that with 2.9 million active users in Singapore alone, Facebook is the platform with the cheap source of traffic with the largest reach. I mean, the average cost to reach 1,000 people is $0.25.
Did you catch that?
Twenty-Five Cents.
You're basically trading a can of coke (assuming it's a dollar) for 4,000 pairs of eyes to be staring at your ad. Think about that for a moment.
But of course, your hesitance to get Facebook marketing right might have cost you a little bit. Here's the bad news, the price is starting to increase…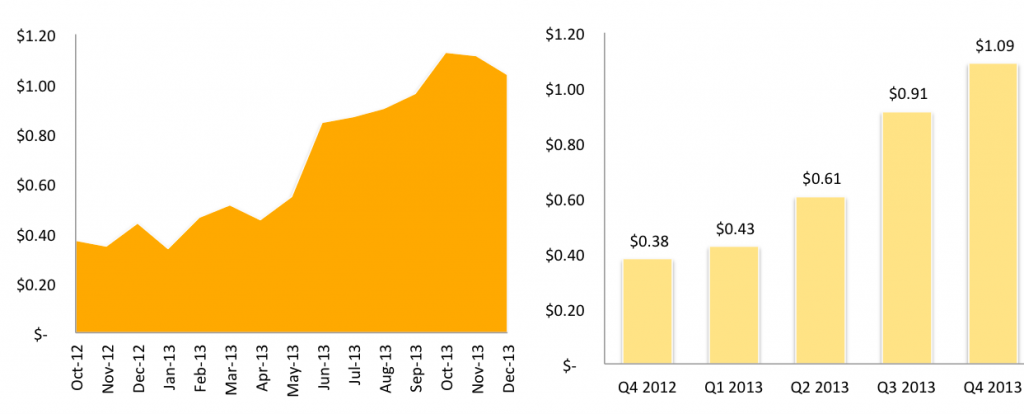 (Statistics By Nanigans, 2014 http://www.nanigans.com/2014/01/29/q4-global-retail-facebook-advertising-trends)
The price has in fact quadrupled over one year, and might be climbing again.
Although it's still crazy cheap as compared to the other forms of advertising, I seriously urge you to consider using Facebook marketing the right way before it gets too expensive.
But of course as you know, getting people to see your ad (also known as Traffic) is one thing. However, here's the secret that Facebook experts have been hiding from you so that they can keep getting more business…
*And before I expose this marketing hype, I want to be clear that I'm only willing to share this with you because we don't run an "Ad Agency" (and that we only measure success when we get you highly qualified leads that you can follow up with and CLOSE THE SALE, not just messing with window shoppers).
Here's the problem.
Business Owners Don't Know How To Monetize Their Traffic!
Most entrepreneurs are flushing money down the drain because they don't know what to do with the Traffic they get.
In other words, people see the ad, go "oh, okay" and keep scrolling
Nothing happens after that.
No engagement, no action, no real results.
And if that's how you're running you ads, that means you're burning your cash. Lots of cash… Here's a some a lot of good news…
Our participants have found out a highly effective method of running ads that are so magnetic that they almost force their readers to stop in their tracks, click on the ad and get persuaded to buy or agree to an appointment!
Click on the green button below to see how you can learn more about this ROI-driven Facebook Ad System:
Sounds too good to be true?
Then please, don't take it from me…
Raving Reviews From Our Previous Batches Who Got Massive 5-6 Figure Sales From A Facebook Simple Ad!


That's right, no bs, no fluff, just real results.
Sales closed with prospects from the cold market, all with the power of systemized Facebook marketing.
But, I must add a disclaimer and say that it's only possible with the right methods and techniques. This is not something you can learn off the internet…
Quick question here: All that being said, does Facebook Marketing sound simple?
Right now, you may be thinking whether this is easy enough for regular business owners to pick up…
Which coincidentally brings me to the next Facebook myth (that has got many business owners confused & worried)
Myth#3:
"Facebook Ads Are Too Complicated For The Average Business Owner"
Listen.
Facebook marketing is not rocket science.
In fact, I've personally seen business owners shift from ad agencies to running Facebook advertising on their own and get insane results.
(* Disclaimer: The following testimonials are given by participants of our workshops. Individual result may varies according to the business nature, marketing campaign and marketing experience. We cannot guarantee that the user will achieve similar results. Your results may vary significantly and factors such as your market, personal effort and other circumstances that may cause results to vary.)
The Zero-To-Hero, Built-For-You System
You see, the beautiful thing about Facebook is that anyone can run ads.
You don't necessarily need a full team of highly paid marketers to run weeks of research and hunt for the latest technology or trends (unless your company is currently worth over $5 million, in which case, we would love for you to give us a call at 6443 9445 to talk business).
Easy Enough For Our Own Interns To Apply & Get Insane Results Within A Couple Of Months (Even Though They Barely Had Any Marketing Background, Much Less The Experience Of A Business Owner)
My point is this, with our idiot-proof 18 Step Facebook Business Growth System, you can be assured that this skill can be picked up and applied over a short period of time (even if you're fresh and just starting out).
And just so you understand how simple this is, our interns who were just a few months in were taught this system to apply it for our training business. Here are the results in the very first week (Screenshot below).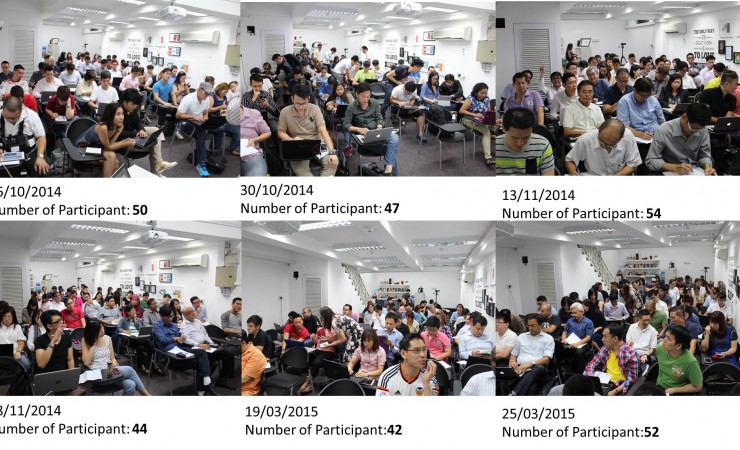 As you can see, with this powerful system I'm not talking about getting a few disinterested prospects staring at their watches and rolling their eyes. I'm talking about packing the room with 40 plus hungry successful entrepreneurs week after week after week!
And the best part?
These entrepreneurs were already pre-qualified by our lead generation system. This means that they were already prepared to be sold and YET, still came down because we crafted an offer too irresistible to turn down. That's why they were furiously scribbling down notes for just one of the teaser workshops which was barely scraping the surface (although some managed to apply and get immediate results, which was no surprised eitherways).
Here's the thing, if they were not pre-qualified, the quality of our leads would have been significantly poorer and we wouldn't have closed 250 Singapore Business Owners for our Facebook Business Growth System in 6 months.
STOP.
If you've read until here, then you must be truly serious about growing your business to the next level (and I'm impressed). But because I know you're ready to start grabbing prospects from Facebook, I need to ask you this important question.
Are you really interested in likes & shares on Facebook?
[thrive_leads id='14261′]
Myth #4:
Facebook Ads Are All About Getting "Likes"And "Shares" To Raise "Brand Awareness"
Is it okay if I just be completely honest here?
Here's the truth.
I HATE likes & shares.
Too many people have been focusing on getting likes and shares on Facebook and honestly, I get sick in the stomach every time a business owner boasts about getting a 1,000 likes. I mean I've even met entrepreneurs telling me that they've spent over 20-30k on Facebook ads without proper results. Now let me ask you something…
Do likes and shares matter?
Yes. If you're a big MNC company trying to raise awareness and have a 6 figure budget to blow on one campaign (whether it works or not, is another argument altogether).
Absolutely Not. If you're an SME who is focused on immediate sales, profits and high ROI numbers to make sure the company stays healthy every month.
The difference here is the objective of running Facebook Ads. You, as an SME are looking for fast, cheap and direct results (please correct me if I'm wrong here).
How To Get Direct Sales on Facebook With These 3 Simple Steps
1) A Magnetic Ad that can attract the coldest prospect and ethically force him to click on your offer by appealing to his emotions (trust me, he won't even know what hit him until he gets his credit card bill in the mail)
2) Irresistible Copywriting that builds trust and converts the most reluctant lead into a happy customer who will keep buying from you over and over again (even if he's seeing your brand for the very first time)
3) A Sales Funnel that keeps pumping your customers into a "buying cycle" which maximizes each contact by squeezing every dollar from them (without you even doing a thing, no sales call, no follow up, no emails. That's right ZERO effort) That's exactly what's going to happen once you set my T.O.S.M System up.
See how it's done:rotation1 (2)
Now at this point, you might be scratching your head and thinking out loud even…
"Isn't that going to take a lot of time?"… Whether or not that thought has crossed your mind, welcome to Facebook Myth #5.
Myth#5:
"Getting Prospects With Facebook Ads Are Too Slow To See Any Real Results!"
Note: By no means am I showing this to brag, nor has this been "fabricated" or "tampered" with. Nope, this is a real live screenshot taken off my mac of one of the campaigns I ran using my T.O.S.M system for one of our projects for strategic business partners (Please view screenshot below).
If you look closely, you might start to realize the true power of Facebook.
Here's the thing, if you are interested in speed, there is really no other platform that can get you hungry customers faster than Facebook.
Period.
When Was The Last Time You Got 1,794 Prospects In A Week?
I've been in big MNCs that have managed brands that are worth almost a billion dollars combined and the truth is, even the big boys use Facebook for speed. Let's look at it this way, I can very well show you another project that I've done like this…
Still unsure about whether Facebook is positioned for fast results?
In fact, let me do one better, just to prove how quick I can actually generate leads from Facebook for you (and finally silent your nay sayers and skeptics).
The truth is, most business owners agree that seeing is believing.
So if you're not too busy this Thursday, I'd like to put my money where my mouth is and instead of "telling" you what I can do…
How bout I show you instead?
[thrive_leads id='14261′]