If you're reading this post, you're probably one of the many small business owners who spent hundreds or even thousands of dollars on your last Facebook campaign, only to receive mediocre returns for your time and effort.
While there are many factors that can cause a Facebook campaign to fail, I'm going to focus on 7 most common reasons I observe from working with over 300+ business owners in Singapore.
Reason #1: You are focusing on getting more fans.
While there are studies that show that fans are 3 times more likely to buy from you, the studies don't actually tell you how much time and energy you need to invest to nurture your fans into buyers.
Most large companies with huge budgets spend thousands even millions of dollars just getting their fans to buy from them. And even then, the industry's dirty little secret is that not all their fans will actually buy.
Small business owners with limited time, energy and resources should not focus first on nurturing fans, but getting as many leads and sales for their business as possible.
But wait! Is it possible to get leads and sales WITHOUT an active fan base?
If you drop by one of my "Customer On Demand" workshop, I'll actually run a LIVE campaign with a brand new fan page.
You can see from the screenshot below that there are only 3 fans.
But in just 1.5 hours, we pulled in 12 highly qualified leads at just $2.09 each.
All in all, Jess (the lucky nail salon owner ) was able to rake $168 of potential sales on $25.07 of ad spend. 
That's a 670% return on their advertising… in less than 2 hours.

Imagine doing the same for your business… even if you don't have a huge fan base or even a professional looking website.
All these are unnecessary if your goal is to get more leads and sales within the next few days.
Reason #2: Most business owners don't know their market well enough.
One of the top reasons why business owners fail in Facebook advertising or any kind of offline or online advertising is simply because they make assumptions about what the market wants.
These assumptions are usually based on their past experiences with the market.
As a result, they tend to create ads that are irrelevant to the current needs of the market, resulting in low click through rates and poor engagement.
If you want to truly succeed in your Facebook advertising, you need to know what you need to say and do for them to get them to buy.
Ask yourself…
What are their key demographics? E.g. age group, gender
What are their biggest fears and worries?
What are their biggest fantasies and aspirations?
Who are their enemies?
Who are their heroes?
What are their objections?
What are some of the key words they use?
When you understand your market intimately, you'll be able to turn those objections into reasons to take action and buy from you.
Reason #3: You don't have an offer that is unique and different from your competitors.
When I use the word "offer" in my Customer On Demand workshop, most business owners assume that I'm referring to the products or services.
An offer is more than that.
It is your market's perception of your product and service.
For example, you might be selling tuition services. But to your market (Parents in this case), what you're offering is better school results.
When it comes to Facebook Advertising, the more unique and different your product is from your competitors, the easier it is for you to become profitable.
During my upcoming "Customer On Demand" workshop, I'll be showing you even more examples of how our students rake in 4 and 5-figure profits from their Facebook campaigns by differentiating their products and services even in the most competitive markets (everything from health and beauty to tuition).
Here are a few examples… 
This will give you great ideas on how you can immediately do so in your business before you start running your next campaign.
Reason #4: Your market is too small
When you are targeting a very niche market in Singapore, it might be difficult to rake in a profit from your campaign, especially when you're new to Facebook targeting.
Small markets also mean that you need to launch off new ads regularly since there is a high chance your market will see your ads multiple times.
Facebook is most effective for B2C products that appeal to the masses simply because Facebook is a social platform.
Products such as skin care, entertainment and education do extremely well on Facebook.
My best advice is to sell a product that appeals to the biggest possible audience. This will ensure that even if the targeting is not accurate, you will still see some results from your campaigns.
Wait! Does it mean this does not work for B2B businesses selling business-based services?
Especially since the market they are going after is much smaller?
Of course not. We have ran multiple campaigns on Facebook to small business owners and packed the room week after week every month. We also have multiple B2B business owners who managed to rake in 5-figure and 6-figure deals for accounting and software services.
For example, we ran a LIVE campaign during our last "Customer On Demand" workshop for a web and logo design company, Zocura,  targeting Singapore business startups and entrepreneurs. 
In less than 2 hours, we managed to get 16 leads at just $1.38 per lead. 

Reason #5: Your ads are not getting enough clicks.
One of the factors that lead to a losing Facebook campaign is simply poor ads with poor click-through rates. When you don't get enough clicks on your website, your cost per click will naturally go up and your overall cost per sale and lead will increase dramatically.
To get more clicks, you need to make sure that your ad has an attention grabbing image and a compelling message that gets your target curious about what you have to offer. 
Below is an example of a highly effective ad we created based on our 10 tested and proven ad templates. It managed to get a high CTR of 8% and helped us rake in more than $10,000 of sales within 2 weeks.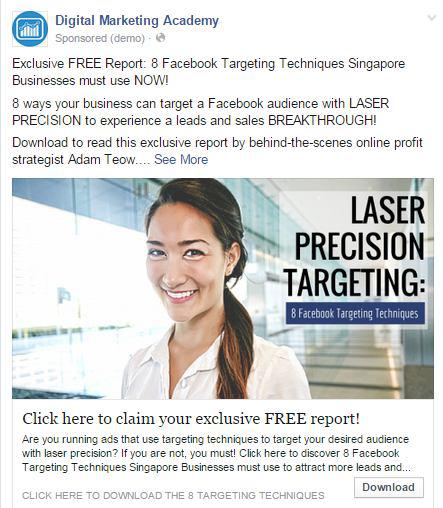 Reason #6: You are showing your ads to the wrong market
One of the most fundamental problems with most campaigns is that you're targeting all the wrong people.
You might have the world's best offer and used one of my highly effective ad templates, but if you are showing the ad and offer to the wrong market, you'll just be throwing money down the drain.
There are essentially 8 ways to target on Facebook. This includes:
Geographic
Demographic
Interests
Behavior
Custom Audience
Website Custom Audience
Lookalike Audience
Connections
While most business owners are great at geographic and demographic targeting, they tend to screw up their interest targeting because they don't understand how it really works.
Interest targeting is NOT the same as targeting keywords on Google. It is not based on their immediate wants or needs, but rather on the various areas of interest.
For example, if you're selling tuition services, you don't want to target the term "tuition" as an interest. You are likely to attract other tutors more than parents.
Rather you might want to go for interests such as "Asian Parent" or "Parenting Magazine". There is a high chance parents you are going after like interests like these.
Reason #7: You can't turn your leads into sales.
Some business owners are great at getting the lead. However, they just can't understand why the leads they are getting from Facebook are not converting into sales.
It boils down to one thing – intent.
First off, you must understand that why people use Facebook. Most of them use Facebook when they are bored or trying to look up a friend.
They DO not jump onto Facebook thinking they are going to buy your product or service.
This is why it's a big mistake to try to sell your main offer upfront, especially if it is priced at a premium.
Instead, you should use a well-planned social sales funnel. 
The whole idea of social sales funnel is to bring the prospect through a series of micro-commitments to eventually buying your main product and buying more from you.
You might start off with giving away something irresistible for free, before getting them to purchase increasingly higher priced products and services.
It's like a slippery water slide. The moment your prospect steps into the slide (or your sales funnel in this case), they will just keeping moving down the slide. 
What's Next?
These are just some quick guidelines on what you can do to improve your FB advertising campaigns.
Honestly, it's just the tip of the ice-berg of the strategies and tactics you can implement to get instant results in your campaigns. In my "Customer On Demand" workshop, I'll show business owners exactly what they need to do to attract more leads and sales in 2 hours or less!
The "Customer On Demand Workshop"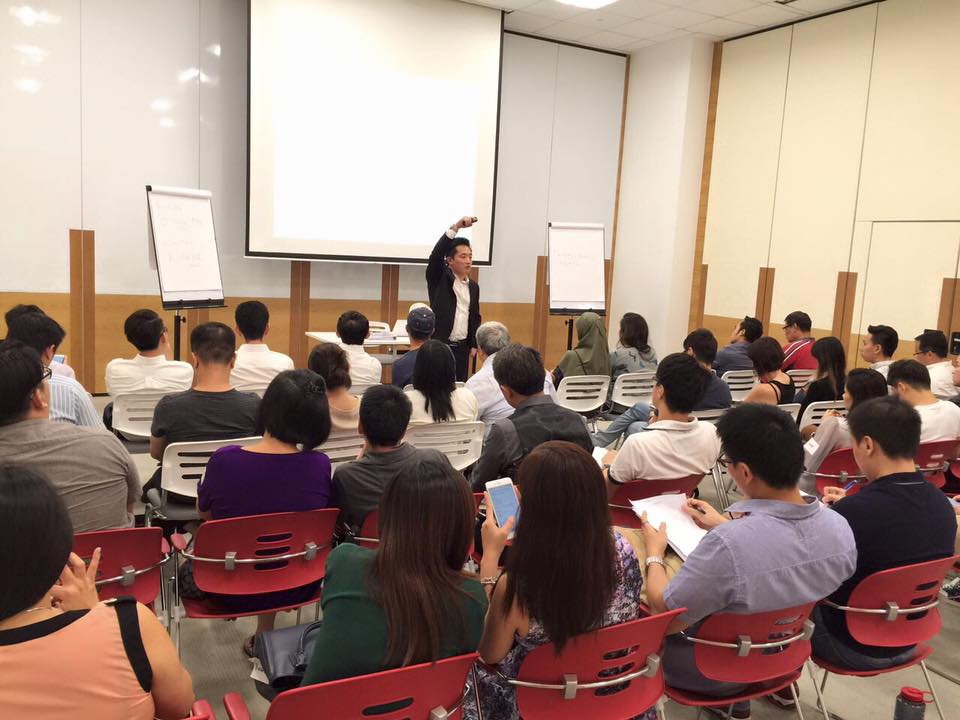 Below is just a fraction of what I'll be covering in my Customers On Demand Workshop:
8 Specific Ways To Target Your Prospects-  "Hand-Pick" the prospects you want to show your ad to with my highly potent "

L

aser-Targeting technique" that follows your customer like a guided missile rocket. (So many Facebook amateurs don't do this properly and are consistently wasting good money on good ads)!
How To Avoid The 3 Biggest Mistakes In Facebook Marketing– These could be the reasons why your ads are bleeding you dry with poor results (One of them is running Facebook ads with the intention of getting "likes" & "shares" which is honestly, a bad move for SME'S with a tight budget, what you're looking for are red-hot leads that will give you their information, not their "like")!
How To Get Prospects Within 3 Hours or Less With My Secret L.O.C.K Formula- (This is the exact same strategy I used to get 8,567 leads in 45 days flat! Note: my friends who are business owners have seen me go on hot streaks like that and have been begging me to teach them this highly strategic approach to maximise their Facebook budgets).
Interested? Here's the link to register.

Here's the thing…
I'm so confident that I will be able to get you leads in 3 hours, that I'm willing to go one step further.
Here's The Deal Of A Lifetime.
On the workshop day itself, one lucky participant will be notified via phone call.
If you get chosen, I will personally run your Facebook Ad LIVE at the workshop.
And you will see leads within 3 hours or less.
If you're wondering about how much you need to pay for my expertise & time…
You're in for a treat.
It's Completely Free Of Charge.
With results on the spot.
That's my promise to you.
And that's just to show you how easy and fast my lead generation system works.
180 minutes. Results. (Don't believe me? Come see for yourself).
Even if you don't get chosen, you'll see just how easy it is to get leads for Singapore Businesses.
Note: The truth is that too many marketers have exploited Facebook for suspicious offers and "make money" scams, so i will have to put my foot down and say this is not for the following people.
You Can Skip The Workshop If You're A…
Affiliate Marketer (Customers On Demand is only for business owners who have full control over their products and services)
MLM Marketer (Customers On Demand is for entrepreneurs who have full flexibility to adjust the systems and processes because we will also be covering a highly potent Social Sales Funnel that may not work for MLM)
Looking To "Make Money" Or For "Financial Freedom" Tools (I am only looking to fix lead generation problems, Customers On Demand will not "make you rich", the workshop is designed to get qualified prospects cheaply, fast and systematically.
So…
If you're a serious business owner, I've only got one final question:
Are You Ready To Start Getting Prospects To Start Calling You Instead?
You can discover exactly how I managed to drive leads on Facebook with results like these in my Customers On Demand Workshop LIVE, right in front of your eyes.
Interested?
Click here for more juicy details.
Or click the button to register immediately and start getting red-hot leads (some business owners have even got prospects at a profit)!

Haven't registered? Here's the link again –> Customers On Demand
More than 700+ business owners have attended my Facebook workshops and benefited from the cutting edge strategies and tactics that I share. If you like to be next, register for my next "Customer On Demand" workshop and see the results on your own.
See you at my next workshop!