Are you struggling to hit your maximum capacity because you're having problems getting a consistent flow of new student signups?
Do you want to help more students to improve their grades with your talented teachers and excellent training methodologies, but unable to do so because you can't attract them to your tuition centre?
Then this is the most important article you will read today. Because all you are missing out on is this 1 crucial thing to grow your education business!
A System.
A Powerful Marketing System that will bring you a consistent number of student sign ups month after month, to fill up each and every slot you have left in your tuition lessons.
This is all that you need.
And we call it the The Massive Student Signup System (MSS)
Using this Massive Student Signup system is exactly how we have helped 40+ education centres, grow their education centres MASSIVELY within a short period of 6 months. For example, even this little known tuition centre, Knowledge Trail managed to double their student signups from 70 students to 140 students in just 2 Months with our system!
Knowledge Trail Learning Centre
Apart from knowledge trail, other education centres that have benefited from our Massive Student Signup System include centres like EduEdge and iSun Education.
EduEdge Tuition Centre
"My team and I found ourselves bogged down by many of the operational and admin matters. After our consultation session with Sant last year, EduEdge has doubled our annual sales revenue as compared to our last financial year. And what is even more exciting is the fact that we are now commanding a 6-figure revenue per month and are now truly a 7-figure million dollar business!"
-Edwin Cheng, EduEdge
iSun Education
"We faced challenges such as developing a clear marketing message to our audience even though we had a really good program… But after applying the strategies taught, parents are able to clearly see the value of our program. We even generated $87,000 in just 1 month while cost per enquiry dropped from $75 to just $25!"
– iSun Education
As you can see, this marketing system we are about to teach you step is already proven to work for all types of education centres, whether small or big. It is a step by step formula that we have developed and customised just for education centres, based on our years and years of research.
So here are the 5 steps of this system, broken down for you, so that you can follow and get consistent student sign ups for your education business!
Step 1: Create Your Parent-Attraction Ad
Create a FB ad to attract the parents of children that your tuition centre is targeting. Make sure you laser-target only the most highly interested parents looking for YOUR solution to their child's needs in this ad that you create (based on our knowledge, there are 24 different interest groups that are giving us pretty awesome results).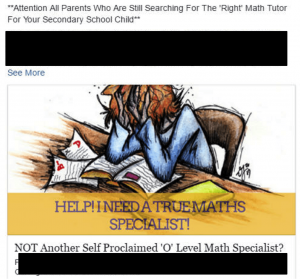 Want our best tried and tested Facebook Ad Template that we specifically "programmed" to be irresistible for parents to click on, to find out more about your programs?
Fill up our short form below to book a free centre visit consultation, with our Parent Persuasion Expert and he will give you a hard copy of this Ad Template for free!
Step 2: Create Your Parent-Persuasion Page
Next, create your parent persuasion page using lead pages, insta pages or clickfunnels. The aim of this parent persuausion page that you create will be to convince parents simply to attend your free preview session!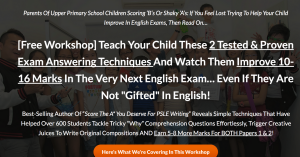 "What if I don't know how to persuasively write and convince these parents" you may ask,
Don't worry.
Because you can now book our free 2 Hour Consultation with our parent persuasion page expert, who will share the 12 elements that result in impressive conversion rates of 5-7% (we'll be happy to share more during the session)
Step 3: Direct Parents To A Workshop To Demonstrate The Value Of Your Centre!
Once parents come down for your session, you'll need to emphasize heavily on why your different and what you can offer as a service.
And we're not talking a hard-sell/pitch style workshop (you'll piss a lot of parents off if you do that)!
What you need to do is educate and share how your methods/teacher are different from others.
The key here is the structure of the presentation. Less about what you say, more about when to say what.
Educators who've worked with us understand this to be their "best-kept secret weapon" and this little-known format has raked in over $1M worth of sales across multiple centres within the last 1.5 years.
Again, it sounds and looks NOTHING like a sales pitch, and is eagerly absorbed by most parents… and does a FAR better job of selling than the direct approach.
In fact, one of our education clients implemented our Parent-Conversion System for his very first preview, and out of the 19 kids and parents that turned up… 16 of them signed up for a $720 program. That's an 85% closing rate! Just like that, he made $10,800 worth of sales.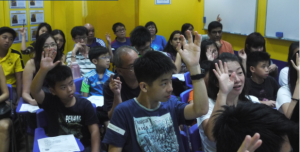 Want to know what this little known format is?
Well, we usually share this format with our clients & partners.
But just for this week, as long as you are still seeing this, we're opening our doors to openly share this structure to a handful of educators during our centre visist session***
Simply book by filling up this form below if you want to find out how to use this system effectively!
We have resources to only cater the free consultation session for 4 more centres this week (appointments are made on a first-come-first-served basis).
*GrowthTribe reserves the right to reject clients who aren't a good fit for this session*