As we already know, the next 2 to 3 years is going to be a rough patch for most industries.
The shipping industry is in trouble.
So is manufacturing and textile.
Unfortunately, the education market looks like it's going to be affected as well.
Parents will be keeping a tighter grip onto their wallets and most will start increasing their sensitivity towards prices.
More centres will start offering extremely competitive rates like this:
And with tutors entering the market at an alarming rate…
How are you going to hedge against low prices and aggressive competition?
Strategy #1: Going Niche
A popular strategy to combat heavy competition (especially if your area is rampant with direct competitors) is to focus on just one or two programs for specific age groups.
Now, it might sound counterintuitive at first especially since you're looking to attract as many students as possible…
But here's why focusing on just 1 or a few subjects will give you a considerable edge over competitors.
Most tuition centres who are offering English, Math Science from K2 to JC tend to run half filled classes.
This means that resources aren't being maximized and more importantly, parents tend to view such centres as "Generalists" who cover everything.
While some parents might like the idea of a centre being a "one-stop shop"…
To the commercial market, you've essentially just commoditized your service!
It's no different from any other tuition centre and usually:
– Price
– Location
Become the biggest decision makers.
This also means that should your estate mature, you'll be gasping to bring in new enrollments and that you're heavily vulnerable to price wars with nearby centres.
And as you can imagine, this can get ugly when your neighbor starts charging $90 or less for Primary School English.
Going niche and focusing on one or two subjects allow you to promote specific subjects at any one time and parents will tend to pay more attention to:
– Track Records
– Methods Used
Which gives you a fighting chance while pricing higher against competitors!
Take advice from the folks over at Blue Tree Education (one of their teacher is Ex-Rosyth) who focused heavily on Math & is now slowly branching out to promote their science programs as well (: based on our last conversation, they managed to bring in over 70 students applying a focused approached and has just opened another centre at Kovan.
Of course there are very specific steps to take to prevent you from losing students and accidentally capsizing your current revenue flow (Don't Try This Without An Expert)!
Kudos to the BlueTree team though!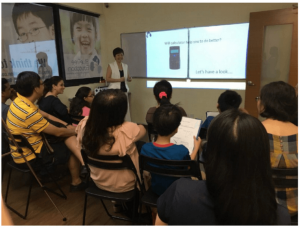 (The BlueTree Education Team Running One Of Their Recruitment Workshops)
Strategy #2: Premium Programs
Another strong strategy you can use to counter the nearby recession is increasing the value of your centre by offering premium programs!
This follows one the pricing psychology principles of "expensive must be better/higher quality".
Also affectionally known as the "Starbucks" mentality.
One of our client, Stepping Stones Learning Centre was previously charging extremely affordable rates for their classes ($90/subject) which was a slight concern to us when we first met them.
But after working deeper and understanding their materials & methodology…
We were blown away that they were hiding a lot of POWERFUL techniques in their arsenal but weren't communicating it clearly to parents.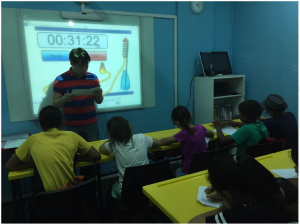 (Ben from Stepping Stones Sharing The S.H.A.R.P Framework In A Test Format)
After deliberating and consulting with them for 2 weeks, we decided to re-craft their PSLE program and adjust the content to focus on specific parts of the exams (instead of just revising).
And through the re-adjustment, they managed to increase the value of the program by 89% without parents batting an eyelid.
Finally, these educators were being paid their worth!
Isn't it frustrating when you do so much for your students (customized notes, extra hours, implementing expert methods) and parents just can't seem to understand your value?
I know I'd be upset if I was doing great work and not getting recognized for it!
Using this approach to re-position their program…
At last, we managed to attract a niche group of affluent parents who cared about their child's education and Allyson was overjoyed to finally be appreciated for her hard work!
Of course packaging program is the KEY for this to work.
Our clients follow a very strict 6-part process to create a congruent and differentiated offer so parents can CLEARLY see the difference in price (:
Without this "Re-packaging Process", it will be impossible to convince parents to buy into a higher value program.
Strategy #3: Offer Pre-Education Workshops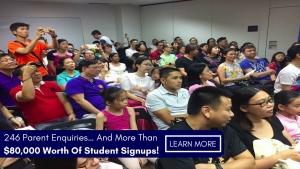 Of course with higher value programs, as ethical & responsible business owners, it is our DUTY to ensure parents understand what they are investing in.
The last thing you want is parents who are investing in something they don't fully understand in.
With so many choices in the market right now, pre-educating parents on the subject they're investing is critical not only for the student, but for the parent to be committed to take the JOURNEY with you.
If you're a serious educator, you should be comfortable to share important information like:
1. Your methodology
2. The challenges today's student face
3. Why you're the best fit
But the structure and content here are CRITICAL if you want to ensure that parents are receptive and open to registering with you.
Unskilled presenters tend to:
– Hard sell and scare parents with high pressure tactics and leave a bitter taste in their mouths
– Share too much and give the entire cake away. Revealing everything with hungry parents snapping pictures and copying notes rather than listening to you speak.
But what if I told you that there was a specific technique to present in a persuasive, yet educational way?
Think of a mix of TEDTalks & Tony Robbins.
That's the best way to influence & gain trust from a skeptical, well-researched market.
I'll be happy to share a bit more of this 20 step special presentation structure if this post gets over 20 people commenting "I'm Interested".
Why at least 20?
Well, it's extremely premium content that has been consistently used to close rooms of 20 parents at 50-60% for significant deal sizes.
Multiple education brands like iSun & EduEdge have done extremely well because they followed a proven, step-by-step & actionable plan to "recession-proof" their business…
How To Apply These 3 Strategies in The Next 20 Minutes:
1. Going Niche
– Pick your best subject
– Write 5 bullet points on why you teach differently from other tutors
– Gather all your testimonials from this subject
Send them over to m.me/GrowthTribe with your name and number.
I'll vet through and share my insights & opinions on whether it's good enough to promote to the commercial market (for free, yup, no catch).
2. Create A Premium Program
– Write the 3 best components of your current program
– Extract them and expand on each element
– Price them against the top competitor in your field
3. Offer Pre-Education Workshops
– Run Facebook ads to a landing page
– Get parents to opt in for a workshop
– Create a simple deck on slidebean.com and start sharing your message!
Of course for all these strategies to work, you'll need to have a strong core message that parents resonate on a deep level with.
Which is one of the first things we cover in our Fast Tuition Business Growth Program at GrowthTribe.
If you're interested to grow your business & prepare to not just survive but thrive during the recession, we've got a cool program with an additional sales guarantee with your centre's name on it!
More about it below: