[thrive_leads id='15235′]
November. December.
The two most-feared months for most education-business owners out there… all because of one simple reason:
It's the "holiday" months — and it's the "lull period" where 90% of them find it extremely difficult and near-impossible to get new students!
Jeremy, founder of The Classroom — a math tuition centre in Hougang — was no different.
But before I dive into his story, here's a quick background of his situation: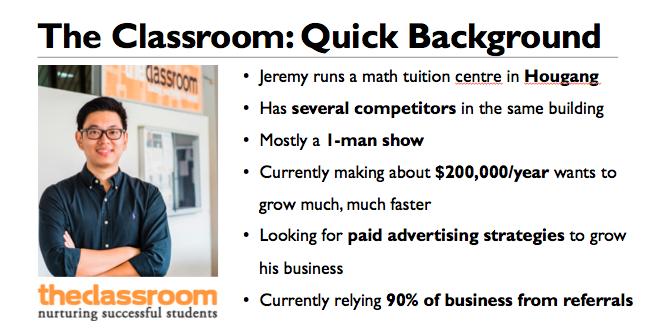 Now, Jeremy Was Facing A Couple Of HUGE Challenges That Tons Of Education Business Owners In Singapore Face, Such As: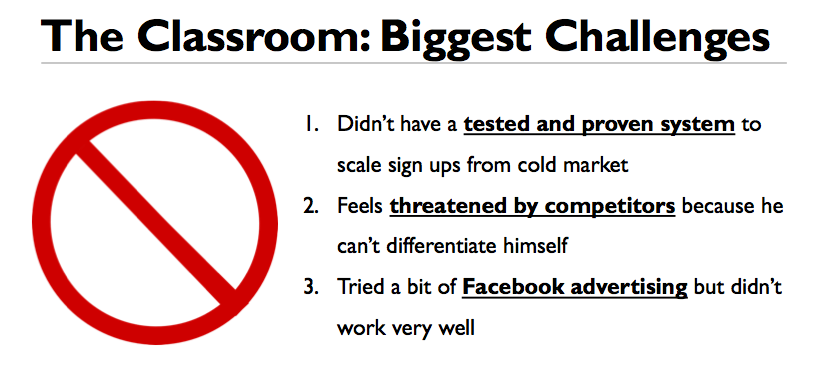 But the BIGGEST challenge for Jeremy was that he was struggling to get sales and new student -sign ups. In his own words, he felt like he was going around in circles trying to grow his business.
To make matters worse, he felt that he always had to "close shop" during November and December as he hardly gets new students during this period (maybe less than 5 per month) — and this was after messing around with flyers, doing a little Facebook and SEO (Search Engine Optimisation).
And he always chalked up the poor sign-up rate during this period to the "fact" that:
"People take holidays in Nov/Dec… hence no need to bother looking for students".
Perhaps you feel this way too.
But here's the thing:
This is absolutely NOT true!
If you have the right "attraction" strategies, you can easily get new students consistently… even during the so-called "lull periods" of November and December.
And That's Exactly What Jeremy Discovered When He Joined Our Latest Market Domination Circle Intake— An Exclusive And Highly-Practical Program Specially Designed For Education Business Owners.
Our team of highly-trained marketing experts sat down with Jeremy to analyse the kind of messaging he's using to position his program differently from the rest of the cut-throat competition in the Singapore education market, PLUS go through his entire business model with a fine-toothed comb…
And in just a couple of short sessions with him, we tailored our potent and highly-effective strategies and techniques specially for his situation… and "plugged" them directly into his education business.
Here's how we helped: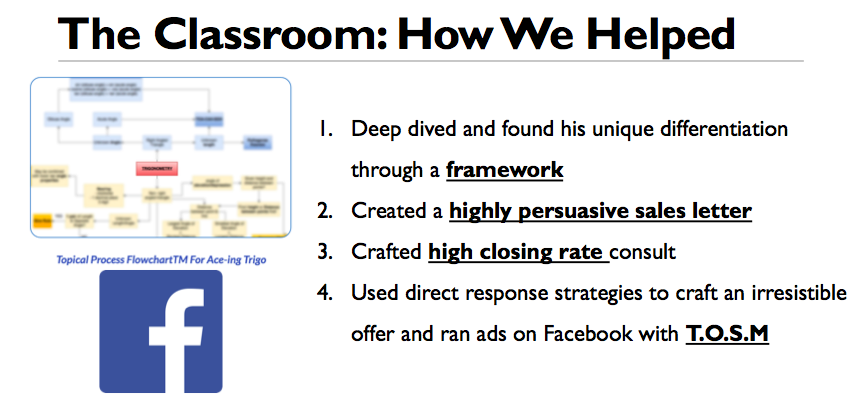 The result?
In just 2 short weeks (yes, TWO)… Jeremy got 16 highly-interested parents down for a $15 (Read: PAID) consultation…
Did you get that?
Even With At Least 6 Other Competitors In The SAME Building — With Most Of Them Offering FREE Consultations… Jeremy Got SIXTEEN Highly-Interested Parents To Sign Up For A PAID Consultation.
That's not even the best part:
Out of the 7 parents he's met so far… he successfully closed SIX of them for his $240/mth program.
That's an 85.7% conversion rate! (If you've been running this sort of consultations or previews for awhile, you'll know this is simply outstanding).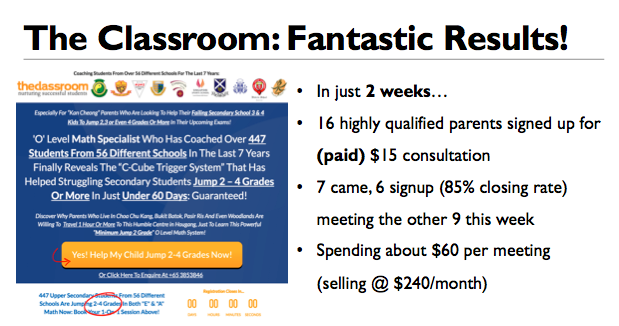 Just like that, in just 2 weeks after applying our "student attraction" strategies and techniques, Jeremy raked in a grand total of $14,400 worth of annual revenue 🙂
6 Students X $240/month X 10 months = $14,400
The best part?
He only spent about $60 on advertising PER consultation.
That's right.
The strategies and techniques we share in our Market Domination Circle (MDC) program are both cost-effective AND profit-churning.
That's how we help our education clients massively grow their businesses. Fast.
You Can Imagine How Overjoyed Jeremy Was When He Saw Most Of His Head-Start Classes In December Filling Up Fast… Even Before It Officially Starts.
Here's the exact words from the man himself: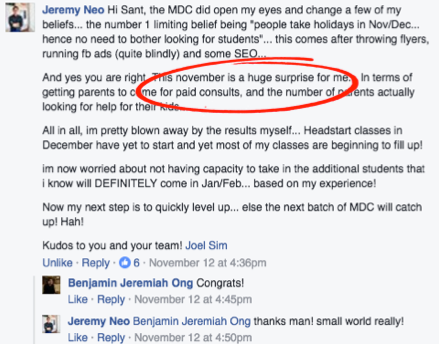 Is Jeremy any different from you?
Well, you can choose to think that he is…
But the truth remains that:
He's An Average Education-Business Owner Just Like YOU — Who Was Struggling To Fill Up His Classes Consistently Week After Week… And Especially During The "Lull-Periods" Of November And December.
The only thing he did was to cast his doubts aside long enough to come down for a 1-on-1 strategic session with our team of marketing experts… and give our tried-and-tested strategies and techniques a try.
And now?
Within just 2 weeks of applying what we crafted specially for his business, Jeremy enjoyed an instant explosion of profits and cash flow 🙂
Now, if you'd like to get the kind of phenomenal results Jeremy — and the rest of our MDC education clients — are enjoying right now…
If you want real results, real profits, FAST…
If you're interested in quickly packing your classrooms while all your competitors are struggling…
Start Getting These Explosive Results For Yourself, And Sign Up For An Exclusive 1-On-1 Strategic Session By Clicking The Button Below. (So We Know How To Help Your Business Better)