[Originally Posted In GrowthTribe Group]
Here's my share from the conference.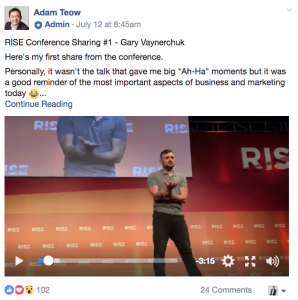 Personally, it wasn't the talk that gave me big "Ah-Ha" moments but it was a good reminder of the most important aspects of business and marketing today especially for small tuition centres & enrichment centres.
Enjoy!
Key lessons:
#1: On Producing Content
1. Attention is one of the most important "asset" for any business today but it's always shifting.
2. The biggest mistake most businesses make is to spend time on the current game, rather than anticipating what is the future game.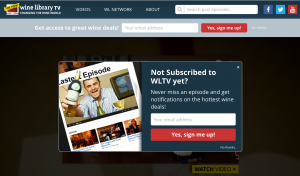 For example, when no other wine distributor was using Google Adwords, Gary was able to get clicks at just $0.05. Many of the big businesses built their business on being the first few on the upcoming platforms. If you aren't leveraging on powerful platforms like Facebook to drive parents to your centre, you're losing out to those who are!
3. Even if the medium changes, what doesn't change is the emphasis on quality content. This is what gives you the edge in the market.
It doesn't matter if it's a flyer, a brochure, a standee, a Facebook post. What matters is that the content you're producing creates a deep impact on the parent reading the message.
4. The bad news is that you don't get to be the judge of the quality content. It's not what you think is good or bad. It's how the audience respond to it.
5. The solution is to this is to focus on quantity and distribution (alongside with quality) e.g. musicians making a name for themselves produce regular song every week (on Spotify, iTunes) instead of taking months to roll out one album. A much better strategy because it keeps you in the minds of your fans (and in your case, parents).
6. Another factor to consider is what kind of content are you good at producing? It's hard to livestream. It takes a lot of skill. You need to do is to figure out "are you a writer, a voice or video producer?"
– A Writer should write articles and posts that educate parents on the latest updates on the PSLE syllabus, share brain teasers and how to solve them, share a case study of one of your current students, etc.
– A Voice can promote podcasts, interviews.
– A Video Producer can focus on filming testimonials and nuggets of wisdom on specific topics.
#2: On Entrepreneurship

1. We are severely under-estimating the internet. It's the greatest thing that happened to entrepreneurs. Your parents don't have the same opportunities that you have today.
2. But popular means it is dangerous. Everyone wants to be their own boss but they don't want to put in the work.
3. Don't call yourself an entrepreneur if you're not. There are ZERO people at the top who didn't work their assess off. It's the one aspect of the game.
#3: On Opportunities Today
1. Social Networks with true advertising platform – supply and demand. The fortune 5,000 are grossly under-spending on these platforms. They are still putting the money into all the wrong places.
2. We are living in the great boom of the influencer of the economy. 99% of influencers are so grossly under-priced that big business will be upset they didn't put more money inside the influencer marketing. Who are some influencers in the education market you can leverage on?
#4: On Running A Successful Business
1. The no. 1 thing is culture – continuity and lack of politics. Emotional intelligence is the single most important trait. Skills in technology will continue to be commoditized.
2. Audit your people. Fire the people who are the cancer of your organization. The ones who everyone hates working with. Even if they are the top teachers or producers.
3. The no. 2 person in Gary's company is the head of HR. She is the heart of the organization.
4. You do not build culture by having free snacks, open sitting or having games in the office. You build it by talking to people one by one. Some people want money, title, family time. Your job to know everyone in the company.
5. The no. 2 thing is speed of execution. You need to move fast to compete in today's market.
***
How you can apply these lessons:
1. Squeeze everything you can from the moment. Work even harder during the good times. Especially when the economy is good and your business is doing well.
2. Focus on growing your people and building the right culture. It will give you the ultimate competitive advantage in the long run.
3. Speed is key. Figure out ways to move faster personally and in your organisation, regardless of how successful your business might be.
***
If you're interested in growing your education business and want to discover what's working now for smaller brands (under 500 students), fill up the form below and get in touch with us for more insights in the tuition & enrichment business.