Overview
One of the most important things you need to do when you start marketing a product or service to have a clear idea who exactly is your market.
A well-crafted customer avatar will help give your team absolute clarity about the kind of customer you are going after.
It will also give you a good idea how to target them and craft a marketing message that gets them to take action on your offer.
In this blueprint, we'll teach you how to put together an ideal customer avatar for your marketing and advertising.

How You Can Use This:
You can refer to your ideal customer avatar when you are writing ads for your products and services

You can pass this ideal customer avatar to your current and new team members and they will have a clear idea who you're marketing to.
Tools And Resources
Narrowing down on the right type of customer that is a good fit for your product/service may be tricky. Especially when you tend to want to target as many people as people.
This is why we created this blueprint and a template to help you get started on your figuring out who your ideal customer is:
Customer Avatar Example – Rebecca
You can download a PDF version of the blueprint and the resource here.
You can jot down a couple of ideas as you read through each section. Then you can reference our example and connect your ideas together into a single customer avatar.
Resources
Before we jump into how you can create your own customer avatar, here are some resources you can use as you go through the exercise.
Google search

Google Shopping

Amazon.com

Websites / Blogs

Facebook groups

Forums

Magazines

Youtube channels they subscribe to

Q&A (e.g. Yahoo Answers, Quora)
Preparation
There are different types of customer avatars when it comes to marketing.
And if you do a search online today, you'll find multiple resources on how to create a good customer avatar.
It's easy to get overwhelmed by the amount of information you need to collect on your avatars, or how to even start to do it properly.

Our recommendation is to find one that works for your business and add on other information you might need later on.

Contrary to what most people think, there is really no hard and fast rule about what should be in the perfect customer avatar.

In this blueprint, we'll teach you how to put together an ideal customer avatar specifically for paid traffic campaigns.
Here's how it will look like: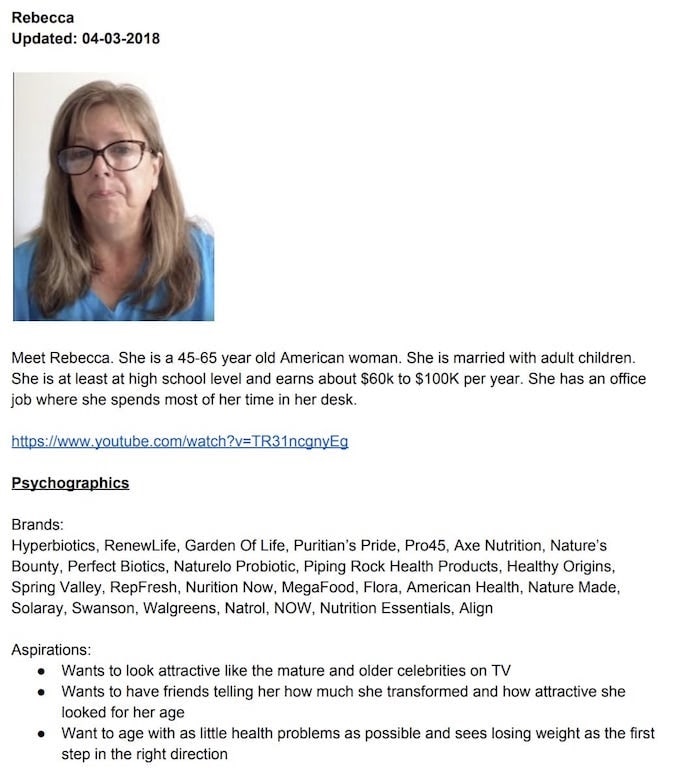 Sure, you can make it a little fancy but for us, we prefer to create our customer avatar in Google docs so we can share it with the rest of the team.
How To Create Your Avatar
What's Next
One of the questions we get very often is this:
"Can I have more than one ideal customer avatar?"
The short answer is "yes". You can have as many customer avatars as possible for different customer segments.
But if this is your first time doing customer avatars, we recommend you stick with one first.
It will make it easier for you to pick up the basics of translating the customer avatar information into your advertising strategy and copy.