Overview
There is nothing more critical in marketing than your ability to put together an irresistible offer for your target market – an offer that is so good your ideal prospect will be insane to say "no" to it.
Many business owners and marketers miss this step and jump into promoting their products and services to the market. As a result, they waste time, money and resources selling something that few (if any) want.
This step-by-step blueprint will show you exactly how you can put together an irresistible offer within a short period of time.
How You Can Use This:
If you are launching a new product or service, use this blueprint to put together an offer for your target market.

If you already have an existing product or service in the market, use this blueprint to "sweeten" your offer and make it more attractive for your target market.
Tools & Resources
To help you out with crafting an irresistible offer, we created a fill-in-the-blank worksheet you can use to plan out your offer.
Irresistible Offer Worksheet
You can download a PDF version of the blueprint and the resource here.
You can read the blueprint first to get an idea of the process. Then you can use the worksheet and the blueprint to start creating your own irresistible offer for your business.
What You Need To Know
It's important to know that your offer is NOT your product or service.

It is how your product or service is perceived by your ideal customer avatar. And this perception is relative to your competitors.

If your competitor has a better offer (more benefits for the same or lower price) and everything else is the same, your target market is more likely to buy from your competitor than you.

So, how do you craft a good offer?

We have a simple formula – the expected value of the product or service must outweigh the cost.

When we talk about value, there are 5 factors that we'll be looking at:
Benefits – what's in it for the ideal customer if they were to purchase the product or service?

Proof – how do you prove that you can deliver the benefits?

Risk Reversals – how do you minimize or mitigate any risk on your customer's part?

Response Triggers – why must your prospective customer act now?

Price – what is it going to cost the customer to purchase your product or service?
The diagram below summarizes the anatomy of an irresistible offer – an offer your target market cannot say no to.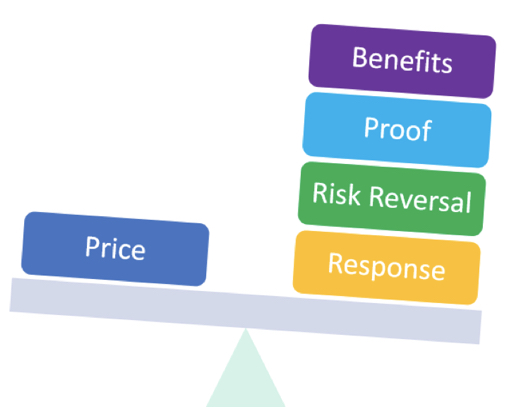 In the next few sections, we're going to show you how you can put together an irresistible offer in no time.
It's extremely important to do in-depth research on your top competitors in the market before putting your offer together.
Here's a short summary of what you need to do to research your market:
Look for the top 10 competitors in your market

List down related products and services for each competitor

Look at their website / landing page and figure out which market they are going for

Figure out how they position the brand and their products.  

Write down what make their brand, products and services credible

Find out how they are pricing their products or services and if they are offering any payment terms
We recommend you check out our blueprint for competitor research here.
We include step-by-step instructions on how you can dive deep into your competitor's products and services with free tools available online.
Steps To Creating An Irresistible Offer
What's Next?
By now, you have taken some time to put together an irresistible offer for your market.
Go through the offer with your team. If you have prospects you're following up with, drop them a call or email to tell them about your new offer.
You might even close a few more sales just by changing the offer.