Overview
There are probably hundreds of blog posts and guides on this topic.
However, many of them do not provide a comprehensive overview of what you need to do to create an irresistible lead magnet that actually attracts the right audience for your business.
In this blueprint, you're going to learn how to create a lead magnet that your ideal customer actually loves. I'll also share 2 ways you can distribute your lead magnet to as many people as possible.
How You Can Use This:
You can use this blueprint to create your first lead magnet.

You can use this to improve your current lead magnets.

You can find out how to distribute your lead magnet.
Tools And Resources
Creating your lead magnet can be challenging especially if it is your first time.
This is why we created this blueprint as a straightforward step by step guide to help you get started from the brainstorming process all the way to the distribution part..
You can download a PDF version of the blueprint here.
You can read the blueprint first then apply the concepts to your business later.
What You Need To Know
A lead magnet is a free offer you give to your ideal customer in exchange for their contact details (usually their name and email address).
Here's an example of a highly effective lead magnet used on the Women's Health website.
When a website visitor enters their email in the box below, they will receive a 21-day bikini body plan in their email.
At the same time, it gives Women's Health an opportunity to promote their magazine subscription and books to you.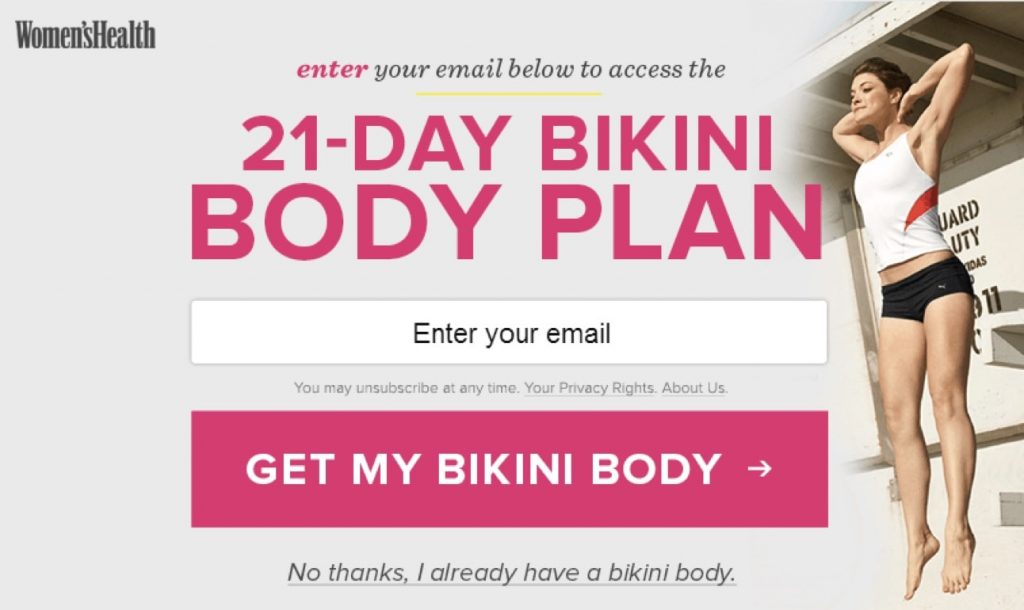 A lead magnet is one of the best ways for you to build a list of warm audience who trust you and are more likely to purchase your product/services in the near future.
By providing massive value for prospective customers at little or no charge, you're able build trust and credibility in your industry very quickly.
One of the often-overlooked function of a lead magnet is to attract the right leads for your business. Often, business owners use poor lead magnets that have little to do with their core offer.
Here's an example.
A few years back, a financial advisory gave away movie tickets to "Fast & Furious 6"  to generate leads for their team.
Unfortunately, many of the leads were not qualified and the advisors wasted days calling and following up with leads that had little or no interest in getting personal financial advice.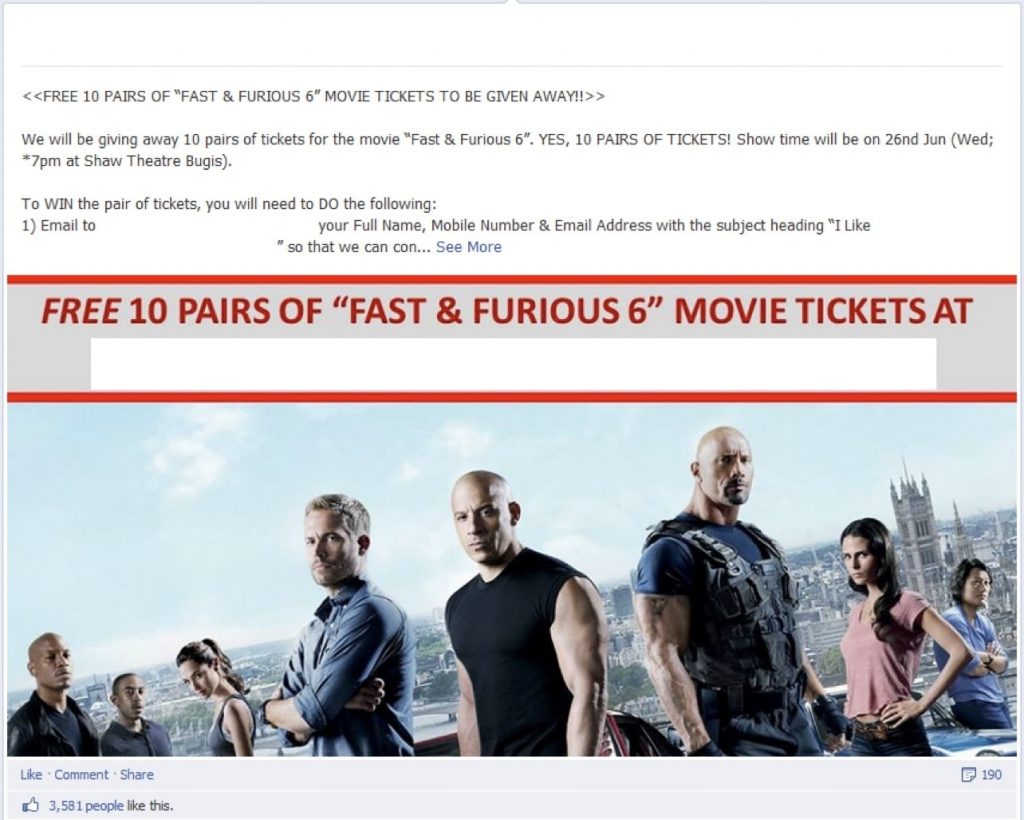 There are 7 key characteristics of irresistible lead magnets.
As we go through the exercises in this blueprint, make sure the lead magnets you create possess most (if possible all) these characteristics.
Makes Your Prospect Go "Wow!"
A good lead magnet MUST provide high perceived and actual value to your target audience. Your prospective customers must be impressed and even captivated by the value you're providing for free.
Solves Your Ideal Customers' Biggest Problems And Challenges
Your lead magnet must address the most urgent and immediate problems and challenges that are stopping them from taking action on your offer. Usually, it gives them a quick fix they can use immediately to get results.
Significantly Different From Your Competitors
You must make sure your offer is different from your prospect.
Before you start creating your first lead magnet, I recommend you check out your closest competitors and see what they're offering to your market.
Prove To Your Customers That You're Superior To Your Competitors
One of the most important functions of a good lead magnet is to educate your customer on your uniqueness and differentiation.
You need to show and explain to your prospective customers on why you're the only logical choice in the market.
Gets You One Step Closer To The Sale
The lead magnet must facilitate and support the prospective customer to eventually make a decision to purchase your product or service.
This can be done through different ways – educating the prospective customer on their problems, addressing their objections and/or highlighting the benefits of your product or service.
In the later part of the blueprint, we'll take you through a step-by-step process to create a lead magnet that moves the prospect closer to the sale.
Minimum Work & Effort From Your Ideal Customer
As best as possible, try to provide "quick fix" solutions to your prospective customer's problem.
Remember, your lead magnet should not solve all their problems. At best, it is to show them what's possible when they use your products and services.
Fast Consumption (Optional)
Your prospect needs to actually consume and use the lead magnet before they decide that they can trust you and buy from you.
If possible, try to create a lead magnet that can be consumed in 5 minutes or less.
This is why it doesn't always make sense to give away a huge amount of content that will take the prospect days to consume.
Neither does it always make sense to give them a mini-course because they are likely to lose interest halfway in your sequence.
Now that we covered all 7 characteristics of great lead magnets, I'm going to share some examples of lead magnets and when you should use them.
How To Create Your First Lead Magnet?
How To Distribute Your Lead Magnet
If your goal is to generate leads and enquiries for your business, you'll need a high converting lead capture page that will help you turn your traffic into leads for your business.
Here's an example of a lead capture page by one of our workshop participants, Garreth Peh.
Gareth is the the head of marketing for Aesperon Training, a training and certification academy for construction workers.
He created the lead capture page to get leads from decision makers in the constructions industry who are looking for high quality training for their staff that's partially funded by the government.
Even though he is operating in an extremely small and competitive market, he was able to get a 30% conversion on this landing page from his Facebook Ads.
Upon getting their details, he'll send them a follow up email and call about the report and get them interested in a 1-hour consultation session. Through his follow up efforts, he was able to convert 50% of the leads into appointments.
Using this simple lead capture page and funnel, he was able to make a 2,000% return on his investment on his advertising spend in his first month.   
If you're interested to learn more about what he did, we created a free blueprint to show you how you can create a high converting lead capture page for your business.You can check it out here: https://www.growthtribe.com/blog/blueprint/how-to-craft-a-high-converting-lead-capture-page
You can also use Facebook Lead Ads to distribute your lead magnet.
A lead ad is an ad where clicking the call to action button (In this case, it's a 'sign up' button) will bring the user to a form in Facebook.
After the user filled in the form, their details will be saved in a database in Facebook. You can download the leads and follow up with your prospects.
In the example below, you'll see a lead generation campaign we created for MPM Math Singapore. In exchange for the parent's details, we gave away a free "Score A In Math" diagnostic test for children from 4 – 12 years old.
There are many benefits of running lead generation campaigns. Here's just a few of them:
Autofill – Facebook will automatically fill up the fields with the user's name, email and phone number.

Lower cost per lead (CPL) – Generally, compared to sending your traffic to a lead capture page, you'll get leads at a much lower cost.

Integration with email marketing & CRM software – You can automatically add your leads to your current prospect list and send them an email immediately.
If you like to find out more about how to set up your own Facebook Lead Generation campaign, we created a comprehensive blueprint that will show you how. You can read about it here:
https://www.growthtribe.com/blog/blueprint/how-to-launch-your-first-lead-generation-campaign/
What's Next?
I hope that this blueprint gives you a strong foundation in creating your first lead magnet.
A great lead magnet will help you generate a large number of high quality leads within a short period of time.
We have clients who generate hundreds even thousands of leads per week from their advertising campaign using their lead magnets.
And a lead magnet is only the first step of your marketing.
In future blueprints, I'll show you how you can follow up with the leads and turn them into red hot prospects and customers for your business.
Till then, keep creating new lead magnets and testing them.