Introduction
Have you ever wished you have 48 hours a day so that you can work on more aspects of your business? Or perhaps you realised you are killing it in one component of your marketing mix but inevitably allowing the others to stay stagnant, or worse, go downhill? 
Well, the Marketing Director of D'Elegance International, Peh Zheng Yang, was once in such a dilemma. 
In this case study, we share how a shapewear company in Singapore is able to focus more time on other areas of their business by trusting GrowthTribe with marketing efforts.
We will also show how we have helped them reduce cost per lead and increase their cash flow.
About D'Elegance
D'Elegance is a shapewear company in Singapore that specialises in creating solutions to help Asian women with body shaping and improving their postures. 
Zheng Yang had two fundamental goals that any business owners could identify with. One is to increase brand awareness of D'Elegance, and the other is to increase its outreach by bringing products and services to more clients in Singapore.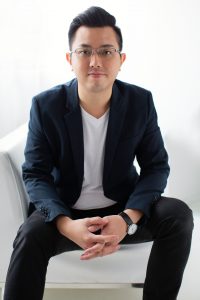 Challenges Before GrowthTribe Came Into The Picture
Before our partnership, closing rates were actually high at above 70%.
The biggest challenge was getting more leads at a good CPL.
From January 2019 to 14 April 2019 while D'Elegance was running the campaign on its own, there was an average of 11 leads per day.
Months after months, Zheng Yang was strapped for time.
He felt compelled to continuously monitor the company's digital marketing campaigns to see how they were faring.
This led to him working purely on digital marketing and did not manage to improve on other areas of the business, such as customer service.
"Although we were getting decent results from our marketing campaign, a lot of times, I found that I got overwhelmed"
Eventually, he realised he needed help and decided to look into the option of outsourcing digital marketing to focus on growing other aspects of his business.
And that's what brought him to reach out to us — the GrowthTribe team.
Zheng Yang said, "we also learnt a lot by observing what GrowthTribe was doing – in terms of their marketing systems and the emails they sent. They don't just teach, but they also practice what they preach, and they were getting good results."
Here's How We Helped D'Elegance
1. Increase Conversion Rate By 42.3% in 1 Month
D'Elegance had a control that worked, but the conversion rate was not great.
This contributed to a high cost per lead (CPL) and fluctuations in daily results, which made it difficult to scale. We created a new copy and landing page and set up a split test on Visual Website Optimiser (VWO).
Conversion rate thus increased from 5.05% to 7.19%. That means we helped D'Elegance increase their conversion rates by 42%.

Their previous landing page was not effectively appealing to the audience. 
It utilised a more aggressive tone and was text heavy. The design was also not optimised for mobile viewing and somewhat dated. For the target market of D'Elegance, they are more responsive to landing pages that emphasise on images and aesthetically pleasing design.
The message was also not communicating the full benefits of the products in a way that would captivate consumers.
In other words, it did not describe how the products work and what makes them stand out from other similar products, which downplayed their appeal.
We came up with a copy that resulted in high conversion by using the right format and structure that captures the audience. 
As most of the traffic comes from mobile, we focused on creating mobile-optimised copy and page design. 
We also emphasised on the products differentiation and demonstration. This helped to increase the value and desirability of the products, which increased conversion. 
We positioned the products such that they would be seen as valuable to the market and created a stronger logical argument why they are better and more effective than similar products from other brands. 
2. Increase Quality Of Leads from Facebook Campaign
Previously, the campaign ran only on two primary audience – 1-10% lookalike audience (LLA) and blank targeting (whole of Singapore).
There were only two creatives used for both ad sets. D'Elegance did not segment the audience into different levels of awareness and interest.
The previous campaign's creatives and angles targeted only a small segment of the market, which resulted in wasted ad spends because they were not sending the right message to the right audience.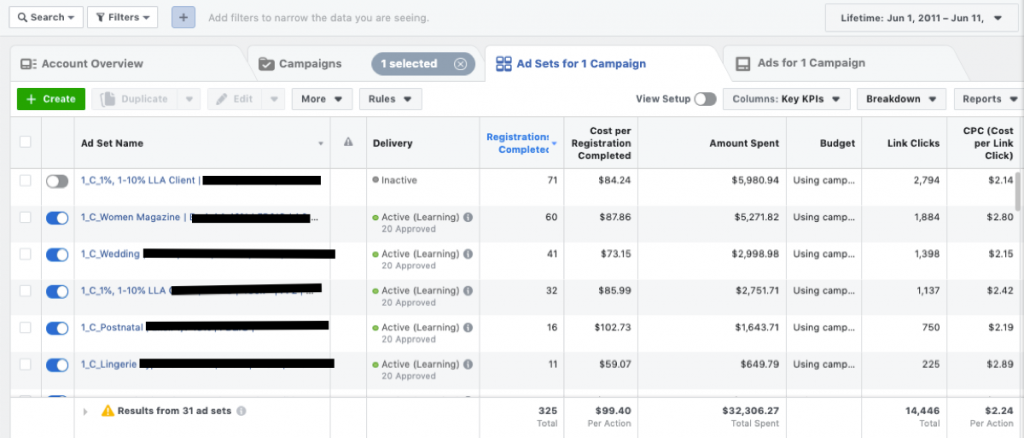 Besides having a landing page that drives high conversion, at high ad spending in a small market like Singapore, we need a more comprehensive targeting, funnel strategy, more in-depth segmentation and sequencing of the message to achieve better results.
Hence we tested more than twenty different angles, messages and creatives within the first two weeks to find the right audience-message fit. 
We also tested different images to find the one which resulted in higher click-throughs. 
We ran a split test of the new landing page against the control and created different funnel levels – top of the funnel (TOF), middle of the funnel (MOF) and bottom of the funnel (BOF).
From there, we were then able to segment the audience into different stages and levels – awareness, interest or ready to buy. Instead of relying on just the LLA, we targeted different segments with different messages and creatives. This opened the opportunity to create a more extensive retargeting campaign that educated, built desires and handled objections.
Want Us To Help You Grow Your Business?
3. Lower Cost Per Lead By More Than 30%
D'Elegance now has higher quality leads and warmer prospects. The key to this success is with better targeting, segmentation of the funnel and sequencing of the messages / creatives.
In the past, the leads took weeks before turning into appointments. After taking over, we see more leads scheduling appointments immediately after signing up on the landing page. Some leads are even asking for an appointment before we followed up with them.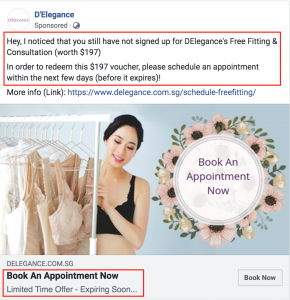 To increase the quality of leads, we focused on building up their desire for the products with better creatives and messages that created intense anticipation and interest to get the product immediately. To increase the urgency and motivation to schedule an appointment, we run post-registration retargeting to remind the leads to book an appointment. D'Elegance was already using a mixture of the email sequences, SMS and WhatsApp to follow up with the leads, so we reinforced by placing more reminders on Facebook as well.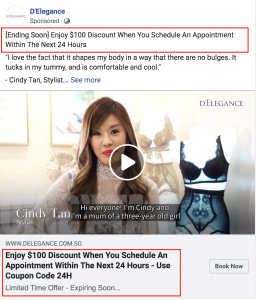 4. Increase Lifetime Value (LTV) And Cash Flow
There were not many repeat purchases before we came in to help. There were also many people who registered but did not turn up for the appointment.
The solution we provided was to re-engage existing lists.
Therefore, we created a reactivation campaign to reach out to these two groups of people. This results in an additional 100-200K revenue at zero additional cost.
"…Cut Our Cost Per Lead By More Than 30%!"
After we started running our campaign, from 15 April to 30 April 2019, there was an increase to 25 leads per day, with a much higher lead volume but a lower CPL. 
In just one and a half months after our partnership, CPL was reduced by 30% to 40%, and the Return On Advertising Spend (ROAS) increased from 2.5 to 4.69.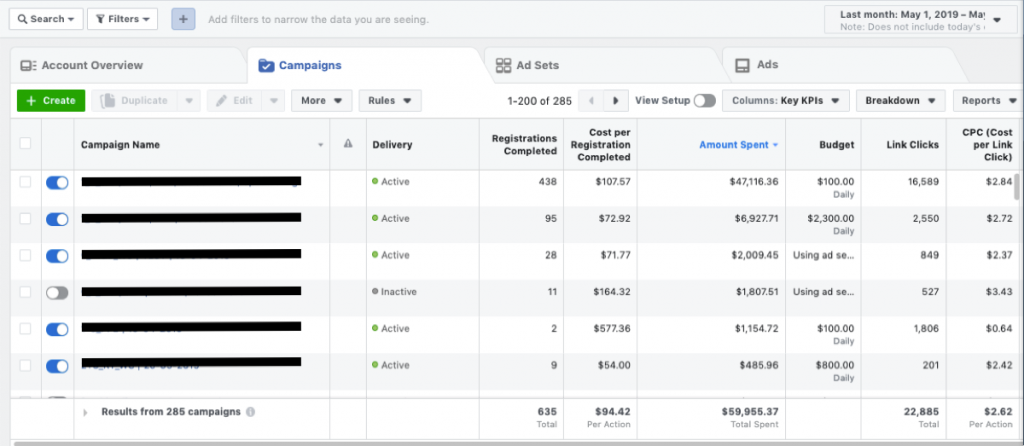 D'Elegance achieved its highest ever monthly revenue in May 2019. 
We continued to drive more leads while keeping the CPL low. At the same time, we set aside some budget for testing of the angles, messages, creatives and copy. Even during this testing period, we continued to get low CPL at a higher number of leads – 20 leads per day.
This helped us prepare for the next phase of scaling while still ensuring that the business continued to get more sales every day.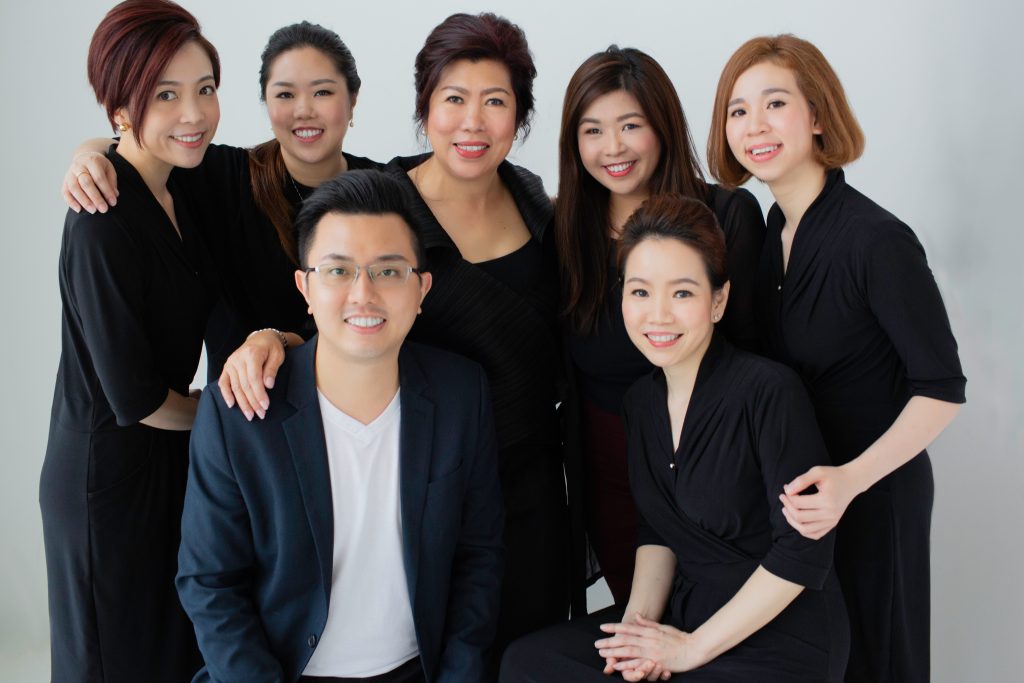 "With GrowthTribe's Help, We Can Execute Our Business Faster!"
Zheng Yang is delighted with the results we have produced. However, he quoted Gary Vaynerchuk for a word of advice to business owners who are considering working with us, "no amount of good marketing can solve a bad product".
In other words, your products and services must already be sound; otherwise, it would be difficult for us to help market them.
If your foundation is solid and you are looking to scale your business to greater heights in a short time, then Zheng Yang highly recommends us whom he considers as a reliable marketing partner.  
Want Us To Be Your Marketing Partner and Help You Grow Your Business?
From the case study, we focus on building great partnerships with our clients in the health/wellness/beauty niche.
Not only we help our clients get more sales, we also help them free up time which they spent on marketing.
This helps them to redirect their efforts on other aspects of their businesses, like customer service and operations.
Click below to schedule a Free Consultation Call with us, and we can show you how.