And that skill is…
Your ability to craft a highly persuasive Ad Copy.
We covered some steps and guidelines for writing ads copy in our blueprint: "How To Create FB Ads That Sell"
But if there is just one thing you need to master when it comes to creating highly effective ads…
It's the ability to "force" your market to pay attention to your ads and take action on your message.
And you can do this with a head-turning…
Hook
What's a hook?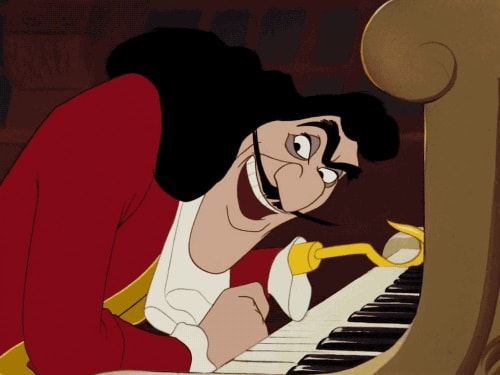 It's an idea that shocks them out of their mundane daily routine and introduce drama in their lives.
More importantly, it should position your product or service in a different and meaningful way…
Here's an example from our multi-million dollar supplement business that targets older women in the United States and Canada.
We promote a product known as "Provitalize", a probiotics that improve gut health and helps with weight loss.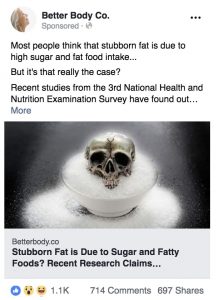 The hook we used in this ad is what we call a…
Myth Buster
It basically targets the market's existing beliefs about how sugar and fatty foods are the biggest cause of stubborn fat.
By questioning the belief e.g. "But is this really the case", we create immediate interest in our message.
You can tell from the number of reactions, comments and shares that the ad is getting a lot of attention from the market.
And this is just one of the "hooks" you can use.
Here are a few more you can test:
Focusing On An Attribute
You highlight the biggest and best attribute of your product or service.
Especially if you have a strong offer.
For example, when we were promoting our consultation, we focused on our outrageous sales guarantee.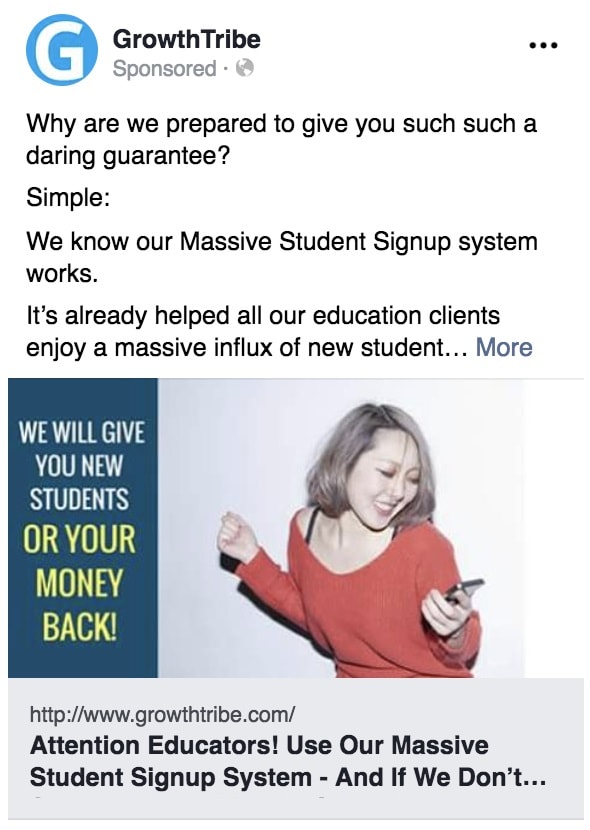 Introduce Controversy
You can also introduce something controversial to your audience.
We did this with an ad we created for one of our clients (Totsworld)…
Where we share about how not all snack products aimed at babies might not be as healthy as they think.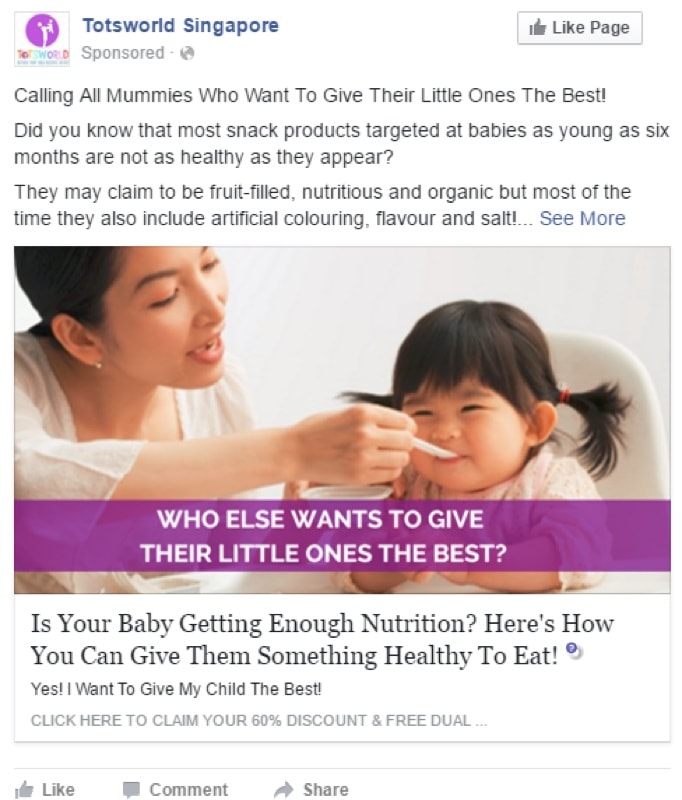 Revealing A Secret Methodology
Another hook you can try is to reveal a unique methodology or framework.
This is especially effective in a highly competitive market where the level of awareness is much higher.
Here's an example from one of our clients – The Classroom.
We created a new framework called the "C-Cube Trigger System" based on what our client was already doing with his studies.
By giving it a cool-sounding name, we were able to generate more interest from the market.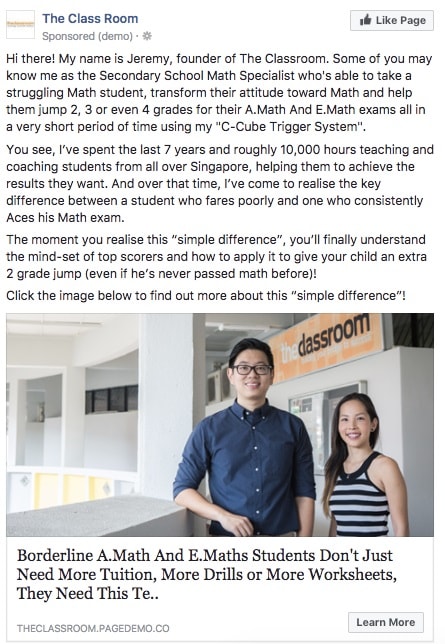 So far…
We have shared 4 types of hooks you can use to grab your market's attention.
When you run ads, it's all testing different hooks and angles to see what works for your market and your offer.
This is why in our trainings, we share more than 20+ different hooks you can use in your ad copy such as…
Exclusivity
Admit A Flaw
The Underdog
The Discovery
The Comparison
Pick An Enemy
Before – After / Ascension
The Challenge
Celebrity Endorsement
We'll also show you how you can use these hooks to craft out highly compelling ad copies that get more clicks, shares and comments.
What's Next?
Tomorrow, I'll be sharing about the last pillar…
And I'll be going into specifics about how you can play the long-term game when it comes to Facebook marketing and advertising.
Specifically, I'll share about…
How you can use Facebook Advertising to send a tsunami of high quality leads to your business in the next 1 week

What you need to do to turn clicks and leads into raving customers who buy from you not just once… but again and again.

How a $100 million dollar natural health company increased their revenue by 1,000% in one year with Facebook and Google Advertising simply by focusing on this one critical factor.
It's going to be a longer piece of content than the ones you have been receiving over the last few days.
So do watch out for our next email!