Having been on both sides of the fence (running digital marketing campaigns for huge brands like Coca Cola, SKII and Olay and working with over 300+ small business owners over the last 2 years), I have seen my fair share of small business owners blindly applying the social media"best practices" recommended by "social media experts" out there only to fall flat on their faces and even lose their businesses all together.
Many of these experts work with big businesses  rather than small business owners and most of them offer generic strategies and tactics that might not be applicable to all businesses.
(Screenshot from: http://www.forbes.com/sites/brentgleeson/2012/10/31/6-ways-brands-build-trust-through-social-media/#6140f0033a12)
Note: I'm not saying that small business owners should NEVER apply the big business social media practices in your business. The principles of social media marketing are the same regardless of your company's size, but the application is a whole different story.
Some of the recommended social media "best practices" are great if you…
1. Have a huge budget to spend on your content creation and advertising
2. Hired a team of talents working their ass off on your social media marketing
3. Are an established brand in the market (special thanks to the millions you spent on television, radio and celebrity endorsements)
All of which small business owners rarely have if they are new to the business.
While it is definitely possible to modify the strategies and tactics that big businesses use and adopt them for small business owners but it takes a level of skill, experience and insight to do it effectively – things that small business owners might not be equipped with when they start out.
Plus! Contrary to what many social media consultants might share with you, social media marketing is NOT an even playing field.
It might be in the past when social media networks were desperate for anyone to start advertising on them. But as they grew, companies like Facebook and LinkedIn love big budget advertisers.
Big businesses (especially those who work with a media buying agency like MediaCom) get special discounts on their advertising. Every social media network selling traffic offer huge perks to large advertisers to get them to spend more. So naturally they get an edge over the small advertisers who are paying the regular fees.
They also get inside information about what's working and what's not, as well as the upcoming developments in the different platforms. For example, I knew about Facebook going into video and mobile about 1.5 years before they actually announced it officially to the media. This means big businesses are always one step ahead of you!
And if these doesn't give big businesses an unfair advantage, let's add on the fact that they have a professional social media team working on their marketing day in day out. These social media team typically have experts who are great at creating highly engaging content and driving traffic through social media platforms.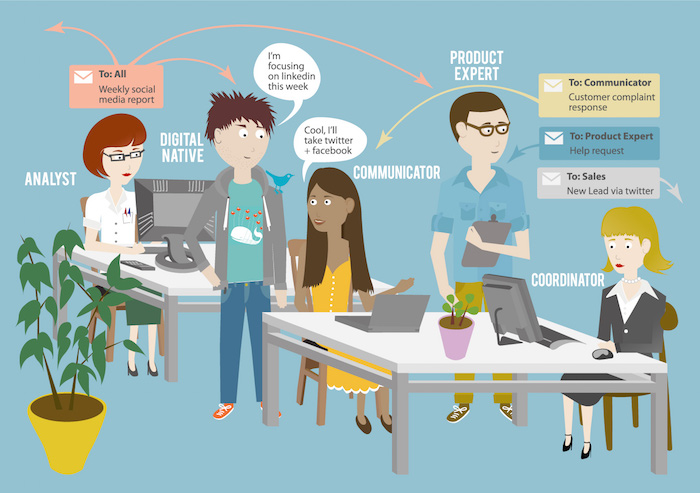 (Image from: http://linkhumans.com/blog/structure-social-media-team)
So does it mean that small business owners are on the losing end when it comes to social media marketing?
Of course not.
But it just means you need to play the "social media marketing" game a little differently – change the rules of the game. Implement strategies and tactics that are different from what the big business social media experts are recommending.
Now, let's look at the 5 Big Business Social Media practices you should ignore if you're starting out on social media marketing. 
"Best Practice" #1: Promote On Multiple Social Media Platforms
Most people think that marketing on as many social media platforms as possible is the way to go. The argument is the more social media platforms you are on, the more people you'll reach.
Unfortunately, not all social platforms are suitable for your business purposes.  
LinkedIn is great if you are in B2B business and you are trying to reach key decision markers in different companies or reaching out to potential partners in the market for collaborations. If you are using this platform, the focus is on education and attraction. You want to post useful and valuable information and offer a different point of view.
For example, Microsoft doesn't just sell Microsoft 365 immediately. Instead, they use a series of articles to sell to working professionals and business owners.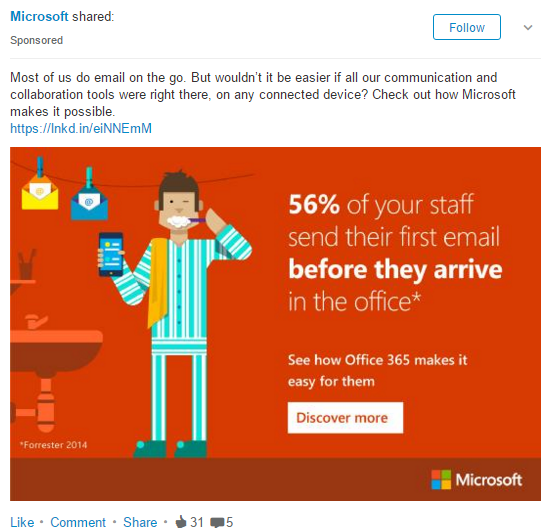 Pinterest and Intagram are great if you are in a more visual business like Art, Fashion, Food and Health & Beauty.  The people using these platforms are predominately female and belong to the younger age groups. You will need to invest a bit of time and energy on professional looking photos of your products, services and (maybe) even your team members.
Below is an example of a Pinterest Ad for a fashion brand, JCrew.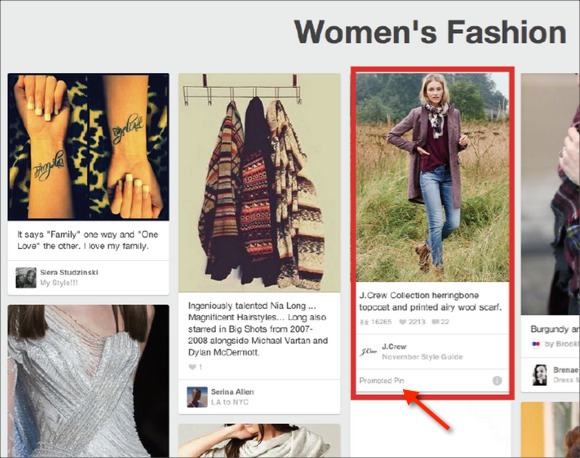 Youtube is great for building awareness in any business, especially event or service-based businesses. The only downside is that you need to spend time and money to create more professional looking videos to stand out and capture your market's attention. It is also much more difficult for you to create multiple variations for testing purposes.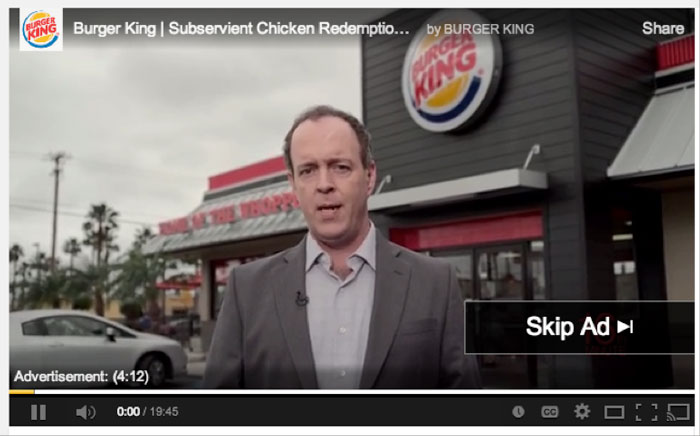 How about Twitter? Twitter is great for spreading news about your business and product launches. Most journalists keep an eye on twitter for trending news. Only problem is that it does not have the reach that Facebook has in most markets and it costs much more to reach your customers and convert them into sale.
Based on a study by Wordstream, you can see that Twitter costs twice as much as Facebook to reach 1,000 views (based on average Cost Per 1,000 Impressions) and the first click revenue per visitor is only half of Facebook.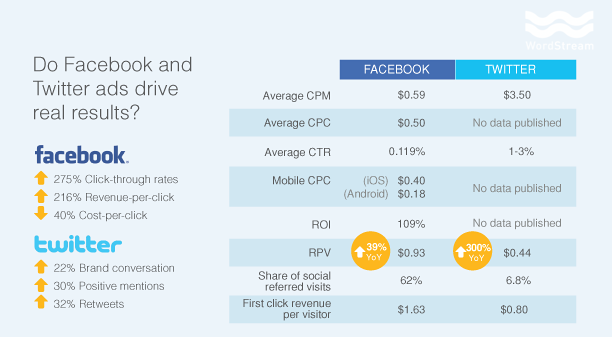 (Extracted from: http://www.wordstream.com/blog/ws/2013/11/05/twitter-versus-facebook-ad-performance)
Facebook is by far one of the most versatile platforms for small business owners.  
Based on a "We Are Social" study done in 2015, you can see that the number of active users on Facebook exceeds the number of active users of the second biggest social platform by almost 100%.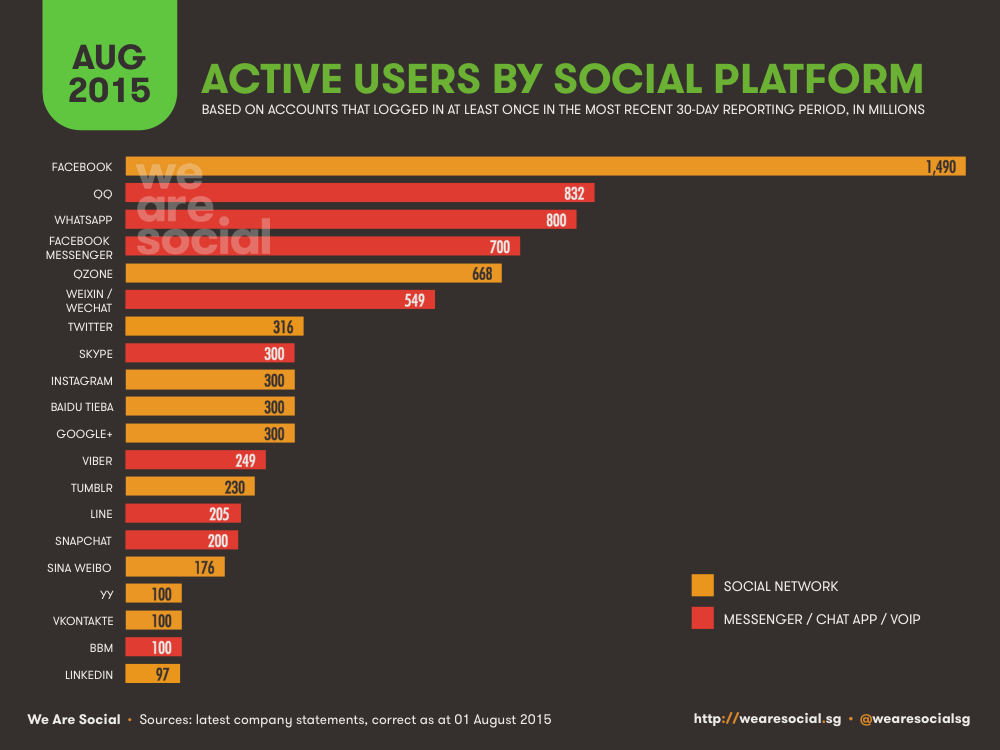 (Image From: http://sproutsocial.com/insights/asian-social-channels)
While there are talks that the younger generation is moving away from Facebook to Instagram, there is still a large and growing base of users between 25-54 and a good mix of both genders.
This means you can apply Facebook marketing in almost all kinds of business!
"Best Practice" #2: Build A Huge Fan Base
When I was working with P&G brands such as SKII and Gillette about 3 years back, our key KPI was to get as many fans as possible to our fan page for the lowest cost possible. We were spending thousands every month to get tens of thousands of new fans for the fan page.
There is a reason why this is a great strategy for brands like SKII and Gillette. For one, people already knew about them from all the mainstream advertising on television and radio. This means that we were able to acquire new fans pretty cheaply in most markets.
The second reason is because they are in the Fast Moving Consumer Good (FMCG) niche. This means their products have mass appeal and desire and more numbers on our fan page will lead to more sales eventually.
Now, let's talk about you, the small business owner.
Chances are not many people know about you, especially when you're just starting out. This means your cost per fan acquisition is going to be high. It doesn't help that you might get junk fans and followers with your "Page Like" campaigns.
From a marketing point of view, you can't (and shouldn't) go after everyone in the market, even if you are in the FMCG market like P&G. It is expensive, wasteful and ineffective. Most small business owners get more traction in their marketing by focusing on a specific market in one country.
So it doesn't make sense to build a huge fan base early on. Your key focus should be getting the most qualified leads possible and acquiring as many customers as possible within the shortest period of time.
Once you get a healthy month-on-month cash flow, you can focus on expanding your product line, buying more advertising and building a huge loyal fan base.
In my "Customer On Demand" workshop, I run ads with brand new fan pages and websites. For example, in the last Facebook workshop, I ran a campaign for "English Reading Corner", the publishing firm behind the highly popular "Science Adventure Series". 
We created a brand new fan page called "Science Kids" from scratch and ran an ad using the fan page.
At the end of the campaign, we managed to get 56 leads at just $0.53 for their "Science Adventures" promotion. This includes 7 parents who leave their details because they were interested in purchasing the full "Science Adventures" package for just $58.00. 


This just goes to show that you don't need a huge fan base to start getting leads and sales for your business. And this is something that small business owners like Tang Siew Kwan realized when they started running ads.
He used to believe that in order to get sales from Facebook, he will need a Facebook fan page with at least 10,000+ fans.  However, using the same strategies and tactics we used for "English Reading Corner", he was able to generate $20,000 of sales in just 2 months with a small fan base of 700+ fans.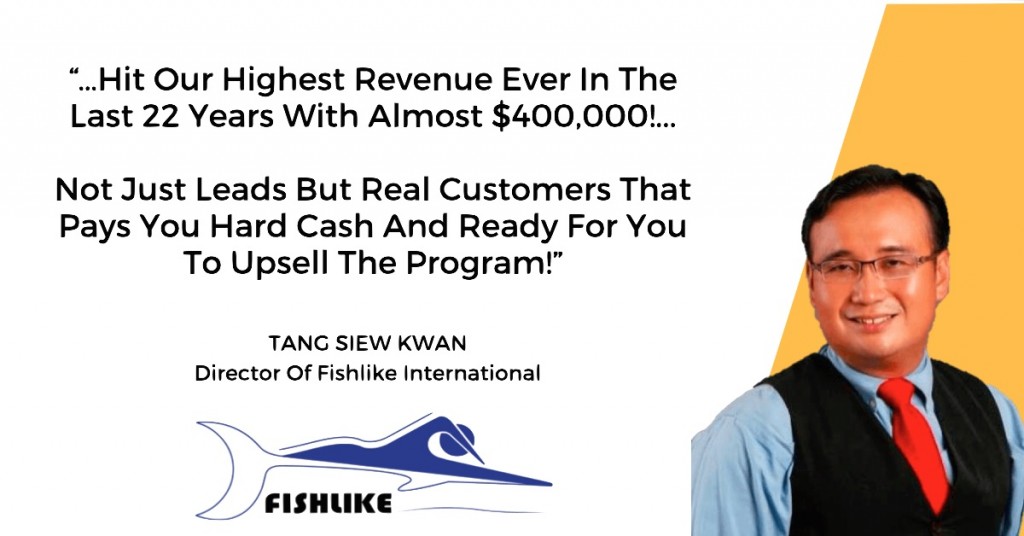 Like I shared earlier, a large fan base is not required. Focus on getting leads and sales instead. 
"Best Practice" Practice 3: Run Branding Campaigns
One of the most common mistake business owners make is to focus on building their brand rather than getting sales early in their business.
I once met a lady who started her fashion business by giving away dozens of her dresses to bloggers (hoping they will write about her brand) and posting pictures of her dresses on social platforms like Pinterest and Facebook to create awareness for her products.
While she made some sales from word-of-mouth, she wasn't making enough sales for her business to survive. When I asked her why she decided to take that approach and her answer was simply that's what all the other big fashion brands are doing.
Now, it's not that branding is not important. It is just that it takes time, money and effort to build a brand.
And you have a much easier time building a brand when you have actual customers using and raving about your products and services.
This is why I always believe that the best form of branding is actually selling your product to someone and getting them to enjoy the benefits. If you have a good product, naturally people will recommend it to more people and more people will know about you.
This is why instead of branding campaigns, I like to run lead generation campaigns to build huge lists of highly qualified prospects who are ready to buy my stuff.
This not only provides me with an opportunity to sell them my stuff, but allows me to engage with them in the long term to build a relationship with them and talk about my brand at the same time.
For example, during the "Customer On Demand" workshop, we ran another campaign for "Math Heuristics", a tuition centre here in Singapore. Once again, we used a completely new fan page and gave away a report on the "10 Biggest Careless Mistakes" most children make. 
The reason why we gave away this report is because we wanted to attract parents who were concerned about their child's carelessness in the Math exams. These are the parents who are more likely to sign their child for a Math enrichment program that helps them deal with their carelessness.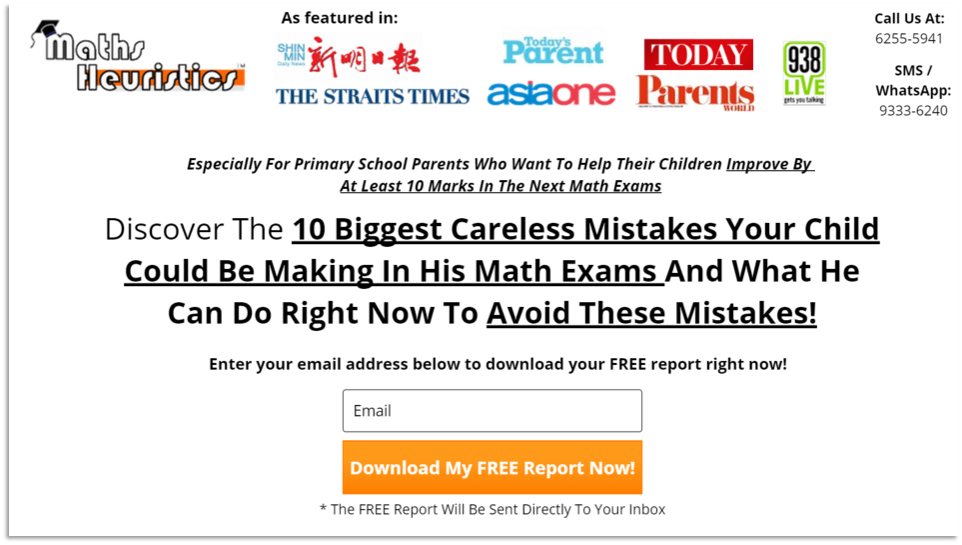 Within just 1.5 hours, we managed to get 34 leads from 87 visitors. This is a 39.1% conversion for an offer we put together in about 30 minutes.

In some niches, such as F&B and Health & Beauty, it is possible to close sales almost immediately. This means you can build a list of buyers instead of just prospects.
For example, in one of the "Customer On Demand" workshops, we ran another campaign for a nail studio. This time round, we were giving away a special offer, so the visitors who opted in know that they are going to purchase a manicure and pedicure for $28.
The results? We had 12 leads in just 2 hours at $2.09 each. What's surprising is that all 12 leads filled up their phone numbers in the next page. These are actual leads that Jess, the nail salon owner can call the very next day to arrange an appointment. Even if only half the leads turn up, she still makes a return of over 600% on her ad spend. 

"Best Practice" #4: Engage Your Fans With Content
Now, getting a lot of fans is one thing. Getting them to buy is a whole different problem.
Most fans are definitely not going to buy immediately. They haven't trust you and your brand enough to do that.
Most social media experts will tell you to engage them with good content so you can establish a relationship with your audience. The problem is creating content (especially good content) takes time, energy and talent – all of which are lacking in most small business owners).
Big businesses like P&G pay tens of thousands of dollars for social media agencies to create content and engage with fans on a regular basis. And even then, converting the fans into sales is a huge challenge.
And as if the problem of content creation isn't bad enough, you are now facing increasing competition from other businesses in your industry trying to do the same exact thing – post content.
The increasing amount of content on the Newsfeed also led to Facebook algorithm changes that limited the amount of organic reach your posts can get. You can see from the study by Ogilvy Social that in general, the reach of all pages they were managing dropped by at least 50% in just 5 months, and this was in 2014.
This means, you either have to boost your posts or run advertising to actually get any kind of reach, much less leads and sales from your Facebook posting.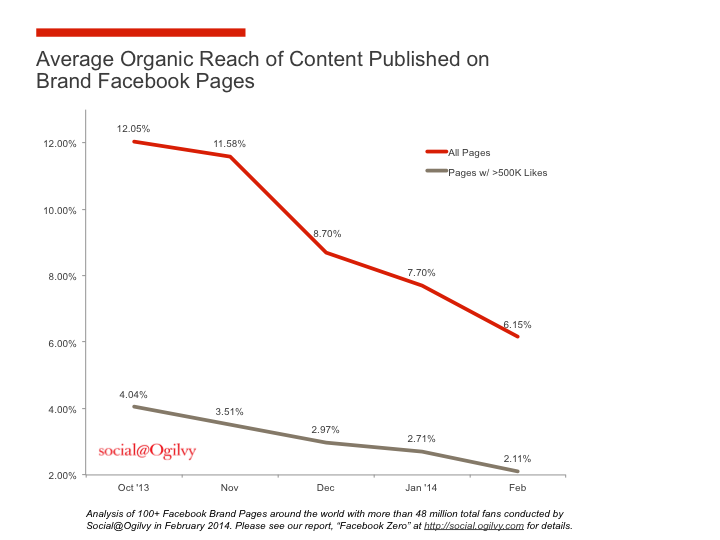 Chart extracted from Oglivy Social – https://social.ogilvy.com/facebook-zero-considering-life-after-the-demise-of-organic-reach)
In short, it makes even less sense for a small business owner who is starting out to invest heavily in content. If you need content to build trust, create one or two pieces of valuable content and give it away in exchange for their content.
We call this a lead captivator, something that fascinates and impresses the audience.
For example, one of the business owners that I trained last year create a 4 minute report to key decision makers in the Construction Industry. In exchange for the report, he asked them for their name, email, phone number and company name.
Once he gets their details, he gets in touch with them over the phone to arrange an appointment to close the sale.
In just 30 days, he managed to close $14,000 of deals on a $700 ad spend. That's a 2,000% return on his ad spend on one piece of quality content.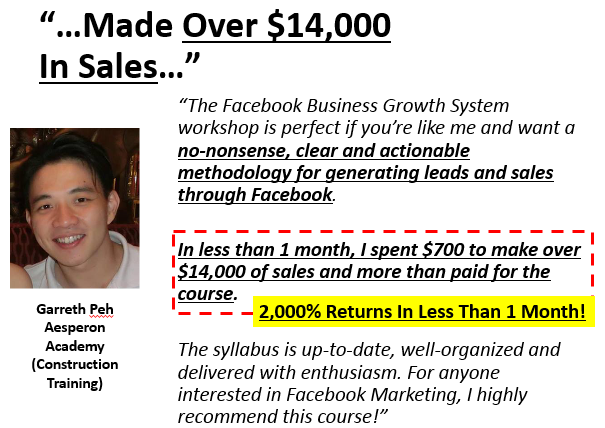 You can apply the same strategy to your business. Focus on creating one good piece of content and drive traffic to it using Facebook Ads.
"Best Practice" #5: Selling On The Ads Directly
When I talk about selling directly via ads, I am referring to ads like the one from Zalora. They are promoting a product directly through their ads and even going as far as offering discounts and putting the prices of the product in their ads.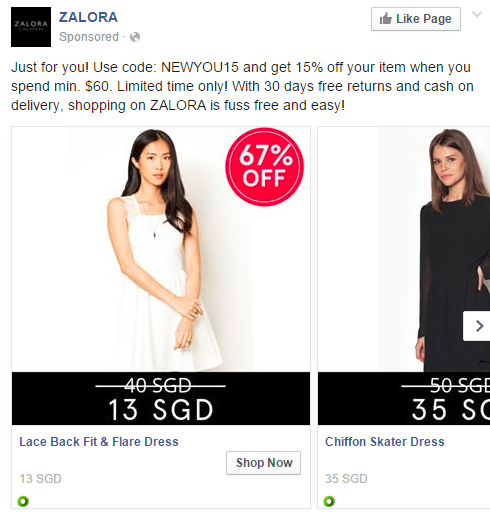 In case you are wondering why it works for big businesses simply because:
Their brand is already well-known.
There is desire built in the product.
The benefits of the product are clear.
To put it simply, if I sell an IPhone 6s at $100 (the usual price is about $1,000 – $1,200), my ads will probably receive an insane number of clicks, even with a simple ad.
For small business owners, selling directly through your ads is going to cost you… BIG Time.
Why?
Because the people on Facebook have low or even low intent to buy your stuff. They are probably just scrolling Facebook to relieve their boredom and connect with friends when they saw you ads.
This means that if your brand is new in the market and your product or service requires more time to explain, you will probably not get as many clicks as you like.
If this is the case, the best strategy is to do the selling on your website, not your ad.
For example, we ran a campaign to promote Adam Khoo's "Patterns Of Excellence" preview.
Instead of promoting the workshop and telling people to register for the preview, we ran this ad to get people curious about what the offer about.
Once they click on the ad, they will reach a salesletter that does all the selling. By doing so, we can get a healthy number of clicks and pack a full preview in just a few weeks.
Remember, the purpose of your ad is to get the click, not the sale. Focus on getting your prospects curious about your offer rather than sell your offer on your ads. You'll get way better results.
What's Next?
When I wrote this post, my intention was to help small business owners avoid the big business "best practices" that most social media consultants are talking about out there.
It is not that they are wrong. It is just that as small business owners with limited time, money and resources, our focus should be on driving more leads and sales first, before everything else.
This is why I created my "Customer On Demand" workshop to show business owners exactly what they need to do to attract more leads and sales in 2 hours or less!
"Customer On Demand Workshop"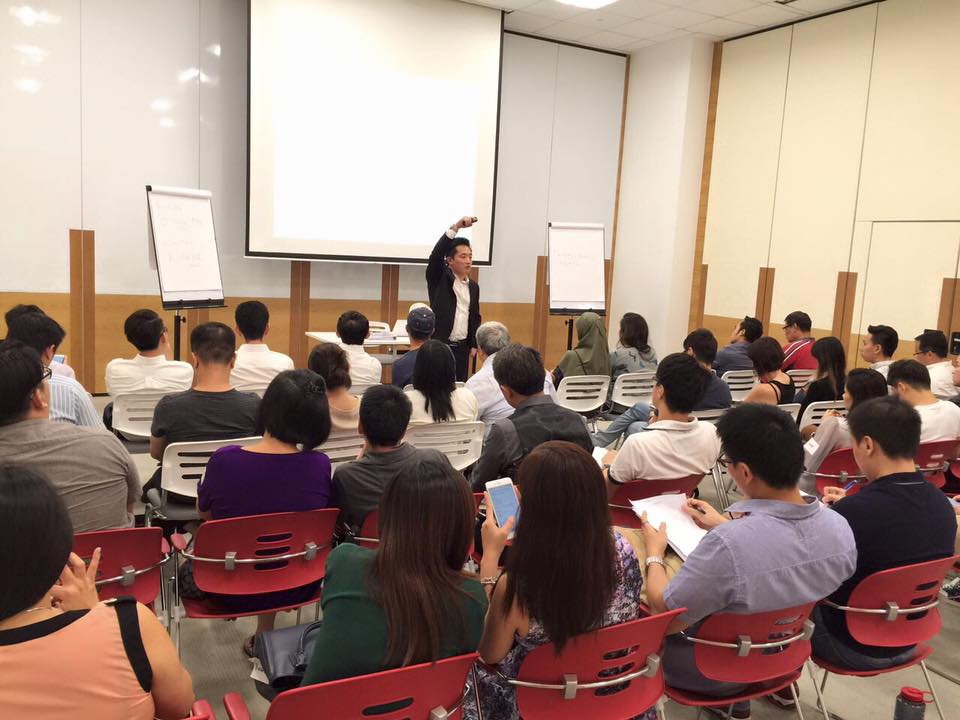 Below is just a fraction of what I'll be covering in my Customers On Demand Workshop:
8 Specific Ways To Target Your Prospects-  "hand-pick" the prospects you want to show your ad to with my highly potent "laser-targeting technique" that follows your customer like a guided missile rocket (so many Facebook amateurs don't do this properly and are consistently wasting good money on good ads)!
How To Avoid The 3 Biggest Mistakes In Facebook Marketing– These could be the reasons why you're ads are bleeding you dry with poor results (one of them is running Facebook ads with the intention of getting "likes" & "shares" which is honestly, a bad move for SMES with a tight budget, what you're looking for are red-hot leads that will give you their information, not their "like")!
How To Get  Prospects Within 3 Hours or Less With My Secret L.O.C.K Formula- (This is the exact same strategy I used to get 8,567 leads in 45 days flat! Note: my friends who are business owners have seen me go on hot streaks like that and have been begging me to teach them this highly strategic approach to maximize their Facebook budgets).
Interested? Here's the link to register.
Here's the thing…
I'm so confident that I will be able to get you leads in 3 hours, that I'm willing to go one step further.
Here's The Deal Of A Lifetime!
On the workshop day itself, one lucky participant will be notified via phone call.
If you get chosen, I will personally run your Facebook Ad LIVE at the workshop.
And you will see leads within 3 hours or less.
If you're wondering about how much you need to pay for my expertise & time…
You're in for a treat.
It's Completely Free Of Charge.
With results on the spot.
That's my promise to you.
And that's just to show you how easy and fast my lead generation system works.
180 minutes. Results. (don't believe me? Come see for yourself).
Even if you don't get chosen, you'll see just how easy it is to get leads for Singapore Businesses.
Note: The truth is that too many marketers have exploited Facebook for suspicious offers and "make money" scams, so i will have to put my foot down and say this is not for the following people.
You Can Skip The Workshop If You're A…
Affiliate Marketer (Customers On Demand is only for business owners who have full control over their products and services)
MLM Marketer (Customers On Demand is for entrepreneurs who have full flexibility to adjust the systems and processes because we will also be covering a highly potent Social Sales Funnel that may not work for MLM)
Looking To "Make Money" Or For "Financial Freedom" Tools (I am only looking to fix lead generation problems, Customers On Demand will not "make you rich", the workshop is designed to get qualified prospects cheaply, fast and systematically.
So…
If you're a serious business owner, I've only got one final question:
Are You Ready To Start Getting Prospects To Start Calling You Instead?
You can discover exactly how I managed to drive leads on Facebook with results like these in my Customers On Demand Workshop LIVE, right in front of your eyes.
Interested?
Click here for more juicy details.
Haven't registered? Here's the link again –> www.growthtribe.com/codsl
More than 700+ business owners have attended my Facebook workshops and benefited from the cutting edge strategies and tactics that I share. If you like to be next, register for my next "Customer On Demand" workshop and see the results on your own.
See you at my next workshop!