Welcome To GrowthTribe! Watch This Quick 2 Minute Video To Find Out How We Help Educators Grow Their Businesses!
HERE'S SOME OF THE EDUCATION BUSINESSES WHO'VE BENEFITTED MASSIVELY
From Applying Our Student-Attraction Strategies!
Hear Exactly How iSun Education Took Back Control Of Their Marketing From Agencies & Got 246 Parent Enquiries… And More Than $80,000 Worth Of Student Signups…All On Their Own!
– Li Su & Elsie From iSun Education,
PSLE Bootcamp
Here's Why Vivien Was Amazed (And A Little Shocked) When She Got 92 Parent Enquiries & Filled Up Multiple Parent Workshops Within Just 30 Days!
– Vivien Le From Le Xue Education,
Chinese Enrichment
Discover How Edwin & Team Skyrocketed Their Brand From A 5 Figure Business Into A Million-Dollar Business Thanks To GrowthTribe's "Direct-Response" Strategies!
– Edwin & Rowena From EduEdge Learning Hub,
English Programs
BEHIND-THE-SCENES BUSINESS GROWTH STRATEGIST WHO HELPED ADAM KHOO LEARNING
TECHNOLOGIES GROW INTO A $1M COMPANY IN 18 MONTHS SHARES
The 8-Step Coaching Program To Grow A Successful Education Brand & Bring Your Business To The Next Level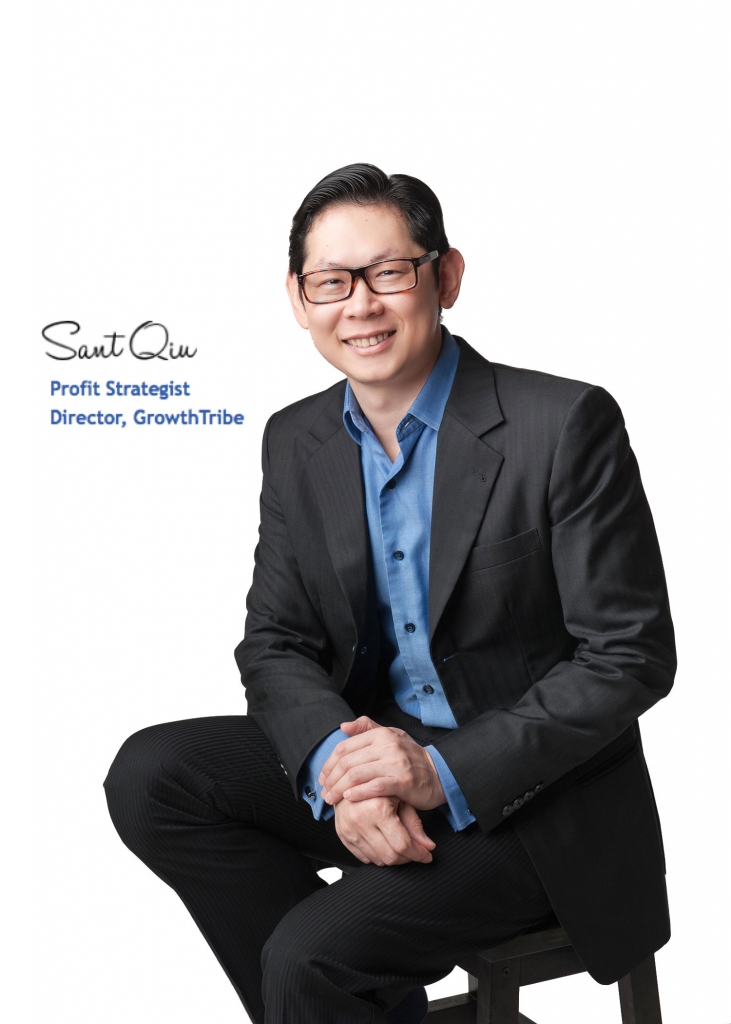 ABOUT SANT QIU
Director, GrowthTribe
Sant Qiu is a highly sought-after Profit Strategist who specialises in helping small- to medium-sized businesses significantly increase their profits fast. He is an expert in strategic positioning and branding, direct response marketing and creating profit-boosting marketing funnels that include irresistible advertisements, sales letters and other marketing materials that bring in huge sales for businesses.
Sant is the behind-the-scenes strategist who has helped many businesses such as Adam Khoo Learning Technologies Group (AKLTG), Dennis Wee Group (DWG), Novitee, Charisma Academy, SMS24/7, Fishlike and many other SMEs increase their sales, profits and gain market share in their respective niches.
His work and strategies have been acclaimed and endorsed by international thought leaders such as Jack Trout, bestselling author of "Positioning" and "Differentiate or Die"; Brian Tracy, bestselling author of "Maximum Achievement" and "The Psychology of Selling"; Joe Sugarman, bestselling author of "The Adweek Copywriting Handbook" and "Triggers"; as well as local business leaders such as Charles Wong of Charles & Keith, Elim Chew of 77th Street, Kenny Yap of Qian Hu, Thomas Fernandez of Pestbusters, Goh Kai Kui of Goh Joo Hin – owner of the well-known New Moon brand, and many others.
Sant has consulted with businesses in many different industries, such as education, training, IT, design, F&B, production, real estate, health, beauty, publication and others. This vast exposure to various industries gives him a unique perspective and business insights that allows him to filter out the often useless and wasteful marketing activities that most SMEs are blindly doing and crystallise the most important strategies to create explosive results.
That led him to create his proprietary Business Growth Systems – a systematic business reengineering technique to create explosive sales and growth for SMEs.
Sant is also the author of several bestselling business books including "Secrets To Dominate Your Niche", "Niche Dominators: Success Secrets Exposed", "THRIVE: Ordinary Enterprises, Extraordinary Entrepreneurs" and others.
Sant and his work have been featured in Channel NewsAsia, The Straits Times, The Business Times, The Sunday Times, Berita Harian, Lianhe Zaobao, 938 Live, my paper, MillionaireAsia, Smart Investor, Invest, Pulses, Entrepreneur's Digest, Marketing, Entrepreneur, Fortune Times, Prestige, FHM, Her World, Hospitality Asia, My Venture and many other business and marketing magazines and newsletters.
Please Read This Disclaimer Before Going Further:
The results mentioned on this page or other affiliated pages are NOT TYPICAL. The clients we've worked with put in a lot of hard work and were prepared to push themselves to achieve these spectacular results.
In no way am I suggesting that you will get equal or similar results as these numbers are dependent on other criteria like quality of teachers, effectiveness of curriculum and individual effort, etc.
WE'VE RESEARCHED THE WAY PARENTS REACT TO MARKETING AND ANALYSED WHAT'S IMPORTANT TO THEM –
Must-Read Articles Based On Our Experience Studying The Education Industry
IF YOU'RE LOOKING TO MASSIVELY GROW YOUR EDUCATION BUSINESS THIS 2017…
Request For A Complimentary 60 Minute 1-On-1 Centre Visit To Learn More About Our 16 Week Business Coaching Program: