Introduction
For many business owners, marketing costs to acquire new prospects represents a huge concern.
It can heavily impact the survivability of their business if the cost to acquire new customers and prospects outweigh the revenue they actually make.
This can actually burn a hole in the pockets and leave a company's coffers in the red.
Hence, we will be sharing a case study on Math Accelerator — an education centre in Singapore — where we will show you how we helped them reduce their cost per lead by more than 100%… and how seamless it is for other businesses to follow suit.
Math Accelerator's Profile
Math Accelerator (MA) is an education company in Singapore that specialises in turning around borderline students' results by helping them achieve at least 2 grades higher during examinations.
The curriculum (S.C.O.R.E) implemented by MA has consistently helped improved the scores of Primary School students from a fail grade (40-49) to at least a B grade (70 onwards).
"With Multiple Competing Centres Around Us… We Needed A Way To Differentiate Ourselves To Attract Parents"
One of the biggest stumbling blocks MA faced was stiff competition from other Math centres in the area they were located.
Chris Siew — the founder of Math Accelerator — shared with us that he found it difficult to create a clear "differentiation" from his competitors and also faced challenges in disseminating their "Math Turnaround" message to parents.
Chris realised that action needs to be taken fast for the security of his business.
He needed a hugely successful conversion rate (turning prospects into paying customers) to turn his fortunes around.
"We Needed A Systematic & Cost Effective Marketing System…"
Even though Chris had a basic understanding of doing online marketing on platforms such as Facebook, the problem was the cost per lead was just too high — at around $60-100 per lead.
Chris knew that he needed to lower down the cost per lead — and realised that the best way to do that was to approach marketing experts who have consistently achieved drastically-low cost per lead in the education industry.
And that's what brought him to reach out to us — the GrowthTribe team.
Here's How We Helped… (Our Detailed Step By Step Process)
1. The Critical "Deep-Diving" Research Process We Go Through With All Our Clients
After doing some research on the market, MA's curriculum and MA's competitors, we realised that it was best for Chris to focus on the niche segment of "Borderline" students as NONE of his other competitors are targeting this group of students.
And by doing so, we decided to establish Math Accelerator as a specialist in helping Borderline students (40-60 mark range) to score 1-2 grades higher for their major Primary School Math exams.
With this "unique positioning", parents who have students scoring 40-60 marks for Math would immediately see Math Accelerator as the natural option to send their kids to… as MA solves the specific challenges their kids are currently facing.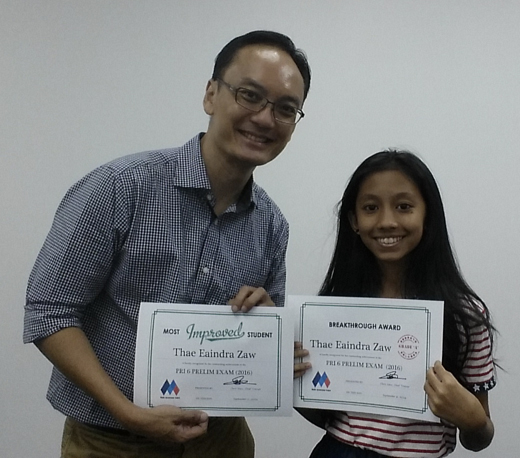 2. We Worked Together With Chris To Create A Mass-Closing Workshop To Minimise Effort & Maximize Revenue per Time Spent
In the education industry, the "normal" way of converting prospects into customers is to give a free trial lesson & after that, try to persuade the parent to enrol their child in the centre's main programs.
While this provides reasonable results, it also takes up a lot of time and effort to meet parents one-on-one — time and effort that could be better spent improving other aspects of the business.
This is why we at GrowthTribe created a "mass-closing" workshop format for our education clients like Chris.
This way, just by spending 2 hours, Chris was able to talk to an entire group of parents at once — compared to having to schedule multiple individual sessions previously.
For Math Accelerator, we designed a paid "parent-student" workshop called the "Turn-Around Workshop":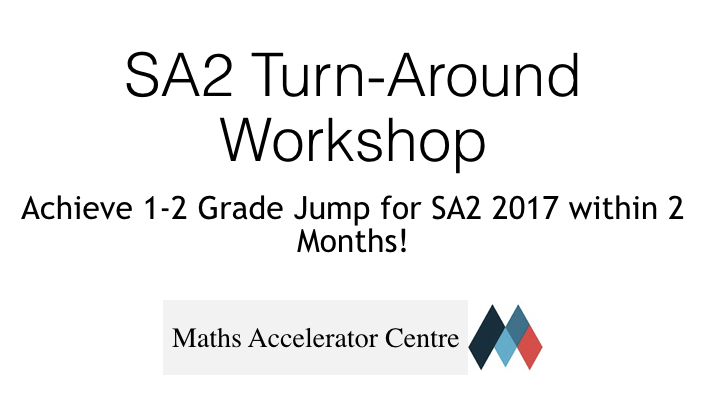 3. We Designed A Highly-Targeted Facebook Lead Ad Campaign To Attract Parents With "Borderline" Kids To Attend The "Turn-Around" Workshop
After working with more than 50 education businesses and generating hundreds of thousands of dollars in revenue…
We found that Facebook Lead Ads was the cheapest, efficient and most effective way to get leads for the education industry.
Hence, after conducting our "Deep-Diving" research and crafting the "mass-closing" workshop for Math Accelerator…
We focused our attention on designing a highly-targeted Facebook Lead Ad campaign.
Since we were reaching out to parents who probably have never heard of Math Accelerator before…
We started off with a series of "Testimonial" ads that helps build credibility with parents by highlighting the numerous success stories Math Accelerator has produced over the years: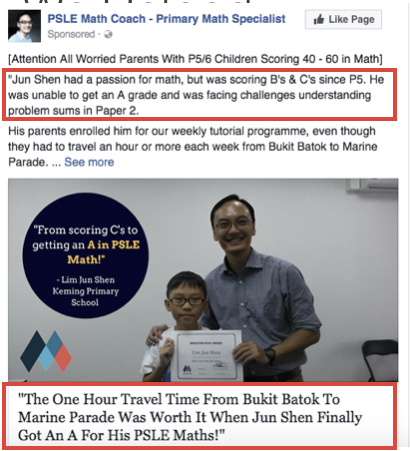 We also created a series of "Pain" Ads that taps onto the core emotions of parents with "Borderline" kids — Concern/Fear
This is a powerful type of ad as one of the core drivers of action is avoiding negative consequences…
Which in this case is having parents avoid the consequence of their children ending up with a borderline grade for Math by attending the "Turn-Around" workshop by Math Accelerator: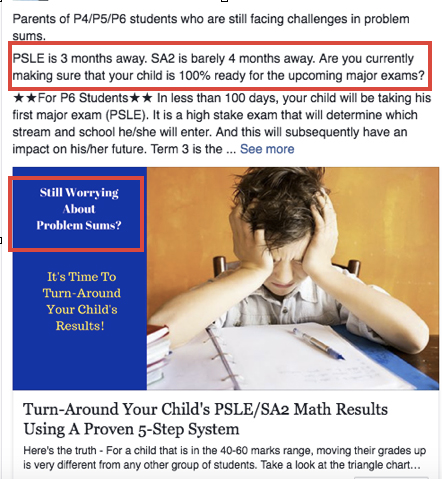 We were able to get more than 116 leads at only $31.01 per lead by producing a longer ad copy.
This is by far more rewarding than the traditional lead ad that displayed little information on the services provided by MA.

"… Cut Our Cost Per Lead By More Than 70%!"
As mentioned earlier in the article, Chris was forking out $60-100 per lead before he engaged us.
Now?
Thanks to our systems and strategies, he's able to get leads for as low as $31.01 — and for subsequent campaigns, he was able to drive the cost down even lower to $23.35.
This is more than a 70% reduction in lead acquisition cost — allowing him to channel the money saved into other areas of his business that require attention.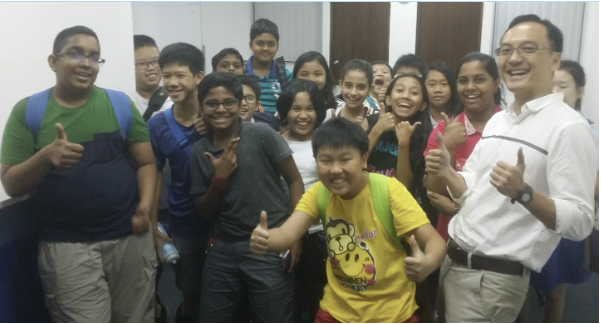 "With GrowthTribe's Help, We Got More Than $40,000 worth of Signups In 4 Months!"
On top of reducing his lead acquisition cost by more than 100%, Chris managed to rake in more than $40,000 worth of signups over the short span of 4 months.
An incredible feat considering he only needs to spend a maximum of 4 hours a week (2 workshops) meeting parents — thanks to our "mass-closing" workshop strategy.
With our help, Chris and his team now have a cheap and effective online marketing system that consistently brings in a rush of enquiries at the lowest possible cost.
Today, Math Accelerator is growing at an accelerated rate and continues to be the go-to education centre for parents with kids who are scoring borderline grades for Primary school Math.
Want Us To Help You Cut Your Lead Acquisition Costs Like Chris?
From the case study, you can probably see that we do things very differently from other marketing companies.
Customer acquisition is more than just creating and launching off ads in the channel.
It's a process of research, experimentation and iteration.
And this is a process that anyone can learn and apply to their business to see explosive results within a short period of time.