Introduction
For this case study, we'll be sharing how we helped Terry Chew Academy (TCA) — a Math Specialist centre in Singapore — transform from a brand new startup to a 6-Figure business in just 1 month through a carefully-planned Facebook Lead Ad Campaign.
We'll be talking about the detailed roadmap we developed for them to command higher prices for their programme, and how we built an explosive sales process that drastically increased their sales to 6 figures in a short period of time.
About Terry Chew Academy
Like many other startups, the founders of TCA, Leonard & Terry first started doing business out of their own homes. They home tutored students in the critical thinking skills essential for them to score an A in Math.
And they did pretty well since the start.
Over the past few years, they've helped scores of students to excel in Math using their unique RA*CE framework.
In fact, Terry Chew is a well-known High Ability Math trainer who's published over 20 books in the past 12 years — many of which have been translated to multiple languages and are highly sought after in countries like the US, UK, Australia and Spain.
In light of this success & after creating a tried-and-tested method of helping students score for Math, Leonard and Terry decided to start an official education business, Terry Chew Academy.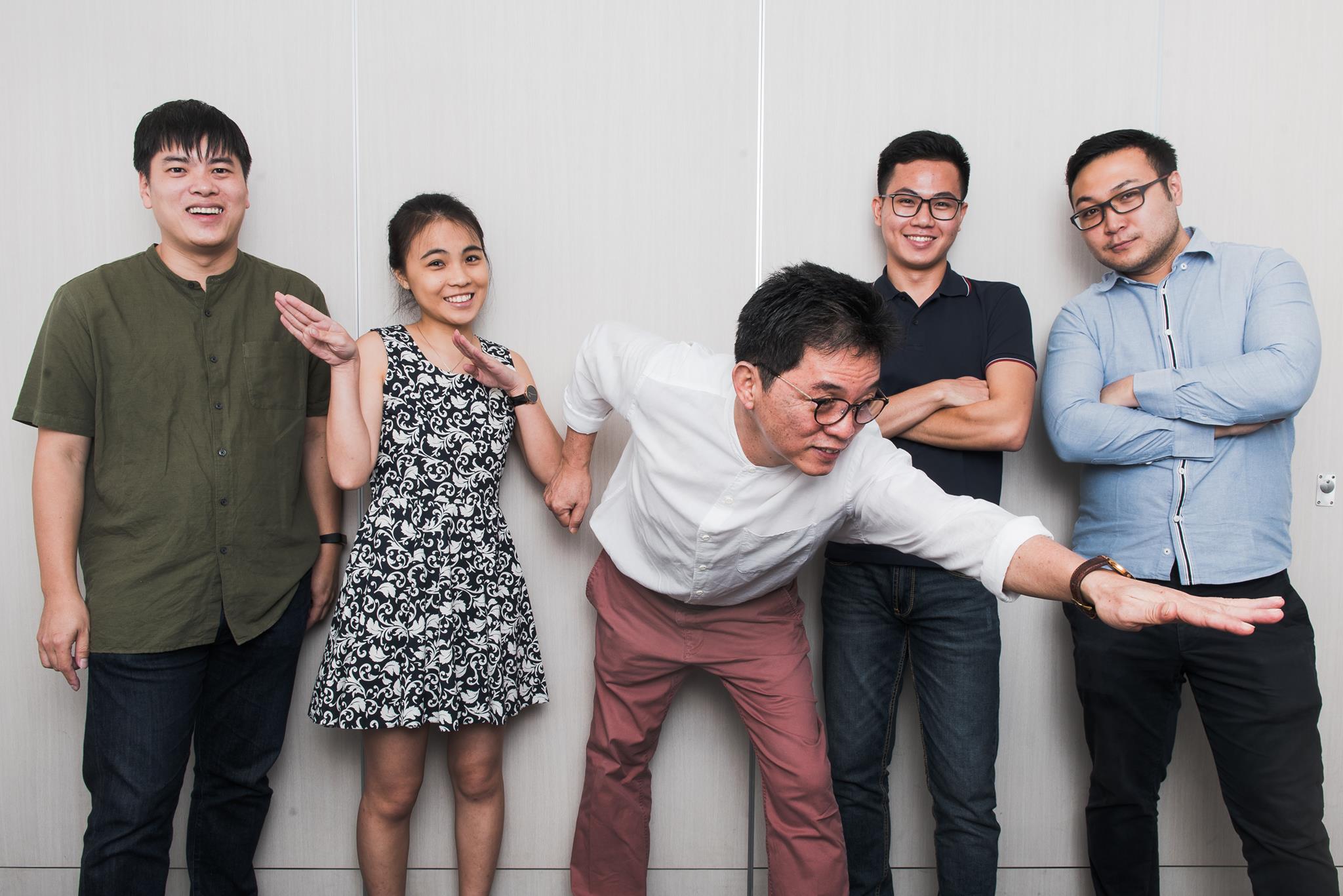 The Challenge
Even though Leonard & Terry had significant success when they were doing home tutoring… they quickly realised that starting an education business was a completely different ball game – and they ran into 2 key issues.
Firstly, they faced challenges getting more new students (a.k.a new customers) — a relatable problem that many startups encounter in the initial stages.
"Word about our academy did not get out fast enough… and we didn't have much time or resources to do proper marketing"
Secondly, due to their high operational costs, they were barely breaking even, and found themselves trying hard to stay profitable — another common challenge that most startups face.
Leonard shared:
"We were struggling to get more new students. I believe that word about our academy did not get out fast enough. We just didn't have much time or resources to do marketing.

Due to our high operational costs, we were also barely breaking even. We didn't even have enough resources to hire more manpower."
"We Needed A Fool-Proof Method To Generate Consistent Cash Flow For Our Academy…"
When Terry and Leonard first found out about GrowthTribe and heard of the immense ROI (Return-On-Investment) that we consistently generate for our clients…
They sat down with us to find out more about how we could help them, and ultimately decided that engaging us would be the best way for them to get more students (New customers) and generate consistent cash flow for their academy.
Here's How We Helped Terry Chew Academy
1. Communicating The Right Message To The Market
Following our crucial process of finding the right product -market fit and developing the right marketing message between our clients and their market, we sat down with the Terry Chew team to find out what their strongest selling points was.

We then decided to establish TCA as a specialist who helps "B" Students achieve As in Math in 6 Months or Less.
With a heavy emphasis on speed of results and a confident guarantee of achieving top grades, which very few others in the market were confident of shouting.

Using this, we educated parents on the "special" method TCA uses to help transform Bs to As in Math by creating ads about the unique system TCA has: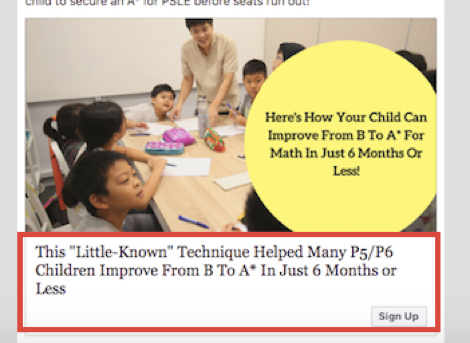 We also created a unique framework called "RA*CE" that explains exactly how Terry Chew Academy's curriculum helps children go from Bs to As in 6 months or less: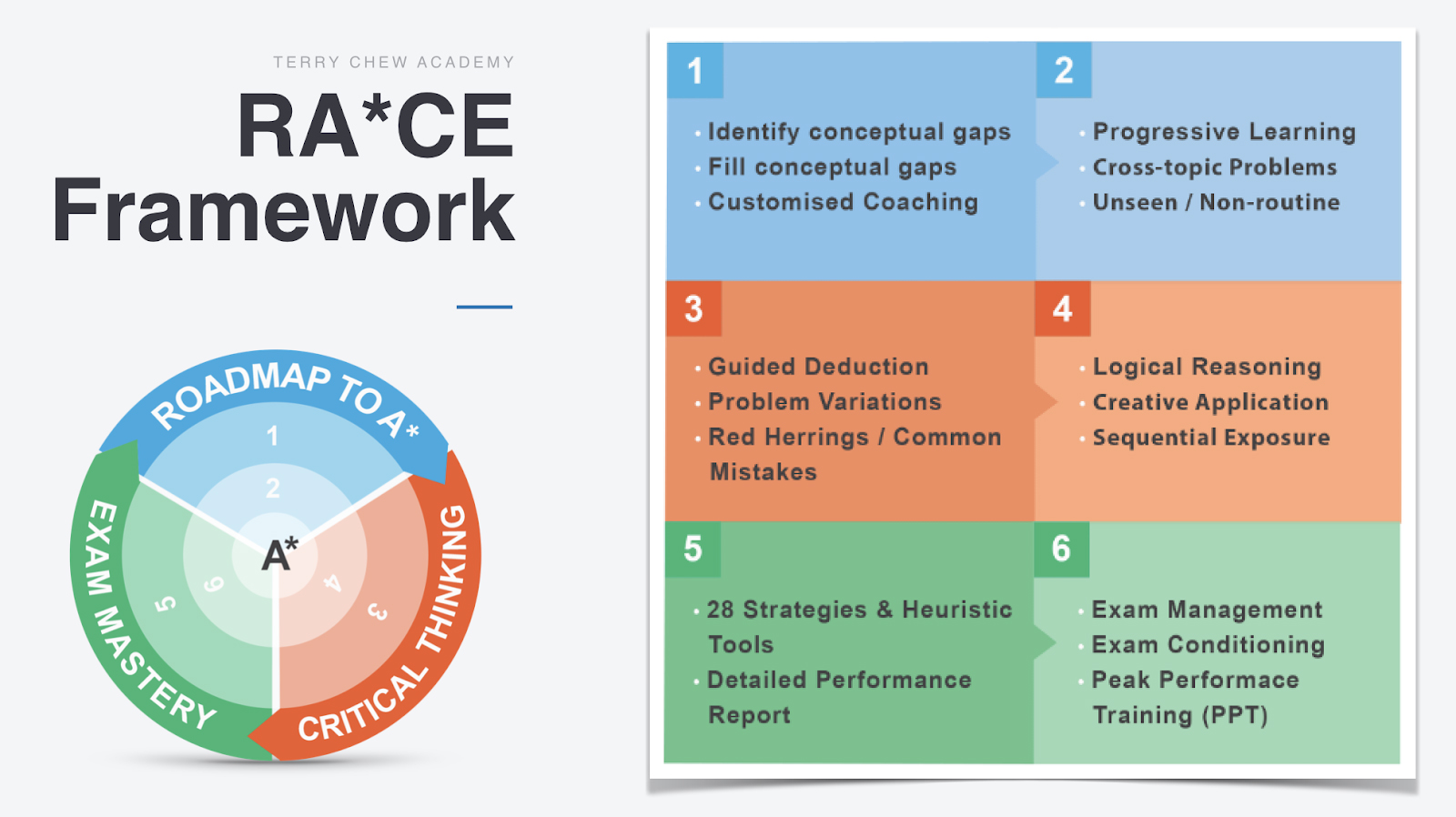 We then supported them in collecting written testimonials from their current and past students.
These testimonials helped to build their credibility in the market and further cement their positioning the market as the "Math Specialist Who Helps B Students Transform to A students in 6 Months or Less":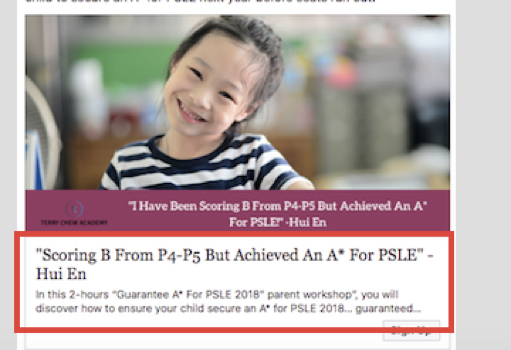 We used this message to focus on the specific target market of students who were scoring Bs for Math & explaining to parents exactly how TCA's "RA*CE" framework can help their kids jump to an A in their major exams.
Here's what Leonard shared about the research process we went through with him:
"Because of our track record and proven methodology, we know that we are the best academy to help students to achieve the grades that they want.

But unfortunately, we didn't know how to explain it in a clear and relevant way, so that parents can understand the full benefit of what we have to offer to their children and exactly how we can help them to secure A* for PSLE.

However, after going through the research process with GrowthTribe, we learnt how to communicate to parents the full value of our programme and how we're superior than most centres out there."
2. Creating A Pre- Sell Event To Generate Qualified Prospects That Were Willing To Pay A Premium Price
Before we launched off the ads for the campaign, we worked with Terry Chew Academy to create a pre-sell event to generate qualified prospects.
We started off by creating a paid event called "Guarantee an A* For PSLE 2018":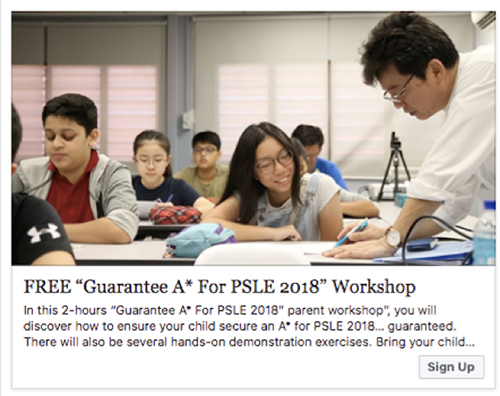 By charging an attendance fee for the workshop, we were able to "qualify" the leads. If a lead was willing to pay the attendance fee, it mean that they would have a high chance of converting into a sale.
Also, we guided Terry Chew Academy on how to increase their price point to the premium range.

We then showed them how to present their programme in way that could command this premium price point.
Using our specially-designed presentation, Terry Chew Academy managed to achieve more than $15,000 revenue in just the first week of running the parent-student workshop!
(They were easily charging a few thousand dollars per sale for their programme, and prospects didn't even blink an eye.)
"We managed to achieve more than $15,000 revenue in just the first week of implementing GrowthTribe's strategies!"
3. Using Facebook Lead Ads For A Quick, Easy Way To Get In Touch With Customers
As we've talked about heavily in our other case studies, we found that using Facebook lead ads significantly allowed us to reduce our Cost Per Lead (CPL) for our clients, versus using a landing page.
While a landing page serves to educate the market and build trust, we found that the market we were going for already had established trust in the education niche, and had a much shorter attention span.
Using Facebook Lead Ads allowed the customers to get in touch with the business easily, with no hassle.
So, we created a series of "Pain" ads that highlights some of the challenges and anxieties parents with kids who were not acing Math are facing — and educate them that there is a solution to help their kids to top their class in the subject.
This gave TCA another "angle" to get parents interested in their  "Guarantee an A in Math" parent-student workshop: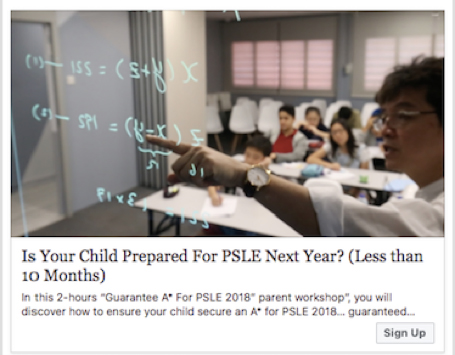 In just 1 month of marketing in November 2017, TCA managed to achieve these amazing results:
With only $8,294.69 ad spend, they got 185 prospects

who are highly-interested in their services.

That's only $44.83 per prospect (This is considered pretty "cheap" based on the education industry in Singapore, where average cost per prospect-acquisition can get as high as $60-70)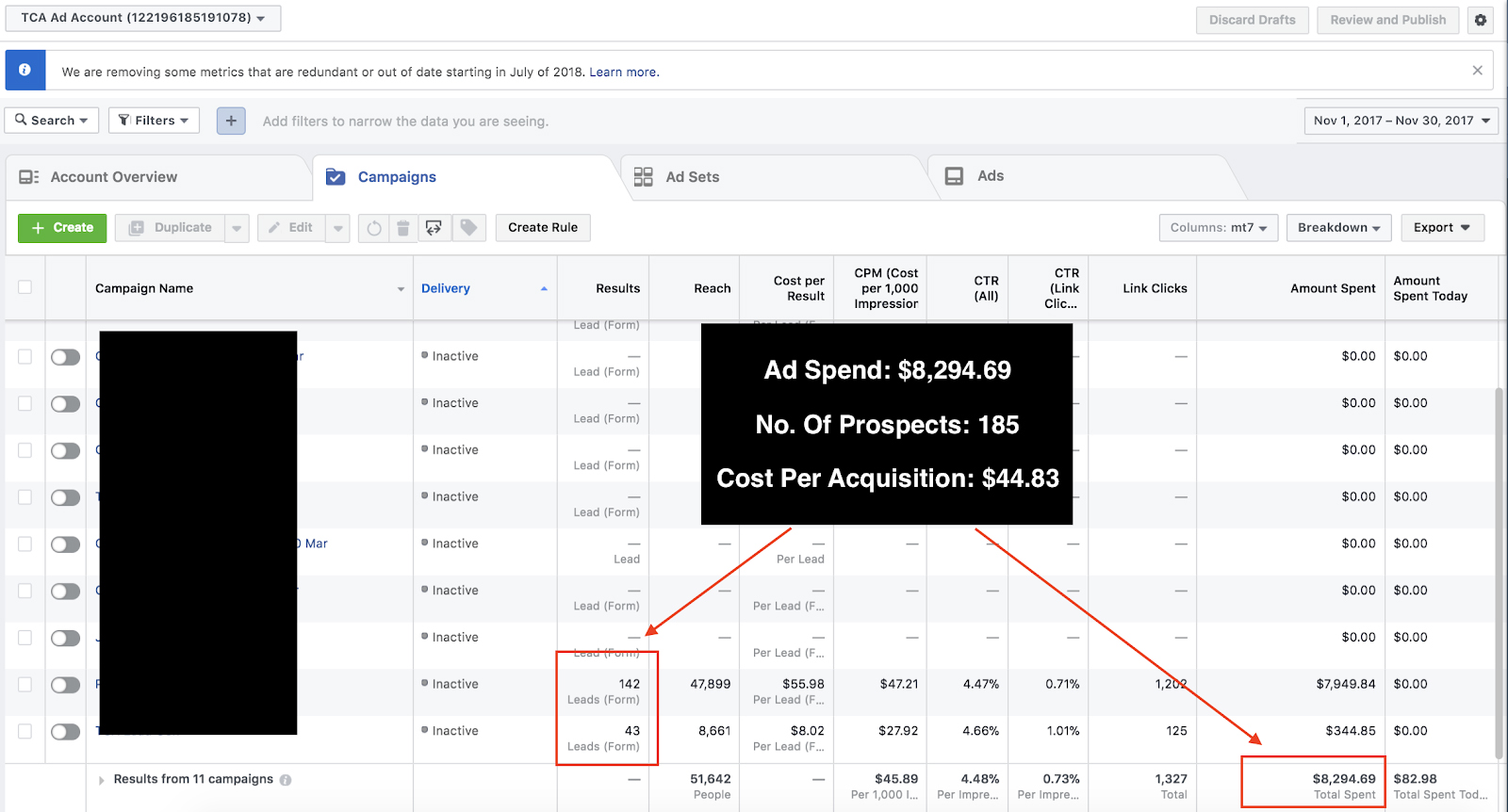 "… We Managed To Get $100,000 Worth Of Revenue In November Alone!"
With a winning formula of charging a premium price point, and being able to generate leads and convert them into paying customers, Terry Chew Academy was able to achieve spectacular results.
In just 4 weeks (and in 4 workshops), they generated more than $100,000 worth of recurring sales on an advertising spend of only $8,294.69.
This is more than 1,200% Return on Advertising Spend (ROAS) in just 1 month.
Here's what Leonard shared about the results:
"We pulled in more than $100,000 in revenue within just 1 month of learning GrowthTribe's strategies!

With this additional revenue and consistent cash flow, it allows us to get more manpower to improve our operation efficiency. This will allow us to focus more on helping our students to get better results.

I'm very confident that in the next 6 months, we will achieve at least more than $180k in additional revenue"
"… With GrowthTribe's Help, We Are Confident We Can Hit $180,000 In Additional Revenue Within The Next 6 Months"
With our help, Leonard & Terry and their team now have a online marketing system that is compounding their explosive growth month after month.
For a new centre that once was facing challenges with cash flow, they're now extremely profitable and cash-flow positive.
"I'm very confident that in the next 6 months, we will achieve at least more than $180k in additional revenue.

So, I strongly encourage all learning centres who wants a proven way to get more students and consistent cashflow to contact GrowthTribe and find out what they have to offer immediately.

Be prepared to learn and put in the necessary effort to implement all their strategies. Because I assure you, it's going to be worth it."
Lessons
From this case study, there are a few crucial lessons that any new business can apply.
And any new business is able to quickly become profitable if they are able to develop these few winning elements.

Key elements for positive cash flow in a short period of time:
A product that the market implicitly wants and solves a big pain of theirs.

Being able to command a premium price for this product

Being able to find qualified prospects that will turn into paying customers.

Presenting your product in way that commands the premium price point, with a strong combination of trust and being able to solve the market's pain point.
Want To Achieve The Same Results?
From the case study, you can probably see that we do things very differently from other marketing companies.
Customer acquisition is more than just creating and launching off ads in the channel.
It's a process of research, experimentation and iteration.
And this is a process that anyone can learn and apply to their business to see explosive results within a short period of time.