About The Little Executive
The Little Executive (TLE) is an education company in Singapore that specialises in teaching foundational soft skills like independence, prioritisation and organisation to kids in their foundation years (18 months to 7 years of age).
Their unique curriculum that isn't taught anywhere else is meant to help young children be primed for formal education in primary school.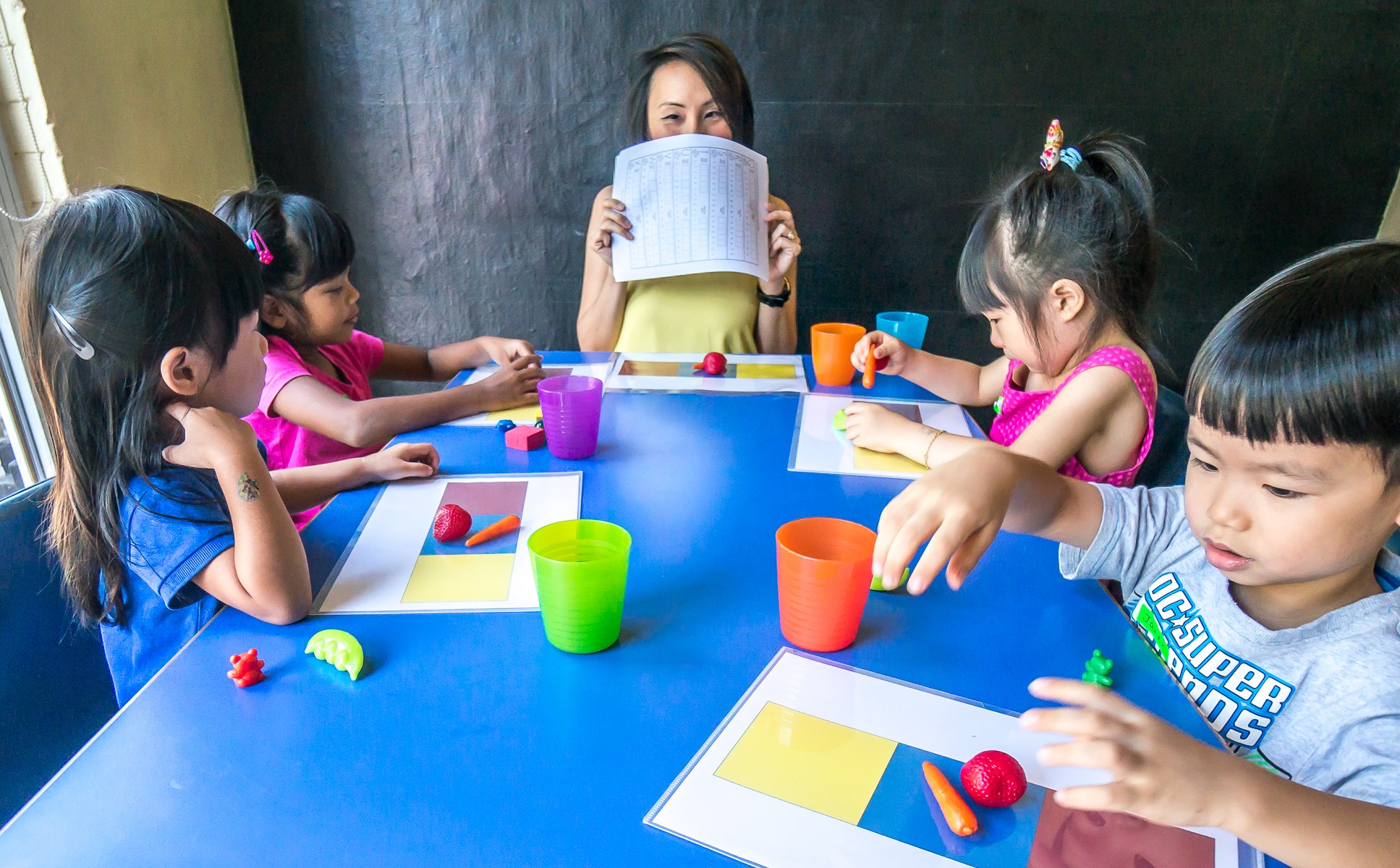 The Struggle
Despite having a unique curriculum that wasn't practised elsewhere in Singapore, many parents were reluctant to enroll their child into TLE.
Part of the reason TLE had their work cut out was due to the fact that parents were just too afraid of trying out a new method of education for their kids.
According to co-founder Michelle Tham,
"We first thought that because we had such a unique product & doing such unique things, that it'll be easy to market… but that was not the case. We had been around for around 8 months before we contacted GrowthTribe, and during that time, we really had a hard time getting enough clients in. The team felt quite demoralised and it was a big struggle"
As the numbers of enrollments fell, TLE needed to act fast or face detrimental consequences.
After much research on TLE's end, they chanced upon GrowthTribe's services and immediately arranged for consultation.
"At the end of the day, as an educator – we realised learning how to market our product is a completely different skill set from what we have"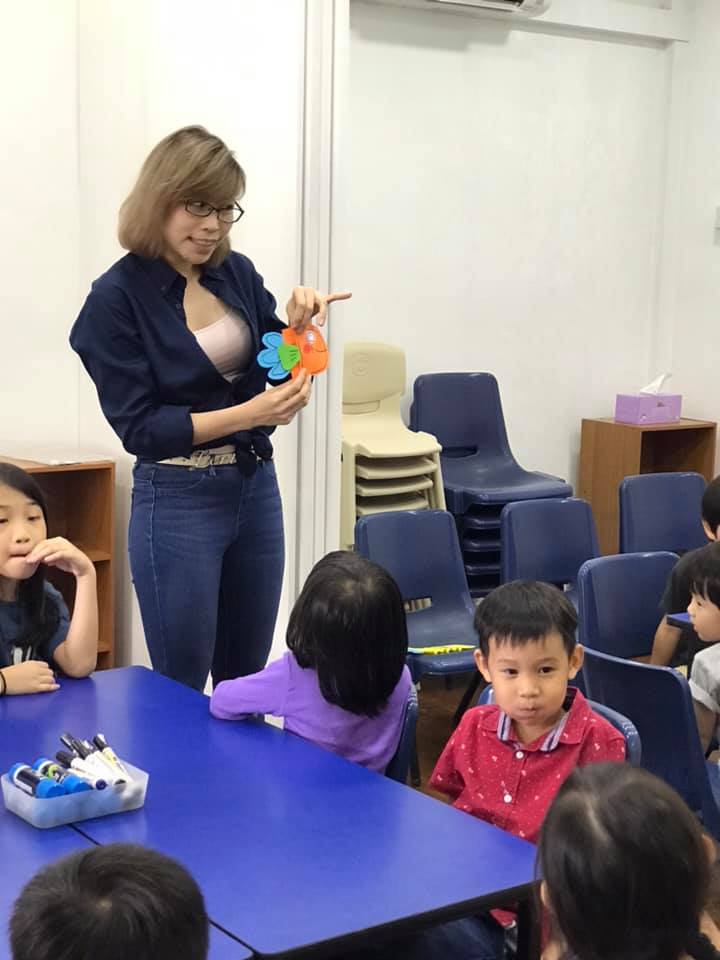 Here's How We Assisted TLE
1. The Game Plan
Coming into this project, we knew that we needed to make parents believe that soft skills development is crucial for their kids to have.
So we reposition TLE as a "Soft Skills Specialist That Maximises Every Dollar You Spend Once Your Children Start Entering School & Tuition".
By illustrating to parents on WHY "soft skills" are so crucial to their child's performance in school, we were able to get parents to finally see the importance of TLE's program.
Here's what Michelle shared about the research process we went through with her:
"The GrowthTribe team has managed to condense marketing into a simple, easy-to-follow system that allows me — as an educator — to gain a lot clarity & to think about a lot of important marketing areas that we never thought of before."
2. Developing An Effective Sales Funnel
Firstly, we started off by creating a paid parent workshop called the: "Mini Executive Workshop"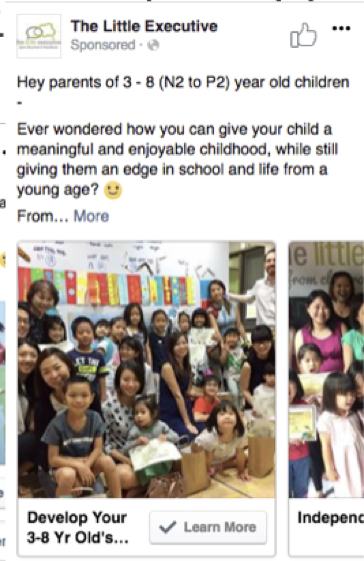 We decided to charge an attendance fee for the workshop, solely to identify the "paying prospects" from the sea of parents.
Secondly, the workshop enabled parents to be more informed on TLE's curriculum and how beneficial it can be for their children.
On top of that, many tricks and tips were shared to help parents aid their kids in developing their soft skills.
Also, we worked closely with the TLE team to produce a comprehensive presentation.
Lastly, we developed specific demonstrations that highlight the benefits of TLE's methodology for prospects.
3. Using Facebook Lead Ads For A Swift And Simple Way To Interact With Customers
Since we wanted to explain to parents why soft skills like independence and organisation were vital for their child's success in school, we created a series of "Problem" ads that highlights some of the "signs" that a child isn't ready for the transition from preschool to formal education in primary (or elementary) school.
This way, parents will realise that their child needs help in developing their soft skills in order to smoothly transit to formal education.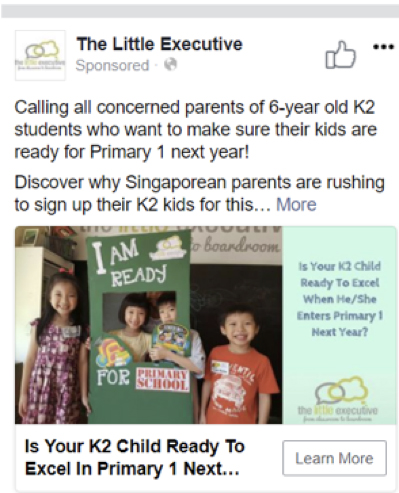 A result that was derived from one of the campaigns we ran for TLE resulted in attaining more than 28 leads at only $31.13 per lead.

"… Achieved $26,640 Worth Of Revenue In 3 Workshops!"
With a proven formula of generating prospects and converting them into paying customers, as well as charging a premium price point for workshops, TLE was able to achieve great results.
In just 3 workshops, they generated over $26,639 worth of recurring sales on a total ad spend of less than $2,300 for all the campaigns we ran.
This is more than 1100% Return on Advertising Spend (ROAS).
Here's what Michelle shared about the results:
"When it comes to the results, this is something we're a little bit shy to share about but also, something we're excited because of the sheer number of clients, families and kids we've touched. And the changes we've seen is so phenomenal.

… One of their (GrowthTribe's) big promises was that they could double our client numbers… And we did.

We hit 40 signups in the span of 3 days which was something we've never achieved before.

But what was more exciting about that is that we had 40 families that understood what we did & saw the benefit of what we did & really felt that what we did was necessary and important for their child. And none of this would have been possible without the help of the GrowthTribe team"
"With GrowthTribe's Unique Approach, We Managed To DOUBLE Our Student Numbers"
With the aid of GrowthTribe, TLE managed to double their student numbers within a matter of days after implementing our strategies and systems.
With a proven marketing strategy at their disposal, TLE is growing exponentially and is on course to becoming a top-tier pre-school education centre.
Stakeholders of TLE were just elated with the results produced.
"It has become almost like a family working with GrowthTribe because we think that they want us to succeed as much as we want to. We rarely give out testimonials & this was something we're not exactly comfortable to do… but we felt that for all the hard work they've done, it's the least we can do.

If you're struggling to build your business with your team, you have to check out GrowthTribe"
Aiming To Achieve Similar Results?