Over the last 2 years, I have taught over 2500+ business owners and sales professionals how to use Facebook to attract more leads and rake in millions of dollars of sales from Facebook.
One of the biggest mistakes they tend to make is to assume that Facebook advertising is all about setting up an ad and sitting back to wait for a flood of customers to come knocking on your door.
That's the case if you just want to run a branding campaign and get more people to know about your page.
But if your goal is to see significant ROI from your Facebook advertising, here are 7 things you need to know…
1. Your market is not thinking about buying from you while they are on Facebook.
Let's be honest. Nobody goes on Facebook to buy stuff.
If you're using Facebook at this very moment, you are probably:
Connecting with other people e.g. network for business, share your life with your loved ones
Relieve boredom e.g. browse photos, watch videos
This is why it's important to have a plan on how you can turn users on Facebook into customers through a series of micro-commitments.
We call this a "social sales funnel".
If you are running a tuition centre, a typical social sales funnel might look something like this:
You start off with giving away a report on 10 ways to eliminate careless mistakes. For parents who downloaded the report and are interested to find out why their children are still careless, they can sign up for a free diagnostic test.
When the parents come down to the centre for the diagnostic test, you can sell them a P6 Mathematics tuition class or trial class.
For parents who signed up for the Mathematics tuition class, you can interest them with a half-day parenting workshop to teach them how they can help their children do better.
And before the school holidays, you can start promoting holiday programs to the same parents who signed up for your workshop.
This is just one example of a social sales funnel. There are almost unlimited ways you can build social sales funnels for your business. And it's different for each business.
In my "Customer On Demand" workshop, I will show you LIVE case studies of profitable social sales funnels that graduates of my program have built. This includes graduates in the training, e-commerce, retail and B2B industries.
One of my students, Gareth, who runs marketing for Aesperon Academy, a construction training company, caused the Social Sales funnel to close $14,000 of deals on a $700 ad spend. That's a 2,000% return on his ad spend!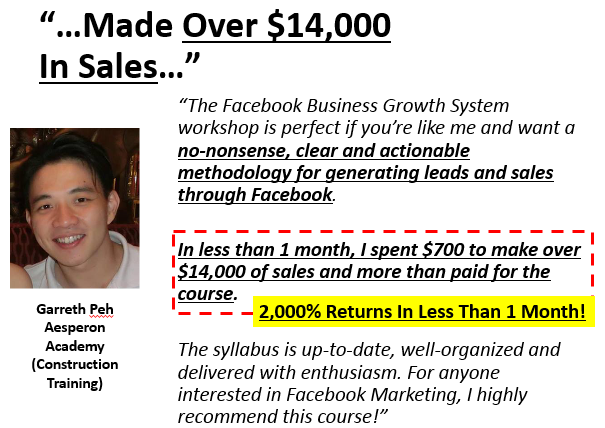 If you are interested to find out more about the upcoming workshop, click here to find out more.
2. Your campaign will not always be profitable the first time round
This sounds like a bummer.
There are rarely Facebook advertising campaigns campaign that will make money immediately, without any additional tweaks.
You can do your best to make sure your campaign has the highest chance of success, but even the best marketers have a 50-60% chance of pulling of a profitable campaign the first time round.
The reason? There are various factors involved in pulling off a successful Facebook.
First off, when you launch off a campaign, you are creating your landing page (the first page users land on after they click on your ad) and your ads based on your assumption of what the market really wants.
Secondly, you are competing against other advertisers. If they have a better offer or ad, you'll be ignored by your market. Similarly, if they choose to outbid you (and big advertisers have the resources to do that), you'll find your costs going up.
What does this mean?
This means it is important you know how to manage your campaign closely.
In my "Customer On Demand workshops, I cover a tested and proven method called "TOSM" for keeping your advertising costs low and maximizing your profits from your campaigns.
It consists of 4 parts:
Testing – Finding out what ads, landing pages and offers work.
Optimization – Lowering your ad spend by tweaking parts of your campaign
Scaling – Reaching out to larger audiences
Maintenance – Sustain your current advertising results in the long term
All of which are important for running a long term and scale-able campaign at a profit. Especially in bigger markets like Malaysia and Thailand. 
The system is designed to minimize losses from losing ads and target groups, while maximizing your chances to turn a profit quickly.
One of the participants for my workshop actually managed to slash the cost per lead by as much as 60% simply by using the TOSM methodology in managing his ads. If you like to learn more about the methodology, click here to register for the "Customer On Demand" workshop. 
3. It is not possible to get cheap clicks and leads all the time
Many social media consultants and trainers love to show you screenshots of $0.04 website clicks and leads at less than a dollar. What they don't usually tell you is how they got those results and for which niches.
It's easy to get cheap website clicks and leads (or even video views) for certain niches.
The cost per website click and cost per lead for education for example is definitely going to be lower than the cost per lead for a financial campaign or a B2B campaign.
For example, for one of our "Customer On Demand" workshops, we ran a campaign for English Corner Publishing  for their "Science Adventures" during our Customer On Demand workshop and managed to get 56 leads at just $0.53 each in just 2 hours. 
On another week, we ran a campaign for Great Eastern (GE) financial planners by giving away a free report that shows them how to get up to $4,000 of Tax Rebates. We end up with 6 leads at $3.76 each.
By the way, $3.76 might sound a lot more expensive than the $0.53 you spent per lead for the education campaign. But for a financial planner, if they can close just one deal from the 6 leads, it's worth thousands of dollars.
Even in the same niche, the offer can make a big difference to your results. For example, someone who is offering a free trial for a singing lesson is going to get more website clicks at lower cost than someone who is charging $10 for a paid trial for the same type of singing class.
Let's not even talk about market size.
Putting the bidding competition aside, the bigger the market size (AKA more potential reach), the lower the cost of showing your ads. This is why it's possible to get very cheap website clicks and leads in a bigger country, say Indonesia, versus a smaller country like Singapore.
Wait, does it mean that there is no way to lower costs for your business?
Of course not.
4. Focus on one product, service or brand for each ad
When you first learn how to advertise on Facebook, it's easy to get caught up and want to run ads for every product or service you have.
There are several problems with this approach.
For one, if you give your prospects too many options up front, they will be overwhelmed. This effect is popularly known as "over-choice", which describes a cognitive process in which people have a difficult time making a decision when faced with too many options.
The other problem is that there is always a learning curve when you first advertise on Facebook. This means it will take you some time and effort (more about this later) before you can build a successful campaign.
It will be much easier for you to put your efforts into promoting one product or service first into a success before building another one.
Pick the product that is…
Popular – This means there is high demand for it and it is selling like hot cakes even without much or any advertising.
Profitable – After all, you are going to spend money on advertising to get them to buy your products and services. If you have higher profit margins, it makes it easier for
Something you love to deliver – This is an optional criterion, but an important one in the long run. If you run a good campaign, you are going to receive more leads and sales within a very short period. You want to make sure you don't burn out and under-deliver.
How about E-commerce shops or companies with multiple products and services?
Same rules apply. Except you can try promoting a category of products instead of one individual product or service.
In the last "Customer On Demand" workshop, we did a LIVE campaign for Studio 72, a rock music school in Singapore. In the campaign, we focused on the drumming lessons because it is proven to be popular with her students.
5. You need to identify your specific market.
Now that you know which product or service (or category) you are going to promote, the next step is to identify a specific market for that product or service.
This is especially important for Facebook advertising, especially when you start using the various targeting options (geographic, demographic,
I recommend creating a customer avatar. It is a simple write-up on who your customer is. You want to identify their demographics, pain and pleasure.
More importantly, write down their biggest fantasy and worst nightmares. This will give you a good idea how you should craft your offer and your ad.
Here's an example for Studio72 from the "Customer On Demand" workshop:
For the case study, we picked a person called Richard Lim who is a financial analyst from Standard Chartered bank who loves rock music and wants to learn how to play the drums. It's important for Ivy, the owner of Studio72, to target people who work in the city area as her studio is located there.
Ideally, if you have been in business for some time, pick an ideal customer or client you have been serving and use it as a reference point for your customer avatar. It should be a customer who buys the most and buys frequently from you.
Once you identified your market, the next step is to…
6. Create an irresistible offer.
First off, your product and service is NOT your offer. Your offer is how your market perceives your product and service.
For example, if I'm buying an IPhone 6s Plus (the product), the offer consists of a well-designed smartphone with a device.
Offer is everything when it comes to Facebook advertising.
You don't always have complete control over who sees your ads (more about this later) but you have complete control over how your market perceives your product and service.
How do you create an irresistible offer?
It boils down to how you communicate your benefits, provide undeniable proof that your product and service delivers on its promise and even how you present the product or service in the images on your website.
In my "Customer On Demand" workshop, one of the most important factors of irresistible offers I cover is to be different from your competitors.
You might be selling the same exact product (or even brand in some cases), but just by communicating a little differently from your competitors, highlighting critical features or benefits, you can easily stand out.
I cover a few more ways to create irresistible offers your prospects simply cannot say no to in my upcoming Customer On Demand workshop. If you want to learn more, I recommend you drop by to check it out.
For the Studio72 live campaign, we promoted a free drumming trial class worth $55.  We included several benefits to increase the desirability of the trial class, such as…
We also included testimonials from her ex-students who raved about her classes to increase the desirability.
7. Create a highly engaging ad
The next piece of the puzzle is to create a compelling ad that gets clicks to your landing page, not just likes, shares and comments.
There are 3 main parts of the ad that are especially important
Ad Image
Headline
Post Text
To show you how you can create better ads, I will be using the ad  Studio72 drumming lesson promotion:
Let's start off with the ad image. The colors (purple and yellow) we used for the ad image stands out and forces you to pay attention to it.
For Facebook ads, it's best to use images of people rather than products. After Facebook is a social platform and images of people with emotion gets the best response from the users.
Next up, let's take a look at the headline.
"Have You Always Felt That You Would Be AWESOME On Drums?"
The purpose of asking a question in the headline is to stop the target market in the tracks and get them to pay attention to your post text
Keep the headline short and punchy. And always include a strong benefit in the headline.
The next important part is the post text.
I start off with a market call out to the target market, "Calling all aspiring drummers, curious rockers and future Rock Gods". Market call-outs are very effective for grabbing the attention from the specific market.
In the middle, I included scarcity (e.g. Limited to the first 20 people") to get interested people clicking to get the offer and get my market dreaming about the outcome that they want from a drumming lesson.
I end off the post with a strong call-to-action and a link to the website. I recommend including a link as part of the call-to-action especially if you are going after people above the ages of 35. The reason why is because people are also "trained" over the years to click on underlined blue hyperlinks.
What's Next?
These are just some quick guidelines on what you can do to improve your FB advertising campaigns.
Honestly, it's just the tip of the ice-berg of the strategies and tactics you can implement to get instant results in your campaigns. In my "Customer On Demand" workshop, I'll show business owners exactly what they need to do to attract more leads and sales in 2 hours or less!
"Customer On Demand Workshop"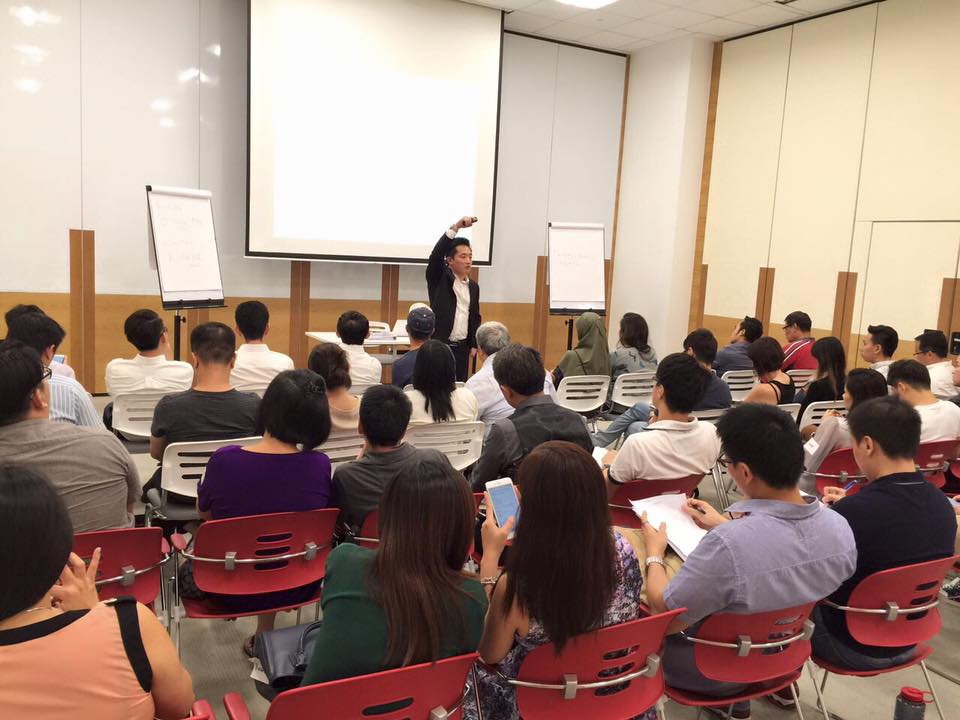 Now…you've already read through more than 3.7K worth of  words so if you're a serious business owner (and not a want-repreneur)…
I really want to make your time on this article worthwhile.
Here's what you'd like to do.
I want you to >really focus <and even if you've skimmed through the whole article, I just want you to read this one section (that's all).
Because if you're a business owner who is looking for the fastest way to get leads, this will be the most important blog post you read today.
You're going to discover the insider "What's working now" strategies and tactics you can apply to your campaigns immediately!
Below is just a fraction of what I'll be covering in my Customers On Demand Workshop:
8 Specific Ways To Target Your Prospects-  "hand-pick" the prospects you want to show your ad to with my highly potent "laser-targeting technique" that follows your customer like a guided missile rocket (so many Facebook amateurs don't do this properly and are consistently wasting good money on good ads)!
How To Avoid The 3 Biggest Mistakes In Facebook Marketing– These could be the reasons why you're ads are bleeding you dry with poor results (one of them is running Facebook ads with the intention of getting "likes" & "shares" which is honestly, a bad move for SMES with a tight budget, what you're looking for are red-hot leads that will give you their information, not their "like")!
How To Get  Prospects Within 3 Hours or Less With My Secret L.O.C.K Formula- (This is the exact same strategy I used to get 8,567 leads in 45 days flat! Note: my friends who are business owners have seen me go on hot streaks like that and have been begging me to teach them this highly strategic approach to maximize their Facebook budgets).
Interested? Here's the link to register.
Here's the thing…
I'm so confident that I will be able to get you leads in 3 hours, that I'm willing to go one step further.
Here's The Deal Of A Lifetime
(* Disclaimer: The following results are subjected to the control of the traffic on Facebook Ads on the preview night itself. We cannot guarantee that ads will be approved on time or traffic to be smooth enough to run the live campaign as Facebook campaigns run on a queue system.  Individual traffic performance on the preview night may vary  from an hour to hour basis).
On the workshop day itself, one lucky participant will be notified via phone call.
If you get chosen, I will personally run your Facebook Ad LIVE at the workshop.
And you will see leads within 3 hours or less.
If you're wondering about how much you need to pay for my expertise & time…
You're in for a treat.
It's Completely Free Of Charge.
With results on the spot.
That's my promise to you.
And that's just to show you how easy and fast my lead generation system works.
180 minutes. Results. (don't believe me? Come see for yourself).
Even if you don't get chosen, you'll see just how easy it is to get leads for Singapore Businesses.
Note: The truth is that too many marketers have exploited Facebook for suspicious offers and "make money" scams, so i will have to put my foot down and say this is not for the following people.
You Can Skip The Workshop If You're A…
Affiliate Marketer (Customers On Demand is only for business owners who have full control over their products and services)
MLM Marketer (Customers On Demand is for entrepreneurs who have full flexibility to adjust the systems and processes because we will also be covering a highly potent Social Sales Funnel that may not work for MLM)
Looking To "Make Money" Or For "Financial Freedom" Tools (I am only looking to fix lead generation problems, Customers On Demand will not "make you rich", the workshop is designed to get qualified prospects cheaply, fast and systematically.
So…
If you're a serious business owner, I've only got one final question:
Are You Ready To Start Getting Prospects To Start Calling You Instead?
You can discover exactly how I managed to drive leads on Facebook with results like these in my Customers On Demand Workshop LIVE, right in front of your eyes.
Interested?
Click here to register immediately and start getting red-hot leads (some business owners have even got prospects at a profit)!
Haven't registered? Here's the link again –> www.growthtribe.com/codsl
More than 700+ business owners have attended my Facebook workshops and benefited from the cutting edge strategies and tactics that I share. If you'd like to be next, register for my next "Customer On Demand" workshop and see the results on your own.
See you at my next workshop!