So, instead of going down the steel path most have abused, you decide that you want to join a local startup because you see yourself as being more "entrepreneurial".
You're hungrier, more determined and you have the "do whatever it takes to get s**t done" mentality. Most people don't get it but you do.
As Gary Vaynerchuk once said: "There's not a single winner on earth who took it easy".
So yes you could take this path (sometimes against the wishes of your family and friends).
But here's where the real problem lies…
Finding and joining a local startup from the start is tough because honestly, startups in Singapore are dime a dozen (1685 to be exact).
And the more important question is… Are there start-ups in Singapore worth committing your time, energy and efforts to?
How do you tell which startup is right for you? How do you tell if it has a great culture? Worst yet, how do you tell if it will still be in business 3 years down the road let alone 5 years or even a decade later?
Now, before we get to that, there's something you need to understand first.
Committing to a startup will be like building a business.
You WILL face multiple challenges, you WILL cover a few roles some times, working hours WILL be longer than what you are familiar with and you WILL have to work hard. Very very hard.
The only difference between joining a startup and starting your own business is that you get to do it with a bunch of like-minded individuals who are as determined as you are (if not more) to change the world one zero at a time.
And being part of the journey of taking a business from $1,000,000 to $10,000,000 and then to $100,000,000 will not be easy…
And it will never be.
That's why not many people make it to the end. But when (not if) they do, or rather, when YOU do… The rewards far far outweigh the blood, sweat and tears you've sacrificed.
Anyway, if all this sounds like you, know this…
It All Starts With Y-O-U!
Do you already know what you want, what kind of opportunity you're looking for or what skills you want to pick up and excel in?
Knowing the answers to these questions will help you tremendously when you start asking the right questions to help your search. If you don't know yet, question 1 should help.
So without further ado… here are some important questions to ask yourself if you're considering joining a local start-up in Sunny Singapore.
Question 1: "What Do I Want To Learn?"
This is the MOST important question that you must answer FIRST since it's going to determine what you're looking for in the other 4 questions.
Try this simple exercise:
List down (as specific as possible) everything that you want to do in life.
Next to this list, write down WHY you want to achieve them; ask yourself about 3 to 5 times so that you can get the deeper reasons behind wanting them.
On the next column, brainstorm as best to your knowledge what you can do to reach your goals.
You're going to have a table that looks something like this:
(scroll table towards the right if viewing on mobile —>)
What do I want to do in life?
(Be as specific as possible)
Why do I want to achieve them? (Ask yourself 3 to 5 times to realise the deeper reasons)
How can I achieve them?
(List all the things that you can think of)
– I want a career in digital marketing.
– I think that is the future of advertising.
– I want to learn the skills and become an expert so I can market anything successfully.
– I want to know how to market my business successfully when I start one in the future.
– Work at a digital marketing firm.
– Work at a firm where I can get real life hands-on experience.
– Work with someone who is experienced and has a track record of producing results.
It may take some time but trust me when I say that it's going to make a HUGE difference later on (especially the rightmost column).
Once you have the answer(s) to this critical question, you can start figuring out which company will help you achieve your goals.
Key Takeaway 1:
The better you understand yourself, the better you can decide.
Question 2: "Who Is The Founder?"
Who is he? What are his values like?
What is his background? What are his goals?
Does he have any experience in the industry? Does he have the necessary skillset?
These days, literally anyone can start a business. But working for someone inexperienced means that he is also learning along the way just like you are. It's like the blind leading the blind, off a cliff.
Or imagine taking a bus where the driver has no idea where he's going and the stops he will be making along the way… Not ideal.
Imagine asking him a question that he doesn't have the answer to because he is as clueless as you are… Not ideal.
Or maybe one day you ask his opinion about a possible solution but he can't comment since he doesn't have the necessary skill set to process the variables to make a decision.
Again, not ideal.
Wouldn't it be painful and frustrating to work with someone like that?
Now in contrast, imagine if you had an industry expert as a leader instead. He would be able to mentor and share with you his in-depth knowledge and experience.
The deeper the well, the more water you can get out of it.
Let's agree on this – Having a good Founder, leader and mentor is going to make learning, understanding and growing, much easier and faster.
Again, this is not to say that things would be easy. Quite the opposite in fact.
Having a good mentor who is experienced will make things more "challenging" for you. He would have the vital experience and knows the lessons you must learn, the weaknesses you must become aware of to compensate and the skills you must master in order to maximise your potential so that YOU become only the best version of yourself.
A great mentor is one who has been through the journey himself and knows the pitfalls you must avoid.
Key Takeaway 2:
There is wisdom in experience.
Question 3: "Where Is The Company Going To Be In 3 To 5 Years?"
This question is linked to the second question since the founder sets the company's direction/vision.
An inexperienced leader will still be experimenting on top of figuring out which business model works for him. The last thing he is certain of is which exact direction he wants the company to go.
And during his trial and error, changes may be implemented frequently and abruptly, making things feel very uncertain, which will frustrate you.
Picture yourself stuck in this vicious cycle…
You work on something for the whole day just for it to become redundant the next day just because of his 'experiments'.
Then repeat this over and over again…
What a waste of time!
But if the founder is experienced, he is more likely to have a clearer goal in mind since he understands the industry and the market that the company is in.
Also, you can have a better idea on how the company is going to progress in 3 to 5 years time.
So you'll be able to set more realistic expectations on how your career in the company will develop in the future.
You'll also be more focused and certain of the things you need to do to help the company succeed.
Key Takeaway 3:
The clearer you are about the company's goals, the more efficient you can work.
Question 4: "How Developed Will The Company Be When I Join?"
Now this is a big one! *Rubs hands together in anticipation*
Something that many people forget to consider is HOW developed the business is when they are applying.
The truth is, a startup will face different challenges at different stages of its growth.
Choosing when to enter the company will depend on what kind of challenges you want to face so you can learn the specific knowledge and skills that you seek.

When the company is still in its infancy, it's going to throw a lot of unexpected tantrums (for no apparent reason most of the time).
This is the most volatile and uncertain phase as it's still in the midst of figuring things out.
If you want to be challenged but still prefer some stability and a clear direction then this phase isn't for you.
It would be better if you find an opportunity that's more 'mature' (for eg. in the validation stage and above) since some of the goals and roles are more clearly defined by then.
But of course, you will still face other challenges like how to expand the business quickly or how to systemise certain processes. That's just how startup life is.
The point is, you need to understand how you want to learn and grow so you can decide at which stage you should join the company.
Key Takeaway 4:
Not all startups are at the same stage.
Question 5: "What Does The Company Believe In?"
This is another crucial factor that many people tend overlook.
Joining a startup team is really like joining a family. Sooner or later, they will become your second family.
The head of the family (i.e. the founder) is looking for specific types of people to join him and work together towards the same goal.
If you can't agree with him about certain basic values, this may cause arguments to happen easily and regularly because of deep fundamental differences.
Picture working in an environment that is always tense and volatile. That's not a conducive environment for you to learn and grow.
Worse still, the constant arguing is going to burn you out and make you feel demoralized eventually.
So it's important for you to check if you share the same principles in life as the team..
Try this simple exercise:
List down your values in life (as many as possible)  that you believe in.
Next to this list, write down WHY they are important to you; ask yourself about 3 to 5 times so that you can get the deeper reasons behind wanting them.
On the next column, try to recall how you've demonstrated those values in your life thus far.
You're going to have a table that looks something like this:
(scroll table towards the right if viewing on mobile —>)
What are some values that I hold dear in life? (List as many as possible)
Why are they important to me? (Ask yourself 3 to 5 times to realise the deeper reasons)
How did I apply these values in my life? (List all the things that you can think of)
– Loyalty
– I expect people to be loyal to me. So I should treat others the way I want to be treated.
– I believe that I must reciprocate the trust that people have put in me.
– I want to know that I can rely on other people when I need their help.
– I didn't leave my CCA team in my school although I was scouted and offered money to switch teams.
Key Takeaway 5:
If you have the same beliefs and values, then you will be more motivated to work towards a common goal.
Well done! If you've read this far, then it means you're serious about starting a career in a startup!
And there's some awesome news for you!
If you're looking to join a fast growing SME with a young and dynamic team, then look no further because WE ARE HIRING!
In case you don't already know, GrowthTribe is a performance based, results-driven, direct response marketing team led by Sant Qiu.
Sant is a highly sought-after Profit Strategist who specializes in helping small to medium-sized businesses significantly increase their profits fast. He has helped countless clients reach the million dollar mark within a year or less!
See what Adam Khoo and some of his previous clients had to say about him: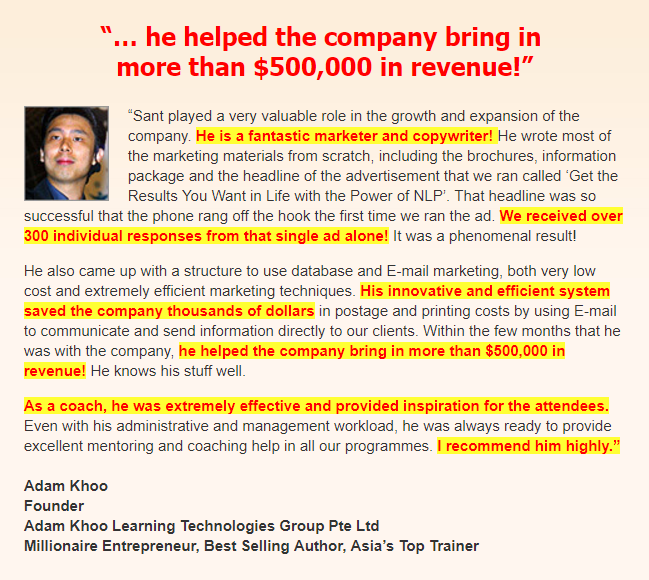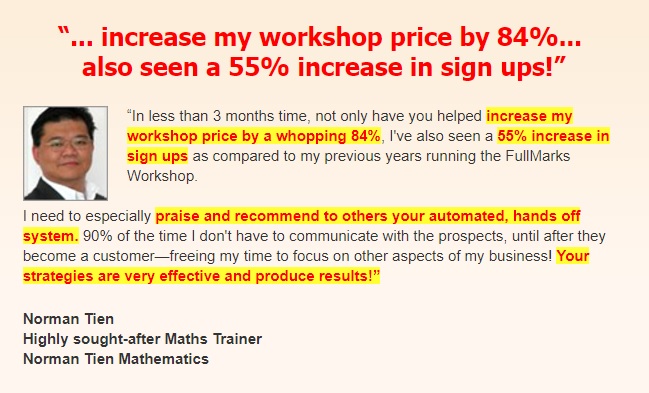 When you join our team, you'll be personally mentored and coached by Sant himself.
In case you're wondering why, Sant is someone who strongly believes in grooming and sharing wholeheartedly with his team. It is no secret that he also loves sharing business tips with the public on his Facebook page. Ask any business in the know and chances are, they have heard of Sant.
Here's his most recent post about mentoring and grooming: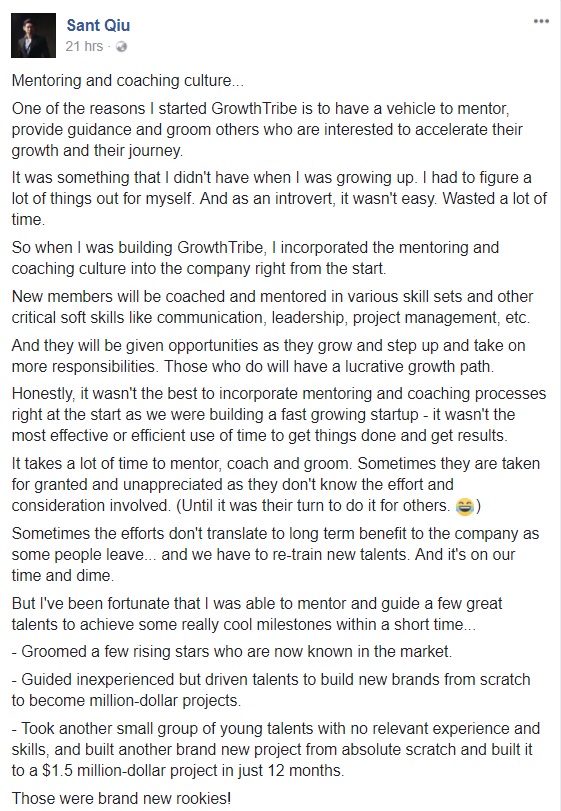 Think about it for a moment, if Sant is willing to share valuable insights with people he may not know yet, you can only imagine what secrets he shares with his own team!
But before we get carried away, remember that achieving success is mostly, hard work, resilience and applying the right strategies and tactics. No shortcuts and cheats in this game.
So what exactly will you be doing as part of the team?
Run online and offline campaigns for current projects. (NOT MLM)
Consult our exclusive group of small business owner clients and work with them one-on-one to grow their business (there is an abundance of learning in this).
Lead your own projects that you are passionate about when the opportunity arises.
… and much more!
BUT FIRST, ARE YOU…
willing to do whatever it takes to get the job done?
daring enough to go out of your comfort zone?
Someone who commits to something and does not "hop" around looking for the smallest of pay-raises? (you're looking at a minimum of 3 to 5 years)
ready to take ownership of your successes AND failures?
You see… In order to achieve our BIG goal TOGETHER, we are looking for very specific types of people. We want people who are hungry to learn and grow, ambitious, have a strong desire to excel and willing to sacrifice short term gratification for long term rewards.
This is definitely NOT for everyone!
It's ok if you have little skills and experience.
Many of our apprentices started out with almost no experience.
With our training, they were able to get up to speed within a short period of time and produce consistent results subsequently.
At the very least, you need to be responsible for the challenges you face.
"After 8 months at GrowthTribe, I've learned so much more than I expected from Sant! I learned valuable skills like communication, idea generation and refinement, lead generation, and creating 6-figure advertising campaigns!"
"I learned the skills and strategies to build million dollar businesses from scratch in a short amount of time and the education I received here from Sant was nothing like what I learned in my business degree!"
"The best thing about GrowthTribe is that you get your hands dirty (in a good way)! If you start work with a MNC, chances are, you'll start with a bunch of paper work and admin. You don't get a chance to be part of the action!

By my 3rd month, my team and I were already executing & running 6-figure projects. And this was without any prior experience as a marketer."
"6 months ago I was just a clueless marketer with many misconceptions about marketing. Now I'm actually leading projects and coaching new members on marketing. Quite an unbelievable experience.

The great thing is everyone is focused on growth both in themselves and in helping others. The idea of everyone working towards the same goal, makes the team more bonded and supportive. The energy is just amazing!"
Beyond that, you need to have good attitude, mindset and the right values (we actually value these two more than skills).
The types of people who WON'T fit in are:
×   People who are looking for a '4-hour work-week lifestyle'.
×   People who want to do the least work but expect to get the most rewards and justify that wrong mindset as 'leveraging'.
×   People who are short term thinkers, looking for instant gratifications all the time at every position they land.
×   People who are looking for what they can get out of something but not what can contribute to.
×   People with no ambition and vision.
×   People who are not passionate about marketing, business or helping others.
But not everyone will survive. There have been people who joined our team and couldn't last more than a day! Those that do survive, only had their lives changed within just a few months.
This is NOT just another job/position. This is an opportunity.
If you're interested to be a part of something BIGGER and willing to commit full-time, then you might be the person we're looking for.