Rise Conference Sharing Part #2:
If you're offering English, Math & Science for Primary & Secondary School…
You might have wondered if you should focus on promoting one subject at a time.
This quick article should give you a little insight on how to answer that question (:
One of the highlights of day 2 was to hear from Min-Liang Tan, one of the co-founders of Razer and a fellow Singaporean entrepreneur just like you and me.
In just 12 years, He grew it from 2 men to an international operation with more than 700 staff all around the world and raised hundreds of million of dollars from some of the top investors in the world.
Today, Razer is the no. 1 gaming brand in Europe, US and China, and will be taking his company public in the next few months.
Who better to learn from on how to scale your business than Min-Liang Tan himself?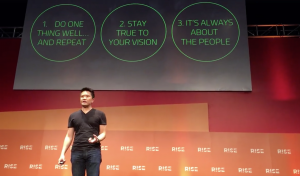 The 1 Key Lesson Learned:
Do one thing well (at any one time) than 10 things really badly.
When it comes to scaling your business, you need to keep doing it well and be able to repeat it.
Razer first started in the Gaming Peripheral market. They started with a gaming mouse, before moving to the keyboard and finally to audio systems. For the first 6 years, they were focused on getting Gaming Peripherals right.
(Just like how some tuition centres started focusing on Math before moving to Science and English).
It's only when they build a strong foundation in a high profit margin and less competitive area that they started to move to the systems market (e.g. creating their own gaming PC), which is typically known to have lower profit margin and much more competitors.
They spent another 3 years on it. In the process, they became the top gaming hardware companies, shipping over $1 billion dollars of gaming hardware all over the world over the last 3 years.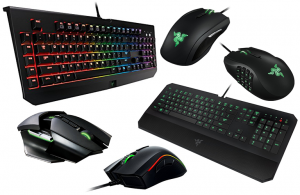 Once they achieved this milestone, they shift their focus to software. While it's a different game all together, they were able to build on the strong foundation they built over the years. Within just 2 years, with the help of key partners, they were able to get 35 million users on their platform.
They are only able to do this because at every stage, they were able to focus and do one thing right before moving on to the next project. They were also able to capitalize on the core competencies they developed over the years.
How you can apply this key lesson to your Education Business:
Stay focused on doing one thing well before moving to the next. It's easy in business to get excited and want to do everything right from the start.
Note: If Razer tried to do that, they would have failed badly. Instead, they started off slow in the first few years, focusing just on gaming peripherals. That one core focus helped them to move faster and faster over time because of the competencies and network they built over the years.
Many education centres, prior to working with us, have made this same mistake Min Liang reminded all of us to avoid:
They tried to scale their business and grow their student enrollments for so many different subjects they offered all at one go.
But the end result?
They grew NONE to the scale that they wanted.
Using this as a lesson for your tuition centre, you should start with 1 core subject of focus that you are best at, fill up lots of classes for that 1 core subject, before even considering scaling to other subjects.
For example, EduEdge, one of the clients that we worked with, focused on just ENGLISH to grow their business into a million dollar business!
If you're currently offering multiple subjects which classes seem to only be half-filled, you might be in a slightly compromising position.
Specifically For Tuition Centre Owners Who Are Teaching "EMS" And Want Us To:
Identify your 1 core competency.
Craft a strong marketing message for you using that competency.
And help you get 15-35 student enrollments month after month just like we helped EduEdge…
Don't miss this chance.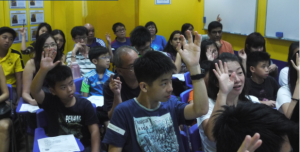 You can now sign up for our free consultation session for education centres on the form right below and see how you can adapt the "niche" strategy into your marketing campaigns!