Introduction
In this case study, we'll be sharing how we helped Think Teach Academy (TTA) — an education centre in Singapore — accumulate over $40,000 worth of revenue over 5 weekends through a carefully-planned Facebook Lead Ad Campaign designed by us here at GrowthTribe.
Essentially, we will be highlighting the challenges that TTA faced and the mitigation process that was implemented to make the company stand out and how with our assistance, helped them direct their sail.
Profile of TTA
TTA is an education company in Singapore that helps students excel in PSLE — a major examination that every 12-year old student has to take — O Levels, A Levels and also the International Baccalaureate (IB) exams through a unique framework they devised.
Their highly-effective curriculum has helped tons of students excel in these major examinations across various subjects like Math, English and Science.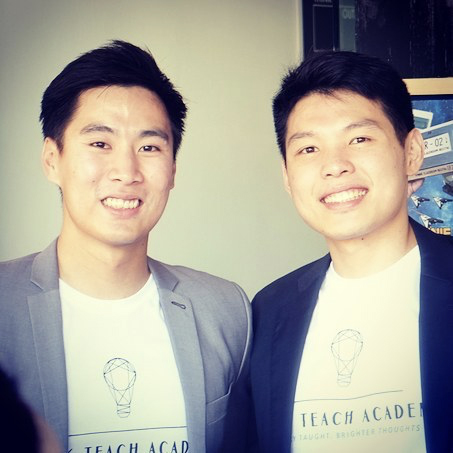 The Uphill Task
TTA is already an established entity, to begin with. However, the stumbling block that the company faced from achieving their desired targets simply boiled down to the fact that many other tuition companies were pulling off the same methodology as TTA's.
This lead to TTA's struggle in finding the exact differentiator that separates them from their competitors.
"Before working with GrowthTribe, I must say we were extremely demoralised, as there was only a handful of students. We knew we have the goods to offer but we did not know how to get students.  We are teachers after all, and not really business people."
The fact that TTA was facing this tribulation only exacerbated the situation as the founders knew that the company would be on a downward spiral in the long run if nothing is being done promptly.
"We Needed A Consistent Marketing Strategy To Attain New Students On A Rapid Basis…"
TTA's conscience was to elevate the company's status into one that is immediately noticeable or familiar within the masses. Hence, they approached us to aid them in their quest to reach their goal:
"We contacted GrowthTribe, in the hopes that they would be able to provide us with a springboard to launch our tuition business. After helping us, what we got was really incredible. They taught us the best digital marketing strategies that were like an express ticket to immerse growth."
Here's How We Lent A Hand (Our Detailed Process)
1. A Comprehensive and Accurate Plan To Tackle The Prevalent Issue
Without proper research and planning, most companies blindly launch ads and advertise their product – and this happens to be a primary mistake that they make.
To alleviate the problem, we gathered crucial information that would aid us in understanding the very market – the competitors and what differentiates TTA's standard curriculum from the rest.
These aspects represent the backbone of understanding the market that TTA is involved in its entirety.
We deduced that it was best for TTA to focus on their PSLE classes before ramping up marketing efforts on the other examinations they also help with.
In addition, we uncovered that tuition centres offering improvement with regard to PSLE scores are saturated with marketing messages like "We Will Help Your Child Score An A".
Instead of creating marketing messages like the "Score An A" mantra that many other centres were spouting, we decided to market TTA as a specialist in helping students score 1-2 grades higher for ALL PSLE subjects with the SAME effort they're currently putting in.
By understanding and harnessing the specific target market of students who are taking PSLE examinations and explaining to parents exactly how TTA can help their kids score 1-2 grades higher for ALL Subjects…
With the mentioned method, we were able to discover the differentiator between TTA and their competitors.
Here's what Algene shared about the research process we went through with him:
"The team was extremely dedicated, extremely professional and knowledgeable. They knew exactly what our problems were. They could target and diagnose what the problems were and they provided us with the best strategies to solve the problems and reel in more students."
2. Formulating An Outstanding Sales Funnel
With the experience that we have garnered over the years in aiding business owners, we realised that most businesses have a conversion problem, but were simultaneously good at raking traffic.
This information suggests that many potential consumers were aware of the products that were made available, but the company providing it had trouble selling them.
We worked hand-in-hand with TTA to create a highly-converting sales funnel or sales process before the launch of campaign ads.
We started off by creating a paid "parent-student workshop" called "Game The PSLE Workshop":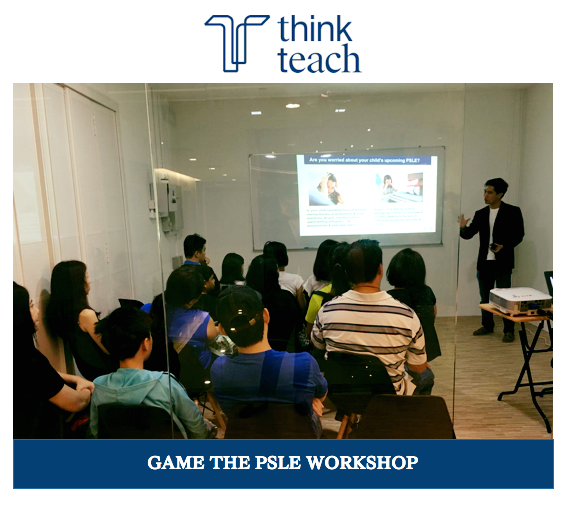 It was imperative to attract parents who were serious about engaging with TTA's services to aid their children in their studies.
Therefore, we decided to charge an attendance fee for the workshop. This way, it enabled us to collate the number of parents that were keen.
In the workshop setup, parents would get an idea of how TTA is different in terms of the tuition service they provide when compared with other generic centres.
They were also able to learn useful tips and tricks that enabled their kids to "game" the PSLE — making TTA an "expert" in their eyes.
3. Using Facebook Lead Ads To Produce Leads & Develop Brand Cognizance
A "parent-student" workshop was in the offer and we curated all the information in one-page (sales-letter) to attract parents to enrol their children.
Initial results suggested that the cost per lead for the sales-letter was higher than expected due to parents not accessing the sales-letter in full.
For TTA's case, we decided to turn our attention to lead ads and abandon the above methods.
Since we were reaching out to a relatively "cold market" (parents who probably never heard of TCA before)…
We created a "Testimonial" ad that helps build credibility with parents by highlighting the numerous success stories that TTA has produced: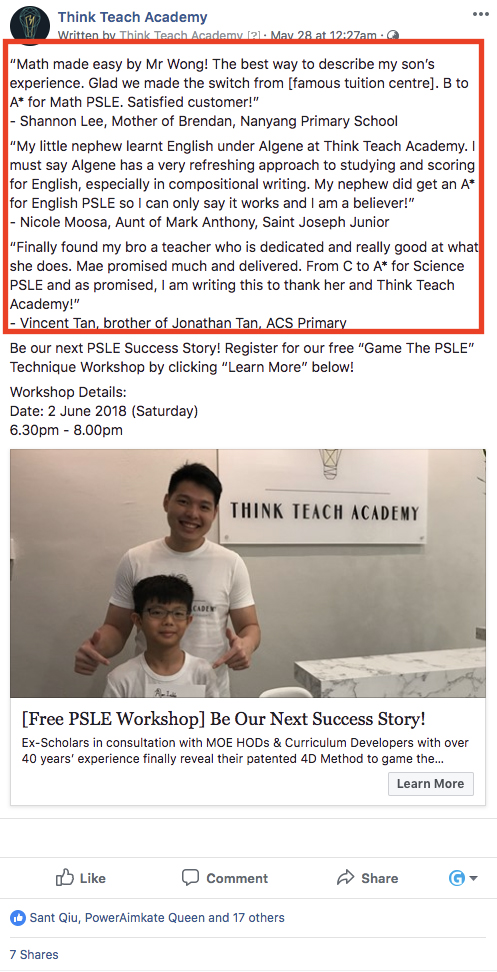 When parents click on the ad, they will see a form where they can fill up their details.
Upon submitting the form, they will receive a confirmation email and a call from the TTA office to confirm their attendance for the parent-student workshop: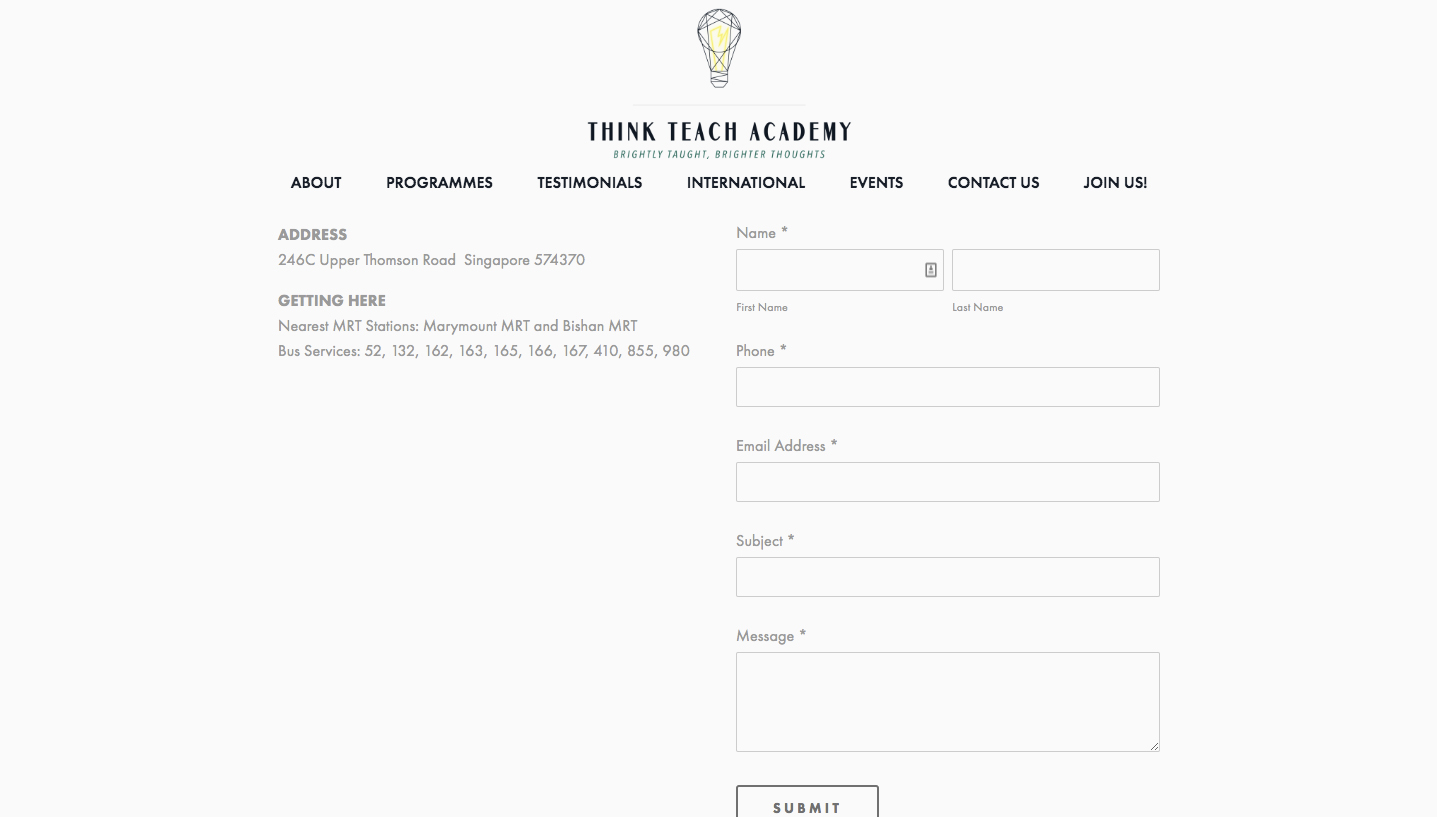 We also created a series of "Benefit" Ads that educates parents on how attending the "Game The PSLE" workshop can aid their kids to ace all 4 PSLE Subjects.
This gave TTA another 'angle' or perspective to get parents interested in their "Game The PSLE" parent-student workshop: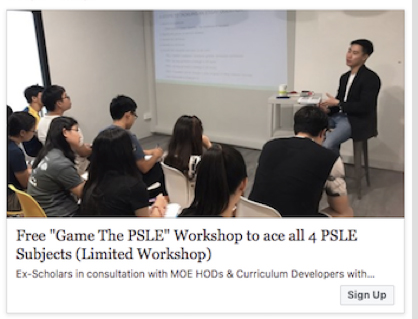 We carried out a lengthier ad copy that gave us more engagement and produced overwhelming results – more than 475 leads at only $25.38 per lead.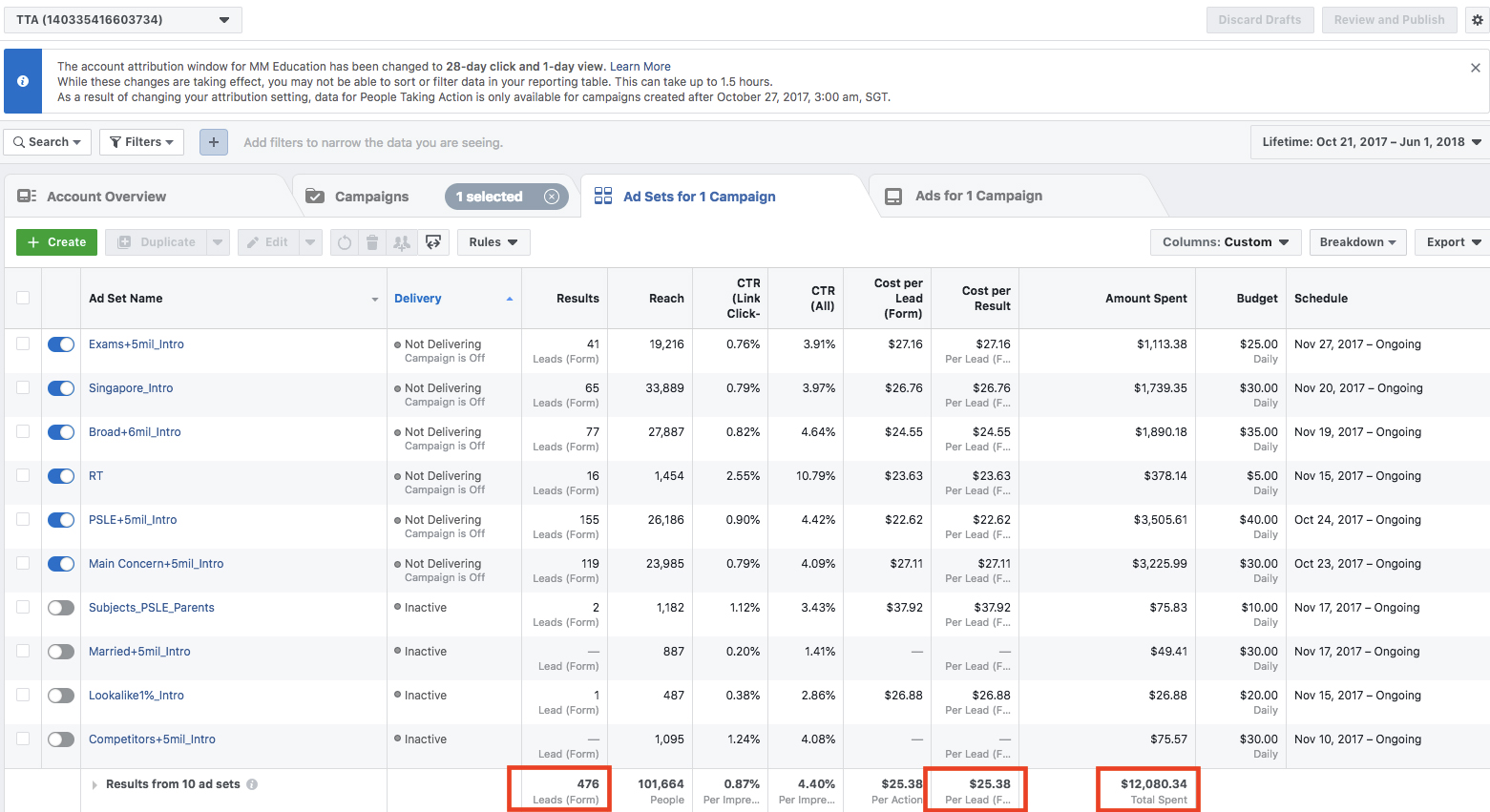 "… More Than $40,000 worth of Signups In 5 Weekends!"
In just 5 weekends (and in 5 workshops), TTA generated more than $40,000 worth of recurring sales on an advertising spend of only $12,080.34.
This figure equates to more than 300% Return On Advertising Spend (ROAS) in just over 1 month.
Here's what Algene shared about the results:
"GrowthTribe helped us to achieve our 'happy problem'.  Our 'happy problem' was that we did not have enough classrooms to accommodate an increasing number of students."
"With The Aid From GrowthTribe, We Secured Over 100 More Students – Which In Turn Helped Us Generate Close To 6-Figures Worth Of Yearly Revenue"
With our assistance, Algene has in possession, a marketing structure that works and one that constantly brings in an overflow of enquiries and student signups.
In addition, over 100 more students signed up since we stepped in to help their education business — and have generated close to 6-Figures worth of yearly revenue till date.
Today, TTA is established as one of the top education centres in Singapore.
"With GrowthTribe's help, we got about 100 more students, which have helped us to generate close to a 6-figure sum a year.

I would recommend GrowthTribe to any business owners who are looking for growth. Learn the knowledge they have about digital marketing – You will be amazed by the growth you can get from these strategies."
Want To Achieve Congruent Results?
From the case study, you can probably see that we do things very differently from other marketing companies.
Customer acquisition is more than just creating and launching off ads in the channel.
It's a process of research, experimentation and iteration.
And this is a process that anyone can learn and apply to their business to see explosive results within a short period of time.