About EduEdge
EduEdge is an education company in Singapore that helps students excel in English through a unique formula-based method they devised, that allows students to learn English step-by-step like Math or Science.
Their highly-effective curriculum has helped more than 1,200 students to jump 2,3,4 and even 5 grades in English.
Under their expert tutelage, 3 out of every 4 of their students improve by at least 1-2 grades or more.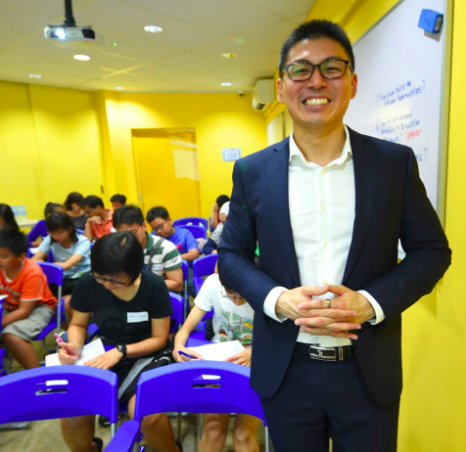 The Challenge
Even though EduEdge had been featured on the media…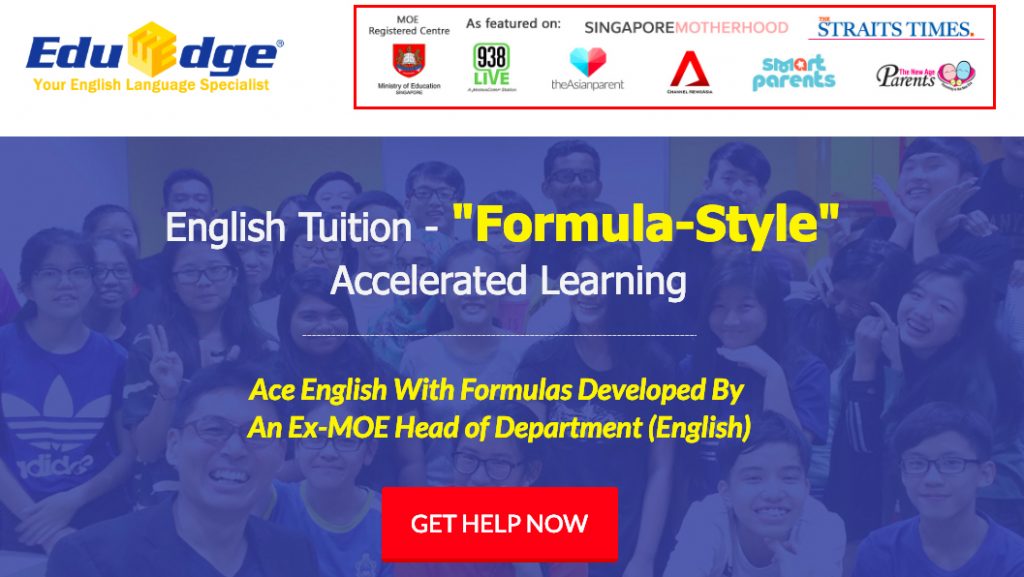 … They still found it increasingly difficult to fill up their existing classes.
One of their biggest challenges was that they were unable to communicate what makes them different from other competitors in the market.
"We have a really unique method to teach the English Subject to our students using a formula-based approach. While were were getting great results for our students, we were having great difficulties trying to get prospective students and parents to understand EXACTLY what it is we do & why we are so special"
Besides that, the EduEdge team was heavily bogged down with handling the marketing PLUS the daily admin and operational activities.
As Edwin would put it, they found themselves working "in" the business, rather than "on" the business.
They soon realised they were "stuck" and needed some direction to grow their business to the next level.
"We were going around in circles… and we felt that we needed some direction to grow our business to the next level. We needed a consistent online marketing strategy to get leads and sales… so it would free us up to focus on other critical areas of our business."
"We Needed A Consistent Online Marketing Strategy To Get Leads And Sales…"
Edwin attended several of our standalone marketing programmes to learn digital marketing and business growth strategies several years ago…
And as a direct result of our strategies, EduEdge grew from doing 5-figure revenue per month to an incredible 6-figure revenue per month — skyrocketing them into a million-dollar business.
But after awhile, EduEdge hit a revenue ceiling — as many businesses usually do.
So naturally, when Edwin and his team realised they needed help to grow to the next level… they approached us because of the phenomenal results they had achieved so far from applying our marketing and business growth strategies.
"One of the biggest reasons why we decided to work with GrowthTribe is due to the mutual trust and long term relationship we've built between our businesses, from the results they've helped our business achieve"
Here's How We Helped… (Our Detailed Step By Step Process)
1. Strategic Positioning
After our consultants met with Edwin and did some extensive research on their market, curriculum and competitors, we found out that the "English Language" space is saturated with marketing messages like "We Will Help Your Child Score An "A"".
And many parents (especially first-time parents looking for tuition) can't tell the difference between all these other language centres simply because they are not saying anything different.
Instead of creating marketing messages like the "Score An A" mantra so many other centres were spouting, we decided to establish EduEdge as a specialist in helping students who are scoring Ds and Cs to score As and Bs in their exams.
To educate parents on the importance of doing well in English, we published an article about why English is so important in the current education system: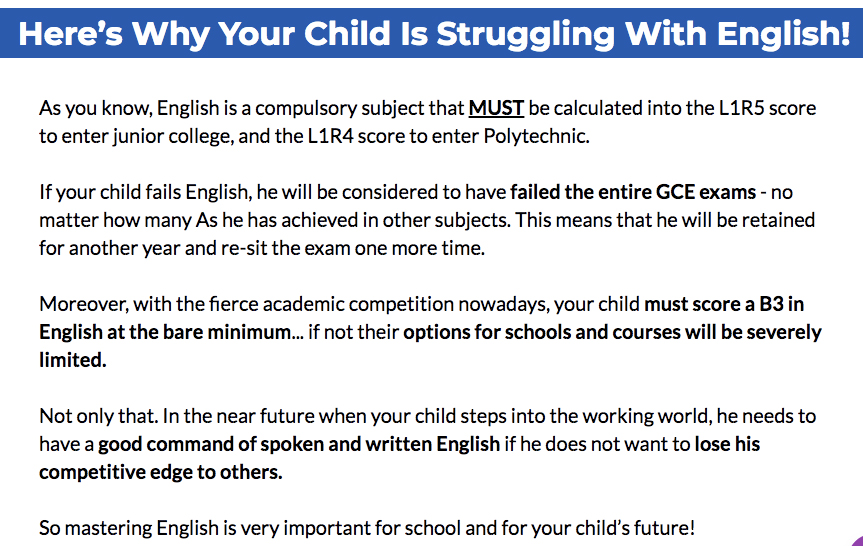 We also created a unique framework called the "Total English Mastery System" (TEMS) that explains exactly how EduEdge's "formula-based" approach helps children who are struggling with English to excel in their exams: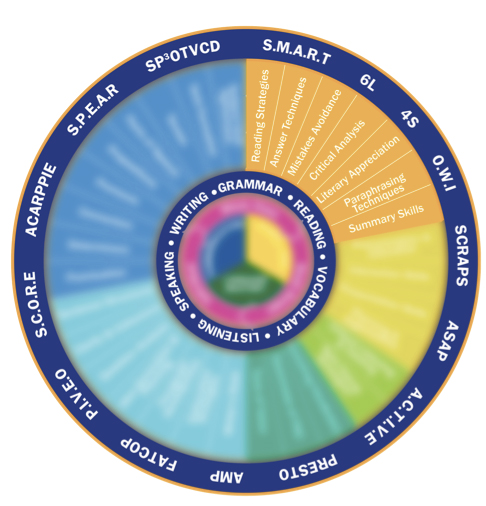 We also supported them in collecting written and video testimonials from their current and past students.
These testimonials helped to build their credibility in the market and further cement their position in the market as the "English Language Specialist Who Helps Failing or Borderline-Passing Students To Score As and Bs for English"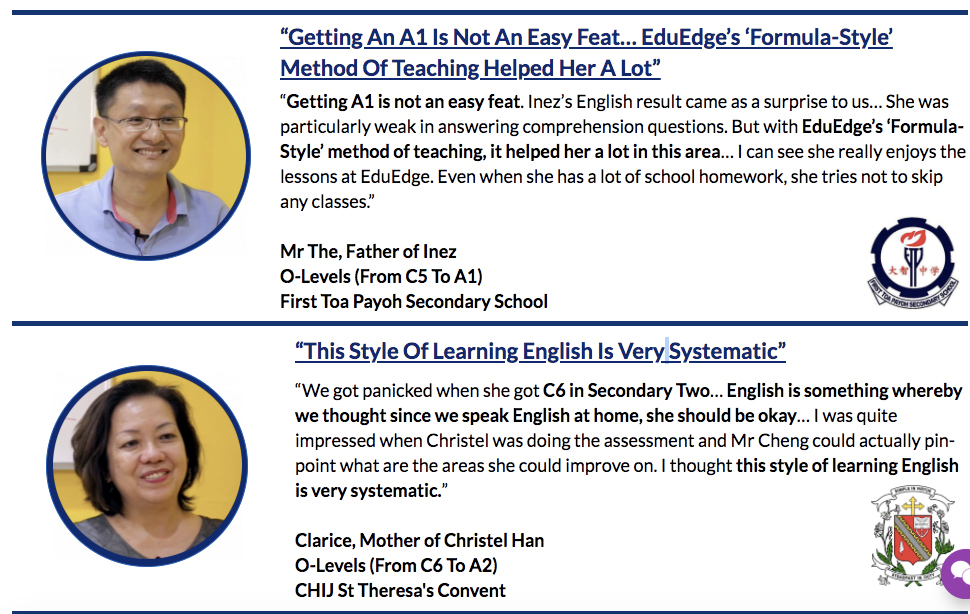 By focusing on the specific target market of students who were scoring Cs and Ds for English & explaining to parents exactly how EduEdge special "TEM System" can help their kids score As and Bs in their major exams…
We were able to stand out from competitors who were also advertising on the same platforms.
Here's what Edwin shared about the research process we went through with him:
"Through their coaching and trainings, we now have a greater sense of direction, better marketing knowledge and a stronger brand positioning, as well as a much deeper understanding of business strategy and how to execute long term. With their help, we were able to achieve growth for our business much faster.
2. Crafting A Highly-Converting Sales Funnel
Based on our experience working with hundreds of business owners, we realised that a majority of business owners do not have a traffic problem.
They have a conversion problem.
This means that they usually have a healthy number of prospects "checking out" their products via word of mouth or other advertising channels… but are unable to effectively convert these leads into sales.
This is why before we launched off the ads for the campaign, we worked with EduEdge to create a highly-converting sales funnel or sales process.
We started off by creating a paid "parent-student workshop" called "The English Mastery Workshop":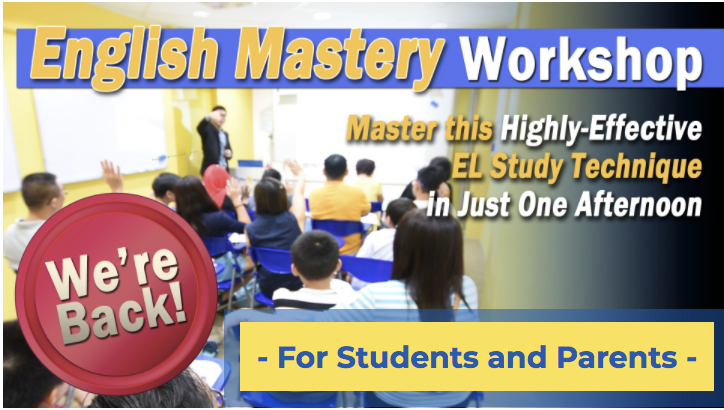 By charging an attendance fee for the workshop, we were able to discern the more "serious" prospects from the "window-shoppers" (parents who are just curious but are very unlikely to actually enrol their kids in the centre).
Secondly, during the workshop, the customers (or parents) were able to learn why and how EduEdge is different from their competitors.
They were also able to learn useful tips and tricks that they can use to help their kids excel in English — making EduEdge an "expert" in their eyes.
During the engagement, we worked with Edwin to create a comprehensive presentation based on our 19-Step persuasion formula.
We also developed specific demonstrations that highlighted the benefits of EduEdge's methodology.
Using our specially-designed presentation, EduEdge was able to convert at least 50% of the parents who attended the "English Mastery" workshop on a regular basis.
3. Using Facebook Lead Ads To Generate Leads & Brand Awareness
When we first launched off the campaign, we started off with driving traffic to a sales-letter — a one-page website that contains all the necessary information & persuasive elements that gets parents to sign up for EduEdge's "parent-student" workshop.
However, from the initial testing, we realised that the cost per lead for the sales-letter was higher than expected & only a fraction of the parents actually read the full sales-letter.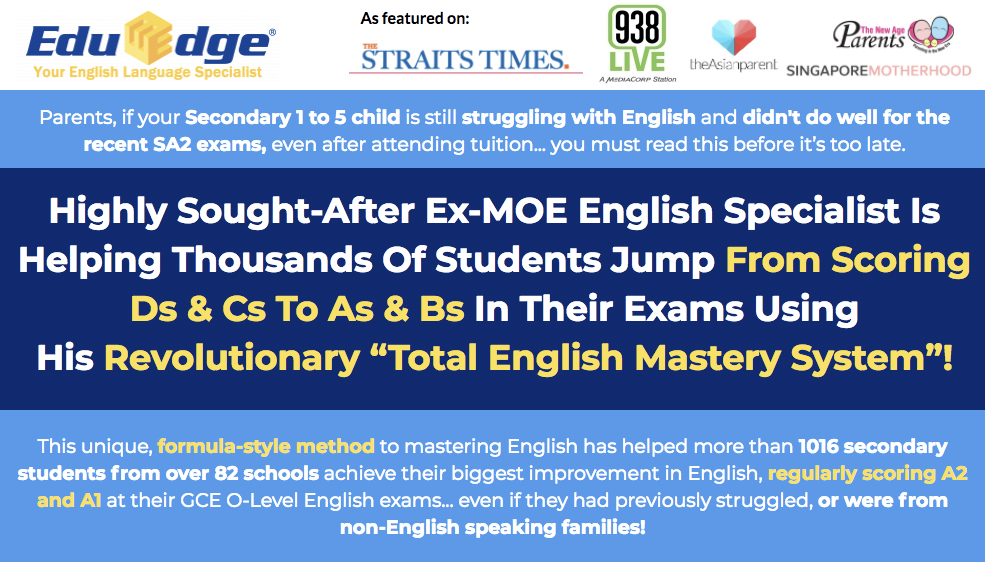 So we decided to shift our focus to Facebook lead ads instead.
Since we were reaching out to a relatively "cold market" (parents who probably never heard of EduEdge before)…
We created an "Introduction" ad that educates parents on who Edwin is, what EduEdge does & exactly how they help students go from scoring Cs and Ds to As and Bs for their English major exams: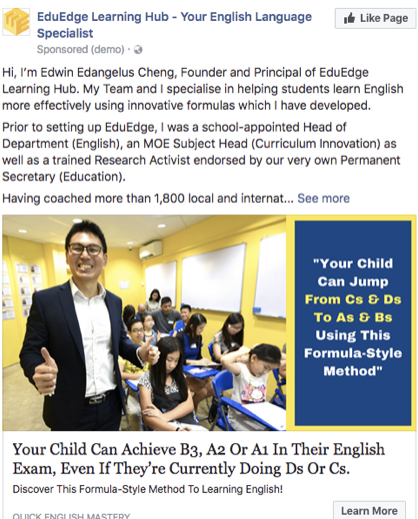 When parents click on the ad, they would see a form where they can fill up their details.
Upon submitting the form, they would then receive a confirmation email and a call from the EduEdge office to confirm their attendance for the English Mastery parent-student workshop: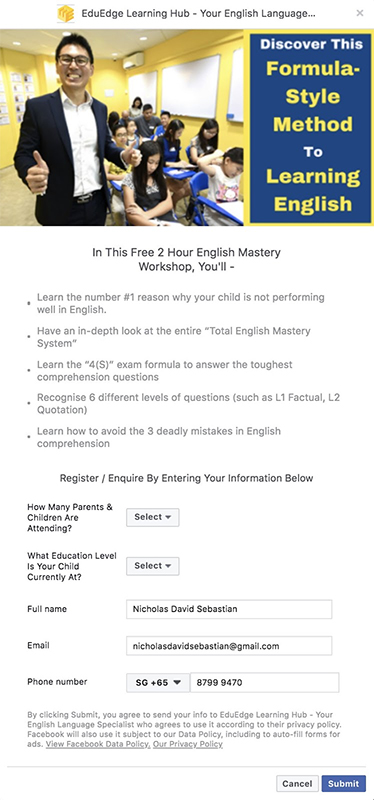 We also created a series of "Pain" ads that highlighted some of the challenges and anxieties parents with kids who were struggling with English are facing — and educate them that there is a solution to help their kids excel in the subject.
This gave EduEdge another "angle" to get parents interested in their English mastery parent-student workshop: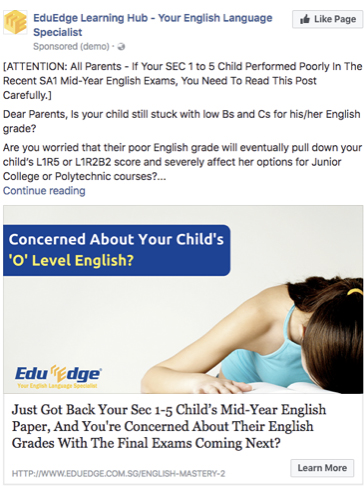 Instead of the typical lead ad that provides very little information about the offer, we tested longer ad copy that gave us more engagement and incredible results.
We were able to get more than 122 leads at only $23.73 per lead.

This is about 6.5% of the cost of leads from advertising on traditional media such as magazine or newspaper ads.
"… $20,000 worth of Signups In 4 Weeks!"

With the potent combination of lead ads & the paid parent-student workshops, EduEdge was able to start filling up existing classes and opening up new classes for new students.
In just 4 weeks (and in 4 workshops), they generated more than $20,000 worth of recurring sales on an advertising spend of only $2,918.83.
This is more than a 600% Return On Advertising Spend (ROAS) in just 1 month.
Here's what Edwin shared about the results:
"From one specific marketing channel alone, we were able to drive 20 sign ups per month for a sales value of $1k each, averaging $20k in upfront sales from one channel alone, not including our other marketing and in-house channels.

If a customer retains with us for a year through our quarterly recurring fees, and with an average of 20 sign ups per month consistently, this compounds significantly throughout the year, for over 6 figures of sales!"
"…We Were Impressed By The Results & Wanted To Work With GrowthTribe More Closely "
Edwin and his team were overjoyed with the results we helped them achieve — so much so that they signed on for our special 1-year retainer package.
In this package, we channeled more resources into helping them skyrocket their education business further by attaching one of our Marketing experts to fully run their marketing campaigns — allowing Edwin and his team to focus on other aspects of the business like they've always wanted.
The result?
For every "English Mastery Workshop" they run, we helped them get at least 40 leads (signups through the lead ads), out of which 20 parents turn up (50% turn-up rate is healthy in the education market in Singapore).
And out of the 20 attendees, 10 parents enrol their kids for EduEdge's programs — giving them a grand total of $10,000 revenue per workshop.
Right now, they only have to run 2 workshops per month to achieve the same $20,000 revenue that previously they had to run 4 workshops to generate.
Simply put:
We helped EduEdge hit the same revenue per month with HALF the effort and resources on their end.
On top of this, we are helping Edwin and his team to build more "brand awareness" marketing campaigns — via video ads —  to further solidify their position in parents' minds as the go-to English Language centre in Singapore,
As well as further developing more advanced marketing funnels for them which allow for a greater degree of automation, and even more sales.
"…With GrowthTribe's Help, We Are Now Looking To Double What We Did Last Year"
With our help, Edwin and his team now have a robust online marketing system that reliably brings in a flood of enquiries and student signups like clockwork.
Today, EduEdge has become one of the top English Language centres in Singapore and continues to grow at an accelerated rate.
"With GrowthTribe's help, we are now looking to double what we did last year, and scale to even greater heights, and to skyrocket way higher in the years to come.

If you're a serious business owner looking to scale and grow your business to the next level and dominate your niche…

We highly encourage you to start working with GrowthTribe today."
Want To Achieve The Same Results?