Overview
Your business is growing. And as you get more customers and build your team, you find yourself spending more and more time in the office dealing with the same problems again and again.
Here's why…
You probably haven't spent enough time systemizing the critical processes in your business. If you find yourself dealing with the same issues more than once a week, it means you haven't created a system for those issues.  
In this blueprint, we'll show you how to systemise your business and run like a well-oiled machine so you will have more time and energy to focus on the more important parts of your business.
How Can You Use This?
You can use this to start systemising the processes in your business.

You can use this to improve on the existing systemisations in your business.

You can share this blueprint with your team so they can help you to keep systemising and improving different parts of your business.
Tools And Resources
The main tool you'll be using is Google Drive and Draw.io.
You'll be keeping your systems organized in a free Google Drive account. It also allows you to easily share your systems with your team members.
Draw.io is the main tool we use to create flowcharts of our processes. It comes as a free app with Google Drive but you need to install it to your Google Drive account.
What You Need To Know?
A system is a network of interdependent components. They work together to try to accomplish the aim of the system.
This is why it is crucial for a system to have an aim. Without an aim, there is no system.
In the context of a business, systems are processes that enable your business to produce results consistently for you and your clients.
Focus On Higher Value Activities
Systemising processes frees up your team members from being stuck doing low value creating activities.
These type of tasks are usually of an administrative nature and tend to be repetitive.
Nevertheless, they are still important for the day to day operations of your business.
By freeing up your team members from such activities, they will have more time to work on tasks that contribute more to your business's growth.
This helps them to feel more empowered too as they will feel like they are contributing to something bigger and making an impact on your business.
Faster Onboarding
With tested and proven systems in place, it will be faster when you are teaching a new team member.
The systems serve as a straightforward and step by step guide for him to learn, follow and execute.
In addition, if he's unsure, he'll be able to refer to past data for guidance if the system has been running for some time already.
Predictability
This links back again to the fact that systemisation creates structure in your business processes.
Once you're done with one part of the process, you know exactly what is going next and so on.
With systemisation, you also develop expectations that certain outcomes will occur.
This predictability also allows all your team members to be on the same page as they will always know what is going on.
Faster Scaling
Once your systems are in place, you will be able to scale up much faster than ever before.
Think about it…
When it comes to operations, you will have a reliable way to consistently deliver on your promise to your customers. If you want to serve more customers, it's just a matter of scaling up your systems in your operations.
When it comes to sales and marketing, you will have multiple processes to get leads, turn them into sales and get them to buy more. When you want to get more customers, all you have to do is to "turn on the tap" and get a flood of new customers.
Achieve More With Less Work
The great thing about systems is that once they are in place and you train someone to manage the system in your place…
You'll be able to achieve the same result with less time and effort.

And when you can shift your focus to more higher value activities such as networking, training your team and looking for more opportunities, you'll be able to grow your business exponentially.
When you are at the early stages of your business, your main focus will be to get cash flow to at least breakeven.
This is when investing in marketing and sales system will help you to focus on generating revenue instead of the daily repetitive tasks.
As your business grows, there will come a time when your output is limited by the manpower that you have, so the next step is to expand your team.
When you have new employees, having systems in place means that can be up to speed quickly and start performing as early as possible.
When you intend to scale up, systems will be the key to ensuring that you have a strong foundation for your business, so you can focus on the higher value creation activities.
So as you can see from the above, systemising begins from the very first day of your business as it has an impact on different parts of your business' growth journey.
This is the reason why you should start systemising today!
If not, you may face challenges in the future which may slow down your business' progress.
The diagram below shows the general journey that every business goes through: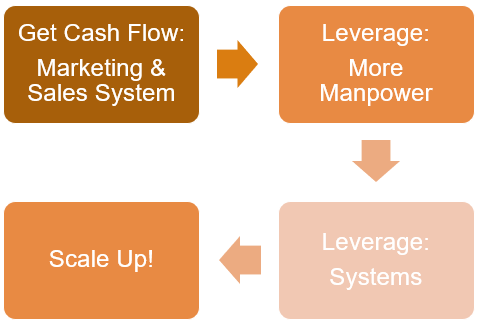 What's Next?
Now that you understand the importance of systemising and how to systemise, take a look at your business and start now!
Using this blueprint, you'll be able to systemise any aspect of your business with ease.
As you systemise your business, you'll realise what type of documentation is suitable for which part of your business process.
As your business progresses, you can teach your team members how to systemise so you can focus more on the strategic aspects to grow your business even more.