Overview
Facebook is a powerful platform to market your products and services.
While many business owners are using Facebook pages for their marketing and advertising, they are neglecting another highly effective tool for building intimate relationships with their prospects and customers.  
In this blueprint, you're going to learn how to create, run and grow your own Facebook group, and how you can turn the members into customers.
How Can You Use This?
You can use this blueprint to create a Facebook Group.

If you have an existing group, you'll learn how to grow your Facebook Group.
Tools And Resources
Creating a Facebook group is pretty straightforward and easy.
However, nurturing your Facebook group and leveraging on it is something that many business owners do not know how to do properly.
This is why we created this blueprint to help you create a group that can help your business grow.
What You Need To Know?
A Facebook Group is a platform for users who have the same interests can interact with one another by asking questions and sharing information.
Our Facebook Group, GrowthTribe is for business owners who are interested to learn about any business-related topics.
Any member who has any questions about running a business can post them in our exclusive Facebook Group (https://www.facebook.com/groups/GrowthTribe).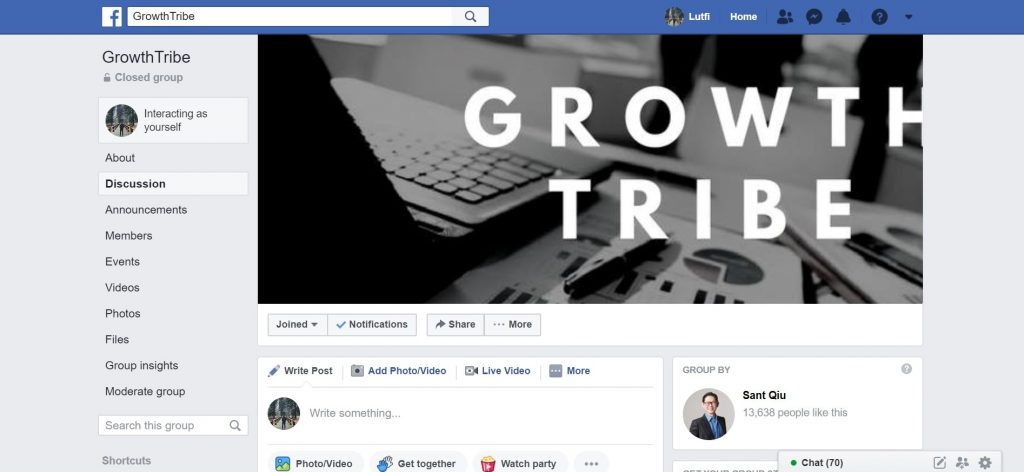 Engage Your Customers
A Facebook Group also allows members to get together to carry out a variety of activities.
This includes sharing related content, posting photos, organising activities, exchanging views on issues, discussing the shared purpose and merely getting together for a common cause.
On top of the above, any Facebook user is allowed to create a group of their own, so you don't need to set up a Facebook Business Manager account first.
Improve Understanding Of Customer
By creating a Facebook Group for your business and continually engaging your customers, you'll have a better understanding of their desires and the challenges that they are facing.
This is crucial in helping you to improve your customer avatar. We covered this in our 'How To Create An Ideal Customer Avatar' blueprint.
Creating, Testing and Improving Offers
When you understand your customer better, you'll gather data and feedback straight from the his experience.
Using this information, you can come up with insights that can help to improve what you are currently offering.
The information can even help you to create new offers that you never thought your customer may be interested in.
Pre-launching a new offer to members of your Facebook Group is a good way of testing whether the offer resonates with your target audience in the first place before you launch it to the public.
In our 'How To Create An Irresistible Offer' blueprint, we shared with you how you can create offers that are attractive to your target customer.
Purpose
Facebook Pages enable public figures, businesses, organizations and other entities to create an authentic and public presence on Facebook.
On the other hand, Facebook Groups were designed to be a platform for group communication and for people to share their common interests and express their opinion.
Default Privacy Settings
Facebook Pages are visible to everyone as they are set to 'Public' by default.
In contrast, the default privacy setting for Facebook Groups is 'Closed'.
Nevertheless, you can still set your group to be 'Public' so even non-members can see the posts there.
There is even a 'Secret' privacy setting for Groups such that non-member Facebook users can't even search for the group nor can they request to join.
This means that non-members can only be added by invitation either by the admin of the Group or its existing members.
The table below summarises the different characteristics of different types of Facebook Groups: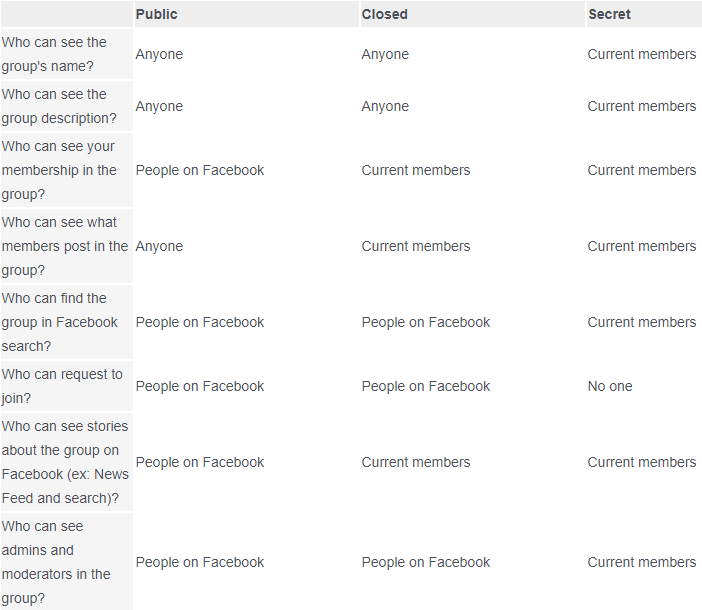 Facebook Page
A Facebook Page is more directed and suited as a marketable representation of a company or someone who is famous. With pages being verified for authenticity, it shows credibility to the everyday user.
Well-known brands like McDonald's have been known to leverage this platform. Users who have connected on this page would be able to receive new and reliable updates, announcements as well as notifications from the company.
On top of the differences, there are a number of pros and cons associated with both platforms. We have compiled a list of the good and bad – but not limited to, between a Facebook Group and a Facebook Page:
Facebook Group
Pros
Built-in analytics (Group Insights)

Communication with members of the group is generally easy and fairly manageable with options such as chat, wall posts, emails, and messages.

Personalisation settings are more flexible in groups as they are generally created by individuals without the presence and representation of established brands.

Promoting an event is possible in groups but not pages.
Cons
Groups are generally difficult for users to find unless they are existing members or have a friend who intends to join.

Whatever content there is in the group, it will only be notified to members of the group. This singles out other users who are not aware of the group but may have the same interests as the group. The target audience is very limited compared to a Facebook Page's.

Groups are generally a bad platform for businesses to showcase products as its potential audience reach pales in comparison to that of a Facebook Page.
Facebook Page
Pros
Built-in analytics (Page Insights)

Pages make better marketing tools for brands or personalities when they publish new content as it is designed to be more in line with a personal profile.

The personalisation aspect offered by pages allows the admins to engage with more users and fans. Thus, elevating the level of communication.
Cons
Generally, admins need to monitor pages very closely as it is more open when compared to groups.

It is harder for admins to manage undesirable comments posted by users as the number of users/members is larger than that of groups.

A lot of spending is required to boost the marketability of the page as it is difficult for it to grow organically.
Given the different specifications of the two, it is entirely up to the individual to decide which platform suits them best.
Recently, linking your Facebook Group to your Facebook Page has been made possible – making it ideal and versatile to have both platforms, depending on the direction an individual would undertake.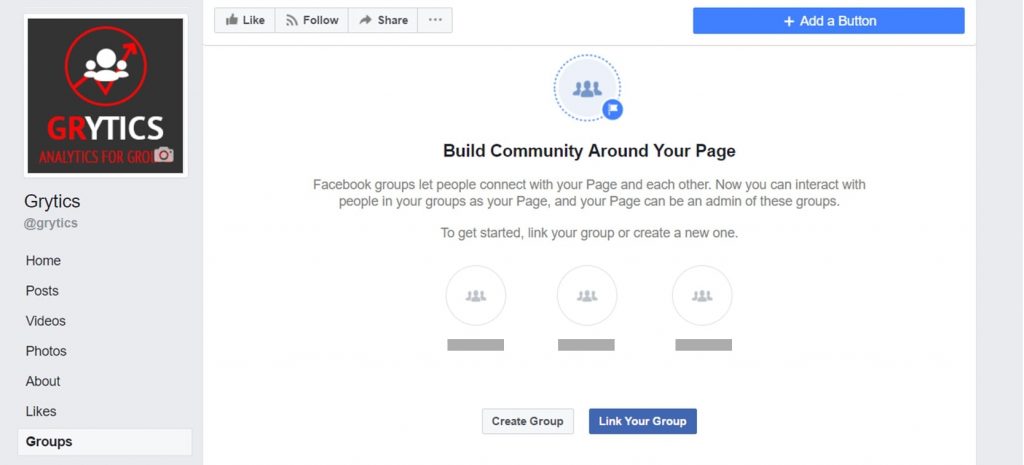 How To Create Your Very Own Facebook Group
How To Grow Your Facebook Group?
What's Next?
Now that you know how to create and grow your very own Facebook Group for your business, you'll know how to continuously engage with your target audience.
You'll also be able to leverage on insights that you can extract from the group to improve your offer or test a new offer.
If you want to learn how to create offers that are attractive to your target audience, you can check out our 'How To Create An Irresistible Offer' blueprint.