Overview
The Facebook pixel is one of the most powerful tools for optimising your Facebook ad campaigns and ensuring that they are successful.
With the Facebook pixel, you'll be able to track your entire campaign from start to finish, and collect crucial data that will help you make strategic decisions and improve campaign performance.
You can even use the pixel to build your very own warm audiences to market to in future. (Instead of marketing to the cold market.)
Unfortunately, many business owners and marketers do not know how to set them up properly and fully utilize the features to improve their performance.
In this blueprint, we'll be showing you how to set-up your Facebook Pixel properly.
You'll also discover the best practices for creating and using standard and custom events, as well as custom conversions to collect crucial campaign data and significantly increase your overall ROI.
How Can You Use This?
You will learn what a Facebook pixel is and how to set it up.

You can use the pixels to collect crucial campaign data, build your own audiences, and increase your overall ROI.

You can see if there are targeting options and other data that you are not taking advantage of at the moment, and might be missing out.
Tools And Resources
Setting up your Facebook pixel properly and using it to improve your campaign performance can be confusing, especially if you are not a technical person.
This is why we created this blueprint as a straightforward step by step guide to help you get started on the set up.
How To Set Up Your Facebook Pixel?
Custom Events
Custom Events are actions that fall outside those covered by Standard Events.
For example, if your funnel is so long that you have more than 9 events you want to track, custom events allow you to define your own actions for easier tracking.
Or, if you want to track a specific web page by the page name, you can set up a custom event for that specific web page.
This is done by using additional bits of code called parameters.
Compared to Standard Events, Custom Events are able to provide more detailed information in terms of giving additional context about a specific action taken.
This data will help Facebook to optimise better.
From your Business Manager dashboard, click 'Pixels' under Events Manager and you will see the pixels page.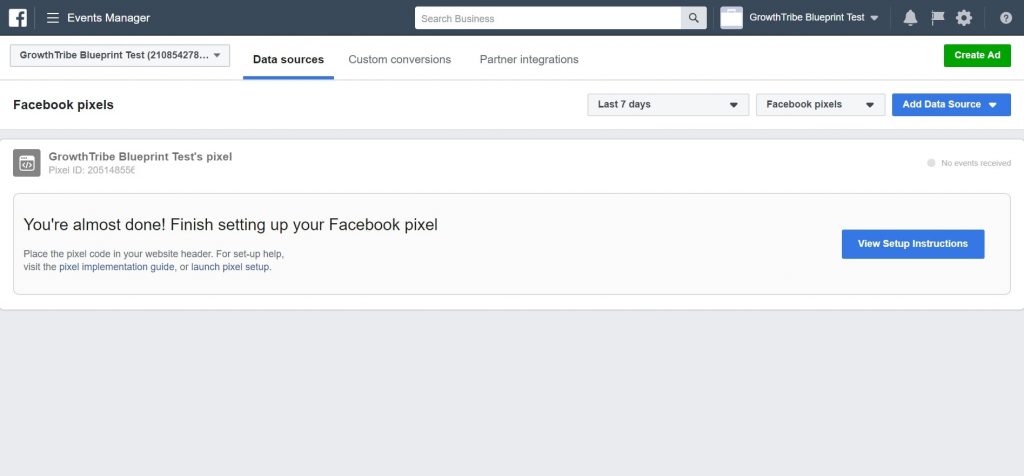 Click on 'Custom conversions'.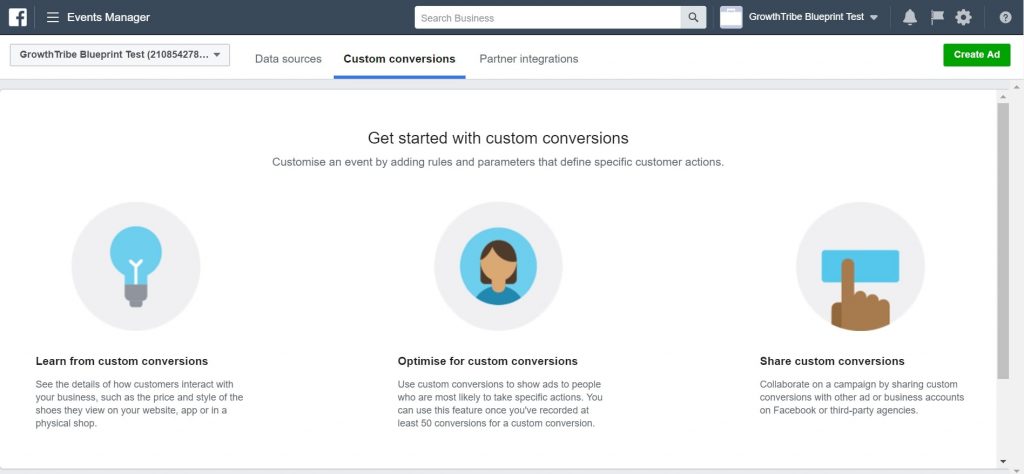 Scroll down then click 'Create Custom Conversion'.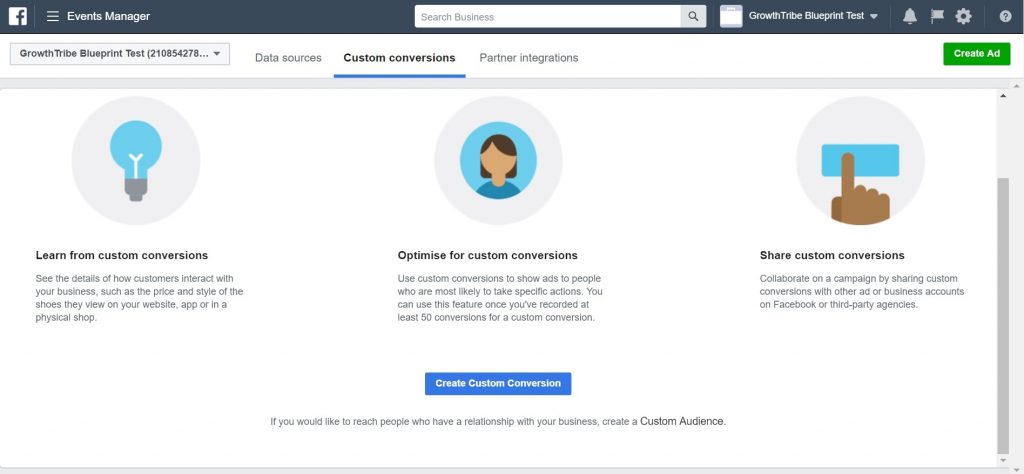 You'll see a window to 'Create a custom conversion'.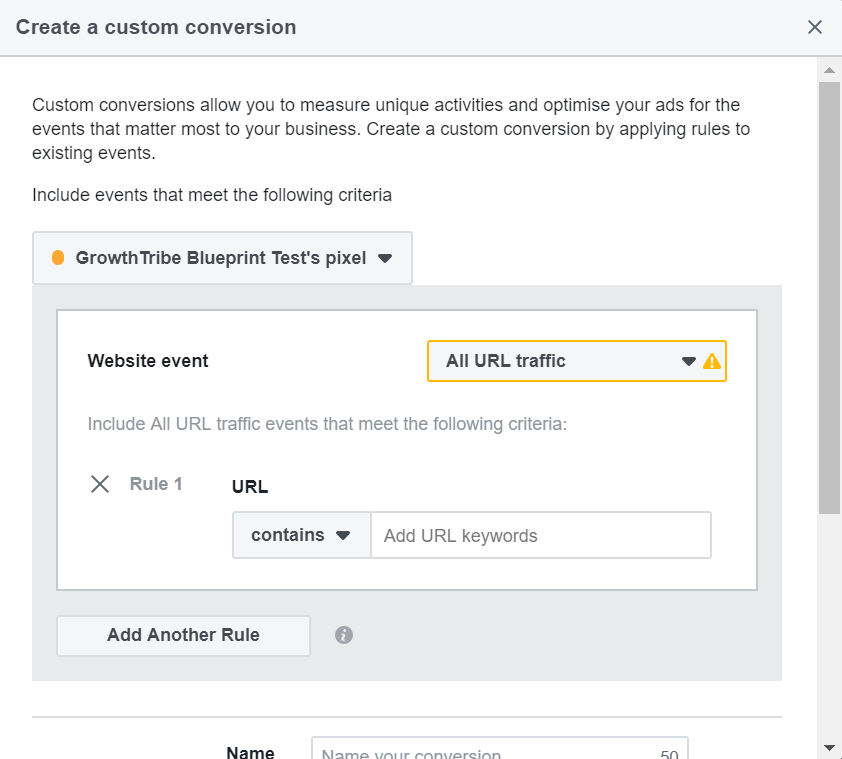 Enter the URL of the page that you want to add the custom event code on. In this case, the page that we are interested in is https://www.growthtribe.com/blueprint-home/.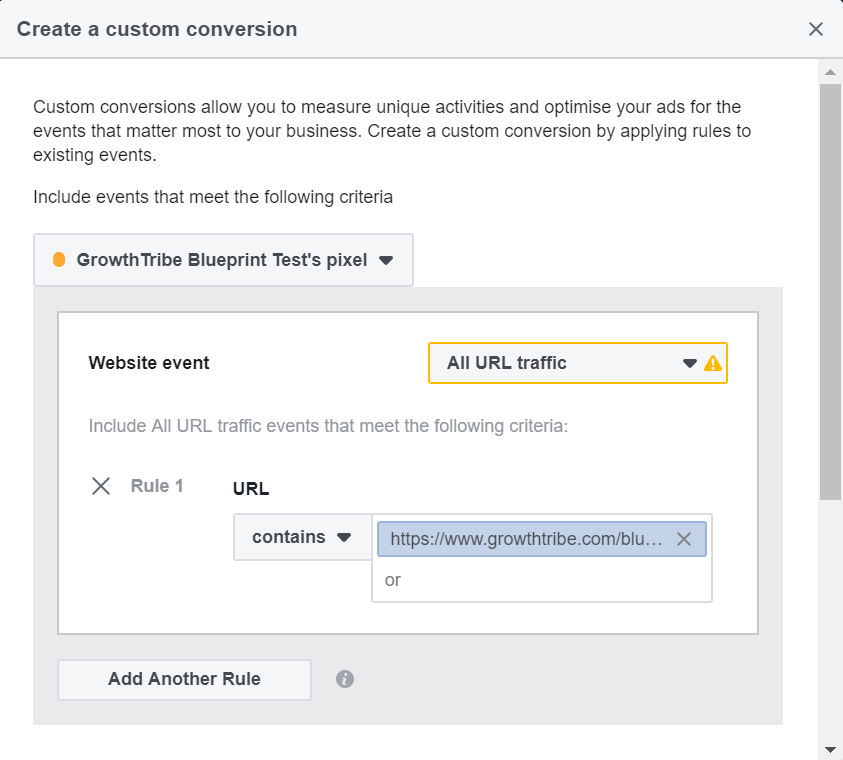 Select the category of event that you want to track and name your custom conversion.
In our example, we are interested to track how many people actually visited our blueprint homepage if we ran direct Facebook ads to this page.
So the category of the event is 'View Content', and we name this custom event 'Visit GrowthTribe Blueprint Home'.
Click 'Create'.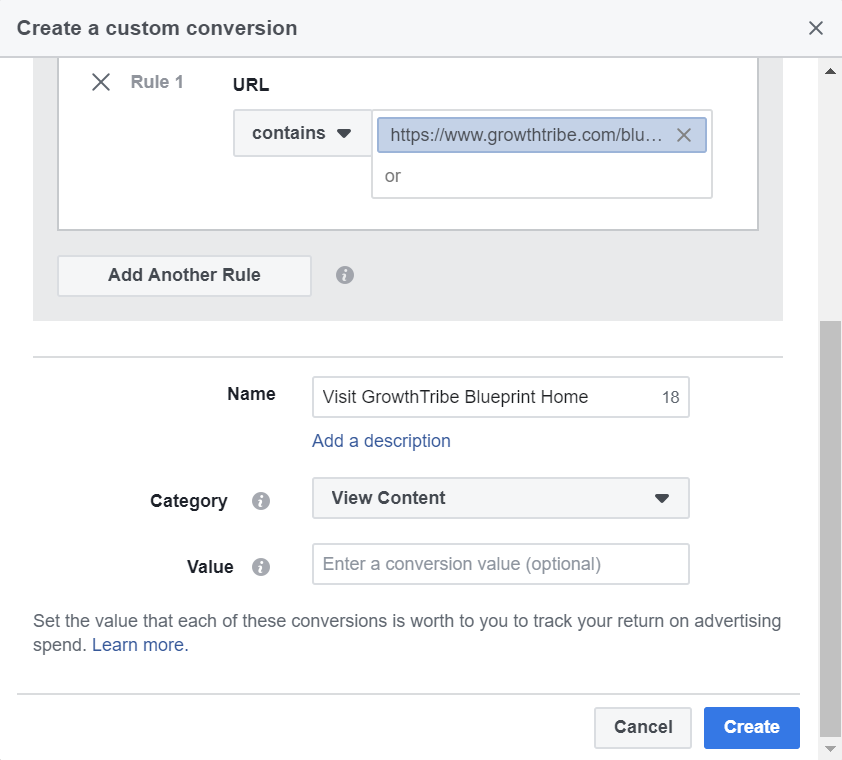 You'll be notified that you've successfully created your custom event.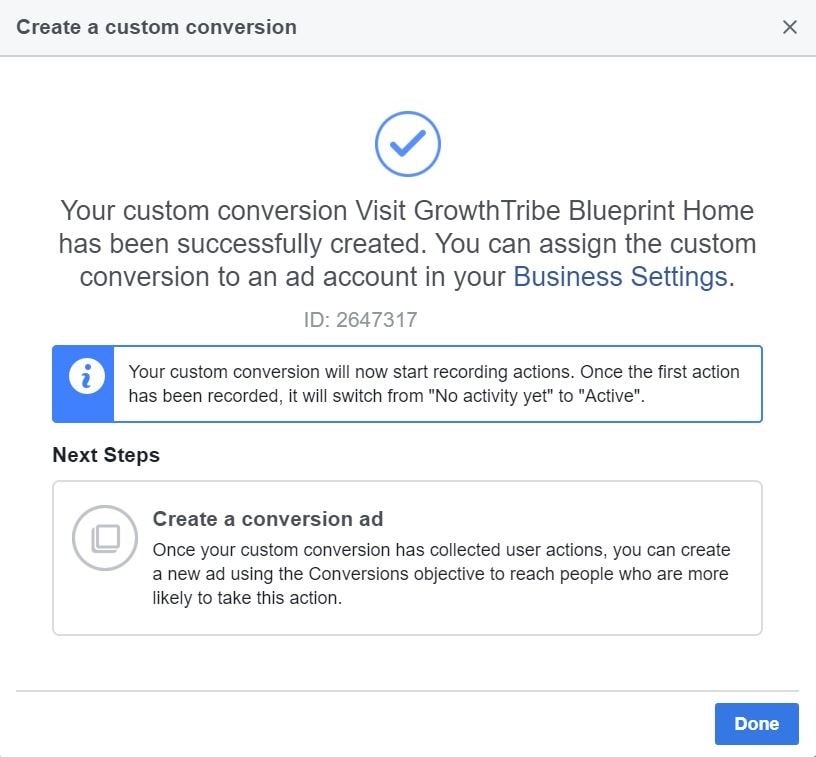 Now, in your ad campaign, you'll be able to track for 'Visit GrowthTribe Blueprint Home'. You'll be able to see it as one of the column headers in your Ads Manager.
What's Next?
Now that you know how to set up your Facebook pixel properly and use the data to your advantage, you will be able to do these 3 crucial things for your campaigns:

Track your entire funnel to make sure that all your data is in the right place, and you have a clear idea of the numbers for each step of your campaign.

Use these numbers to make strategic decisions for your campaigns, such as which ads are working well, which audiences are working well, and which pages you should run traffic to.

Build your own audience, and have a system to continually remarket to this warm audience with targeted offers.
This will help you build a segmented marketing strategy to target your customers with specific offers and messages.
If you want to learn how to write different Facebook ads to market to the various audiences that you'll build, you can check out our 'How To Create Facebook Ads That Sell' blueprint, 'How To Create Attention Grabbing Ad Images' blueprint and 'How To Create An Irresistible Offer' blueprint.
If you want to learn how to create landing pages that convert, you can check out our 'How To Craft A High Converting Lead Capture Page' blueprint.